Refugee crisis: Redistribution plan will be finalised by next meeting, say EU ministers
Officials have rejected demands to implement binding relocation quotas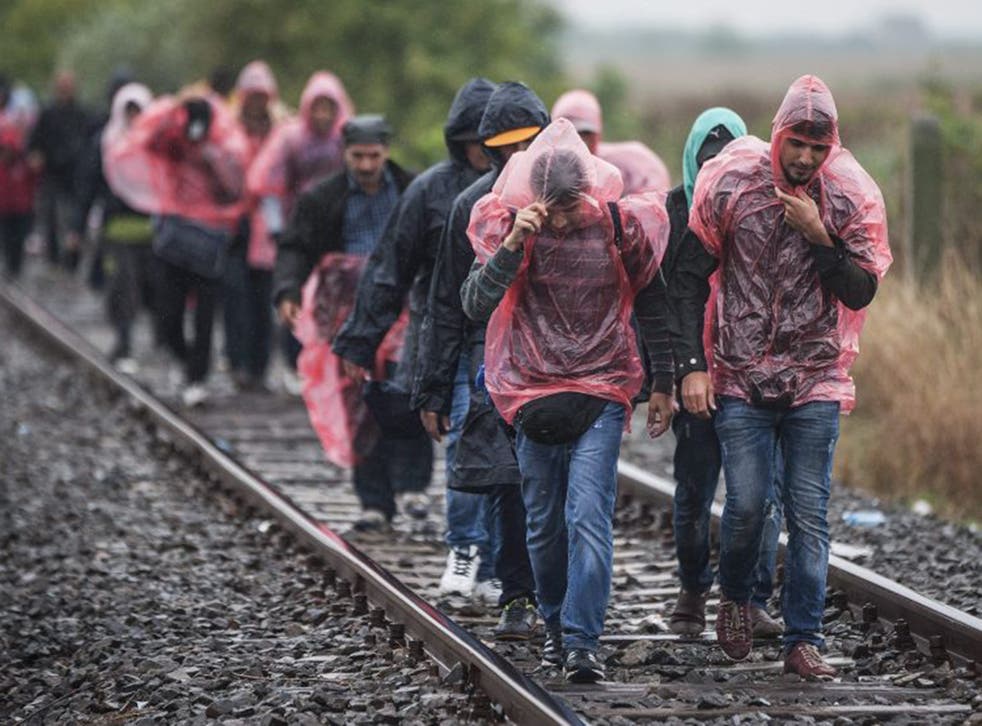 European Union interior ministers failed to agree last night on how to redistribute 120,000 refugees from Italy, Greece and Hungary to other EU countries.
Luxembourg's Foreign Minister Jean Asselborn, who chaired the meeting, said it was "premature for the Council to take a decision today".
"Even though we are in urgent circumstances, we have to follow procedures," he said.
Earlier, the German Interior Minister, Thomas de Maiziere, said EU nations had "agreed in principle" to share refugees between different countries, but more work would be done at the next interior ministers' meeting on 8 October.
The news came after Germany reimposed border checks in the wake of an influx of refugees, raising questions about the viability of the EU's passport-free Schengen zone. Britain, which has an opt-out from the relocation proposals, will not be taking part, Home Secretary Theresa May confirmed in Brussels. She said Britain would instead resettle 20,000 Syrian refugees over five years from camps in countries like Jordan, Lebanon and Turkey.
Mrs May said this would ensure that the most vulnerable would come to the UK. "We need to urgently set up registration centres so that people are properly fingerprinted and registered when they arrive in Europe," she said.
Despite pleas last week from European Commission President Jean-Claude Juncker for binding relocations, the ministers were unable to agree mandatory quotas and or indicate which countries would be involved. The ministers nonetheless committed to the scheme to relocate refugees away from Greece, Italy and Hungary, the three countries under the most strain as the main EU entry points for most.
The ministers agreed the relocation measures would be finalised by their next ministerial meeting, in Luxembourg on 8 October. If no political decision on the 120,000 is reached, then an EU summit may be convened before the end of the month.
Other measures under consideration are large internment camps for refugees in Italy and Greece, to temporarily accommodate people while they are identified, registered, and finger-printed.
In graphics: Refugees in the EU

Show all 3
"Their asylum claims are to be processed quickly and those who fail are to be deported promptly," one ministerial document said. They are similarly looking at building camps at the popular refugee departure points outside the EU, where failed asylum-seekers could be sent back to. Other measures being debated include biometric data in the passports of non-EU citizens – stored when they apply for a visa – to make their deportation easier.
These measure would tie in with demands made by the UN refugee agency, UNHCR, for EU host countries to set up big reception centres, as it warned that thousands of refugees could be left in "legal limbo" if EU members adopt different border rules. The ministers were meeting after Germany restored border controls on Sunday. The European Commission acknowledged that Berlin's move was in "prima facie" accordance with Schengen rules on crisis situations, but it had a swift domino effect across Europe.
German police dispatched to the borders said the measures were proving ineffective. Officers said that although they had set up roadblocks they were unable to limit the influx. A border policeman on the ground told Der Spiegel: "The border is just as porous as it was before. If we shut it we would have a Hungarian situation here."
Police said they had been told to make sure war refugees from Syria were allowed in while others from so-called safe counties were not. One officer said: "They all claim to be Syrian even if they are quite obviously black Africans."
The officer said that even if they were able to effectively identify sham war refugees, police simply did not have the manpower to turn them back. Syrian refugees in Munich also told The Independent last week: "Many people are pretending to be Syrian. Faking the documents is easy."
Munich received more than 19,000 refugees last weekend alone. The unprecedented influx prompted Ms Merkel's government to take action.
Austria has followed suit by deploying army units on its borders with Hungary in another attempt to put the brakes on the influx. The Czech Republic and Slovakia said they planned to do the same. Poland said it was also considering border controls. Officials said the influx had been expected to peak because of Hungary's plans to arrest migrants caught crossing its borders illegally from today.
Register for free to continue reading
Registration is a free and easy way to support our truly independent journalism
By registering, you will also enjoy limited access to Premium articles, exclusive newsletters, commenting, and virtual events with our leading journalists
Already have an account? sign in
Register for free to continue reading
Registration is a free and easy way to support our truly independent journalism
By registering, you will also enjoy limited access to Premium articles, exclusive newsletters, commenting, and virtual events with our leading journalists
Already have an account? sign in
Join our new commenting forum
Join thought-provoking conversations, follow other Independent readers and see their replies