Refugee mother forced to wash newborn baby in puddle as conditions at Greece's Idomeni camp deteriorate
International aid charity Médecins sans Frontières estimate that more than 30 per cent of the refugees are children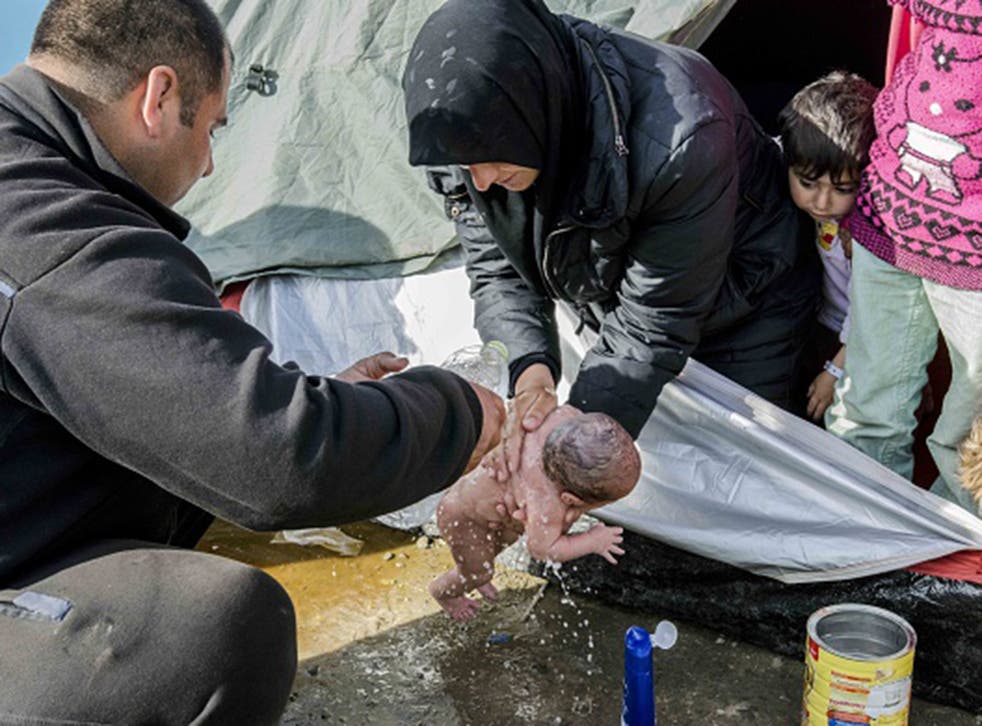 A photograph has emerged of a refugee woman appearing to wash her 20-day-old baby in a puddle.
The mother is pictured reaching out of the door of a crowded tent at the Idomeni refugee camp in Greece, where more than 14,000 people are living, unable to travel further after Macedonia closed its borders.
The Syrian baby, a boy named Bayan, joins four other siblings – aged between 18 months and 10 years – who fled the war-torn city of Idlib along with their mother and father.
International aid charity Médecins sans Frontières estimated last week that more than 30 per cent of the refugees in the Idomeni camp were children, many of whom are struggling with infections and illnesses.
Torrential rain last week worsened conditions further, turning the camp into a into what volunteers with the Hellenic Center for Disease Control & Prevention (KEELPNO) described as a "muddy swamp", sweeping away tents and personal belongings.
KEELPNO is currently dealing with dozens of ill children, transferring some on to the nearby Kilkis hospital. A spokesperson told The Independent that in the past three days, 70 children were taken to the Kilkis hospital with respiratory infections and gastroenteritis.
The 28 European Union member states voted on Monday to shut down the so-called "Balkan route", leaving 42,000 refugees stranded on Greek soil. Thousands continue to arrive in the country each day, which has lead to major overcrowding in some areas and reports of fights breaking when food was distributed.
Initially, Macedonian authorities only allowed Syrians and Iraqis to cross, but earlier this week completely sealed off the border for anyone without valid EU-traveling documents.
The Greek government announced on Friday that evacuating the Idomeni site is an urgent priority. Authorities hope that leaflets distributed in Arabic, Farsi and Pashtun will convince the refugees to abandon the camp and move on to accommodation facilities set up by the government elsewhere in the country.
The president of Macedonia, Gjorge Ivanov, has defended the decision by saying that the country would have been "flooded with jihadists".
Macedonia/Greece Border Crisis

Show all 10
In an interview with German newspaper Bild, Mr Ivanov said: "In the refugee crisis we have been paying for the mistakes of the EU, already we have spent 25 million euros of our own taxpayer's money… and what did we get from Europe? Nothing… we're not an EU country, not Schengen, not [a member of] NATO. Nobody wants us. Yet we protect Europe."
"If we had to rely on Brussels, which has failed to act, we would have long ago been been flooded with Jihadists."
Norbert Blum, Germany's former Labour and Social Affairs Minister, described the conditions at the Idomeni camp as an "attack on humanity".
"This kind of brutality is unworthy of European culture," he said on Saturday. "It is a disgrace to civilization."
Register for free to continue reading
Registration is a free and easy way to support our truly independent journalism
By registering, you will also enjoy limited access to Premium articles, exclusive newsletters, commenting, and virtual events with our leading journalists
Already have an account? sign in
Register for free to continue reading
Registration is a free and easy way to support our truly independent journalism
By registering, you will also enjoy limited access to Premium articles, exclusive newsletters, commenting, and virtual events with our leading journalists
Already have an account? sign in
Join our new commenting forum
Join thought-provoking conversations, follow other Independent readers and see their replies