Refugee suffering heart attack given CPR by journalists as Croatian police 'looked on'
The man, believed to be from Afghanistan, fell ill after hours trapped in fields near the Serbian border with thousands of asylum seekers
Lizzie Dearden
Friday 18 September 2015 09:36 Comments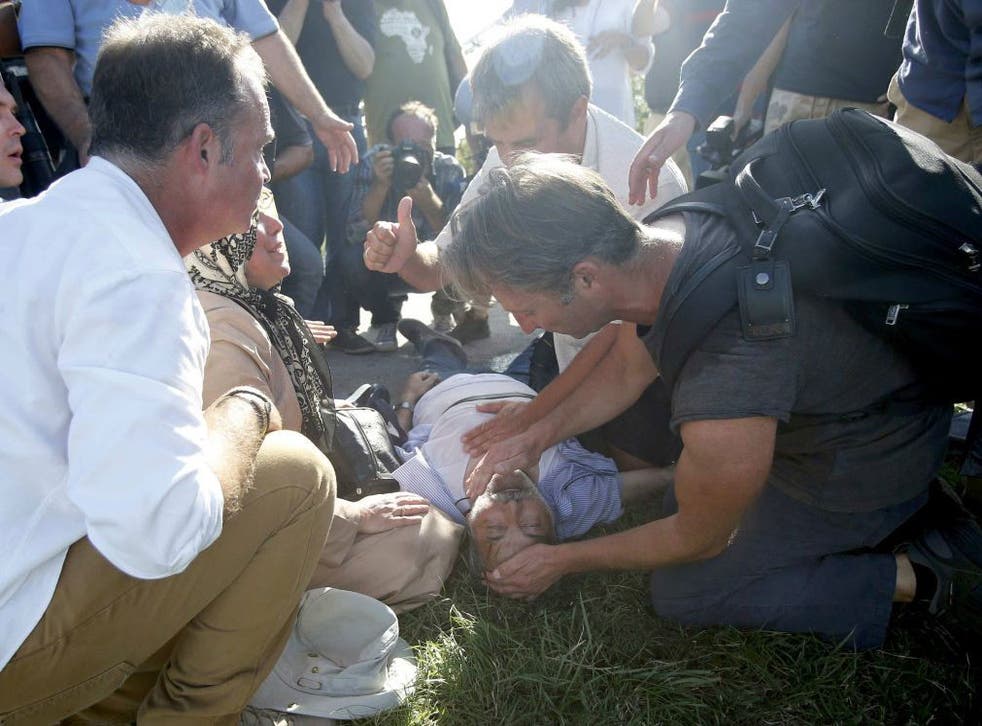 Journalists had to perform CPR on a refugee who had a heart attack during desperate scenes in Croatia, as police stood by just metres away and watched.
The middle-aged man who fell ill was one of thousands of people, including babies and young children, trapped in Tovarnik, on the Serbian border, as lines of riot police held them in a field.
They had hoped to catch a train to take them north towards Zagreb and onwards into Europe but it never arrived, and tensions rose as authorities prevented migrants and refugees from walking up railway lines and motorways.
After several hours trapped in the blazing heat, police let a few women and children through their line and it broke, sending thousands of people stampeding through.
In the chaos, a man fell ill and started having a heart attack on the ground.
Footage showed journalists performing CPR in desperate efforts to keep him alive, as his distraught wife sat beside him crying.
Jonathan Miller, the foreign affairs correspondent for Channel 4 News, was one of several British reporters at the scene.
"An Arab man had a heart attack in front of us," he described in his report.
"Journalists attempted CPR, there were no medics. He stopped breathing several times – the Croatian police looked on. Eventually we ran to find an ambulance."
A video by The Mirror showed the man, who the paper named as Mohammed Jaffa, from Herat in Afghanistan, later being attended to by paramedics and being taken away by the ambulance, with his wife journeying to hospital in a police car.
Mr Jaffa's nephew, Hassan, told the newspaper relatives had warned police that his uncle was feeling faint in the 35C heat, and struggling to breathe.
"I told them he was sick and old but they did nothing," Hassan said.
"Then when everyone rushed through he was pushed to the front of the police and they punched him. His eyes went into his head and he collapsed of a heart attack and they did nothing.
"He was dying before our eyes before the people stepped in to help and the police did nothing.They have no heart and no souls, this is not humanity."
Mr Miller wrote on Twitter that Mr Jaffa survived his heart attack after medics used defibrillation.
Migrants and refugees had walked hundreds of miles through Serbia to reach Croatia in efforts to find an alternative route into the European Union after Hungary shut its southern border.
Afghans, Syrians, Iraqis, Somalis and Eritreans were among the crowds, many of whom had already risked their lives crossing the Aegean Sea from Turkey to Greece.
Thousands continued to stream through fields from Serbia into the European Union today, despite Croatia closing almost all road crossings.
How Hungary welcomes its refugees - in pictures

Show all 15
Hungary, which has imposed laws threatening migrants with imprisonment and ordered riot police to fire tear gas and water cannons to drive them back, is extending 11ft metal fence along its Croatian border to prevent refugees from using it as a new entry point.
Croatia's Interior Minister, Ranko Ostojic, warned that the country would close its border with Serbia if the influx continued, while Slovenia stepped up border checks to prevent refugees using it as passage between Croatia and Austria.
The EU has called an emergency summit for next week in a fresh bid to urgently formulate a new and comprehensive strategy to tackle the refugee crisis.
Additional reporting by Reuters
Register for free to continue reading
Registration is a free and easy way to support our truly independent journalism
By registering, you will also enjoy limited access to Premium articles, exclusive newsletters, commenting, and virtual events with our leading journalists
Already have an account? sign in
Join our new commenting forum
Join thought-provoking conversations, follow other Independent readers and see their replies