Refugees in Croatia: Hundreds break through police lines after 'horrendous' crush at border
'Everywhere you look children are crying, women are crying'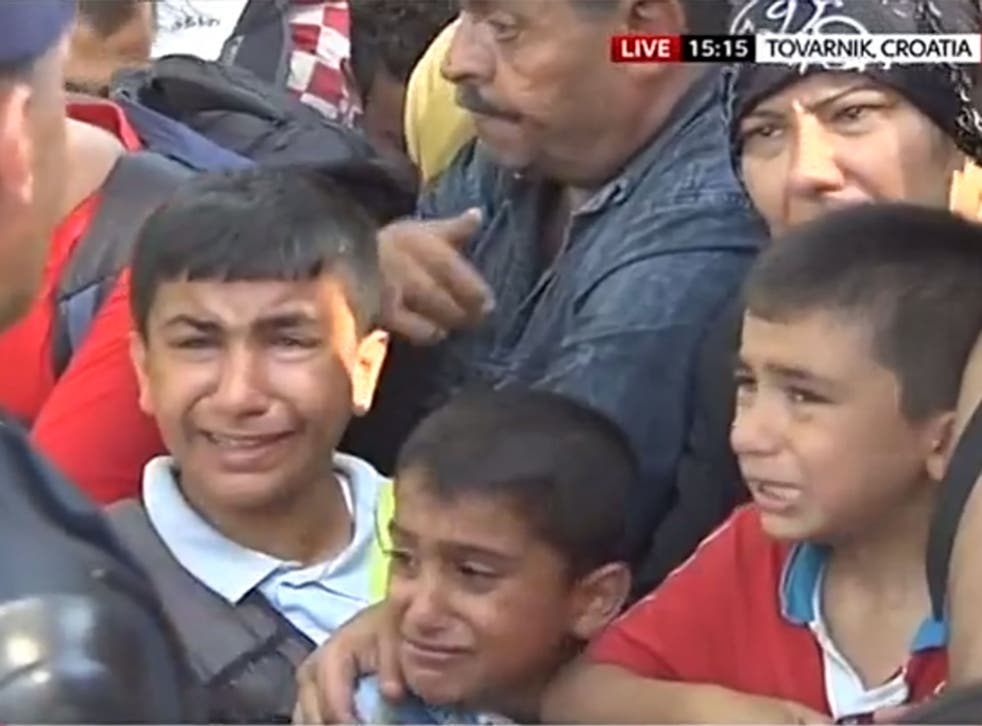 Hundreds of refugees have forced their way through a barricade into Croatia after a desperate standoff with border police.
Just a few dozen police officers had held back an estimated 2,000 refugees in blazing heat at the border town of Tovarnik on Thursday, letting in only handfuls to board buses and trains onwards.
TV news crews reported an increasingly desperate situation, with children pushed to the front of the crowd being crushed against a low metal barricade.
Sky News Stuart Ramsay reported live: "They are getting crushed, it's a pretty horrendous scene actually now.
"A very little girl is crying her eyes out being passed over the fence to a riot police officer, and he's passing her down to her mother.
"Everywhere you look children are crying, women are crying, men are crying, they are all finding this very emotional."
Moments later, reports came through that the police line had been breached and people were rushing through to heat into Croatia on foot.
People trampled and fell over each other in their rush to get through, according to the Associated Press. A photographer described seeing a man collapse on the ground and dozens injured in the melee.
"This is exactly what Croatia did not want to happen," Ramsay said. "They just can't cope, they simply cannot cope with this."
Croatia has become the new route of choice for refugees desperate to reach the welcome offered to them in western Europe, after Hungary closed its borders and began prosecuting anyone who entered the country "illegally".
The refugee crisis - in pictures

Show all 70
But there remains a great deal of uncertainty surrounding what will happen to refugees inside Croatia itself.
The Croatian government has officially said that any who enter the country must apply for asylum there or be considered illegal immigrants.
But Croatia's own Prime Minister, Zoran Milanovic, has said it would allow refugees to continue onwards.
"Croatia is entirely ready to receive or direct those people where they want to go, which is obviously Germany or Scandinavian countries," he said.
Join our new commenting forum
Join thought-provoking conversations, follow other Independent readers and see their replies