64 refugees believed to have drowned off coast of Libya in first major shipwreck of year
Italian coast guard rescues 86 people after dinghy took on water and started deflating in Mediterranean Sea
Samuel Osborne
Tuesday 09 January 2018 11:46 Comments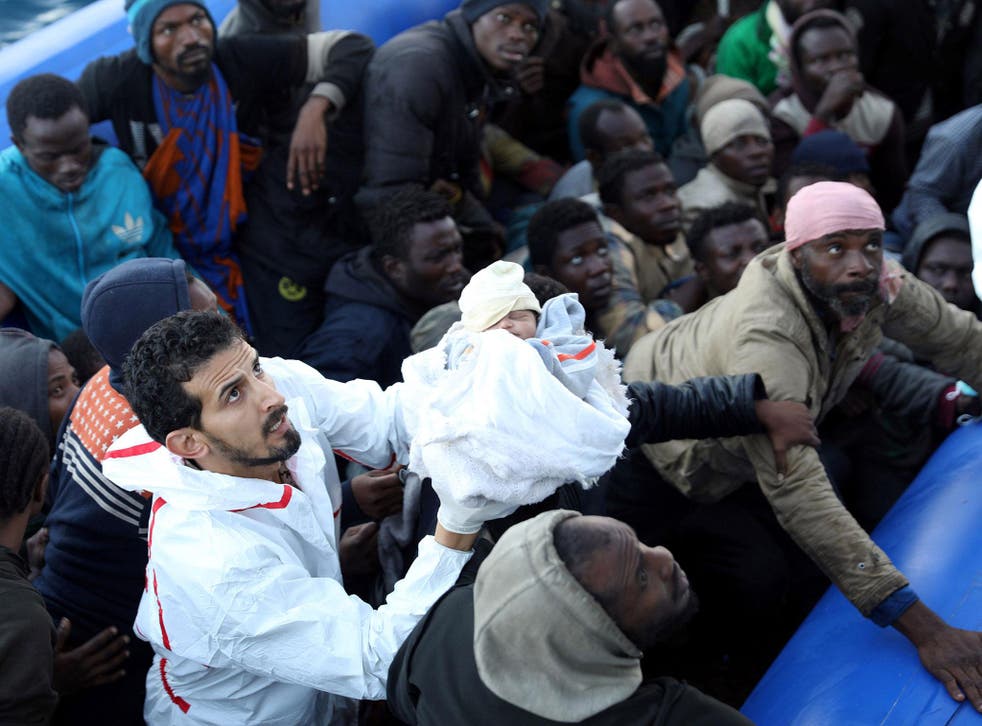 As many as 64 refugees are feared to have died after a traffickers' overcrowded rubber dinghy sank in what is thought to be the first shipwreck in the Mediterranean Sea this year.
Humanitarian groups who spoke with survivors said 86 people were rescued from the boat hours after it took on water and started deflating.
Eight bodies, six women and two men, were recovered from the dinghy, a UN migration agency official said.
Flavio Di Giacomo, a spokesman for the International Organisation for Migration (IOM), said the boat was carrying 150 migrants aboard the dinghy when it set out from a Libyan beach east of Tripoli.
"Sixty-four migrants lost their life in the shipwreck [which] occurred last Saturday," Mr Di Giacomo wrote on Twitter, saying "probably 56 missing migrants" perished at sea.
In pictures: A day of refugee rescues in the Mediterranean Sea

Show all 7
Mr Di Giacomo told the Associated Press the dinghy was packed and made of poor quality rubber.
Some eight hours into the Mediterranean crossing, "water started pouring in, panic ensued, the migrants all moved to one side, and the boat lost its balance and was deflating."
Some migrants managed to cling to the portion of the dinghy that wasn't submerged but many others fell into the sea, he said, adding that the Italian coast guard arrived quickly, about a half hour after being spotted by a European naval aircraft.
The migrants came from Mali, Gambia, Ivory Coast, Sierra Leone, Cameroon, Senegal and Nigeria, he added.
Among those who vanished beneath the waves "were many children who are believed to have drowned at sea," the humanitarian organisation Medecins Sans Frontieres (MSF) said on Twitter.
"Among the survivors was a three-year-old child who has lost her mother and arrived alone, and a family of 11 now a family of three."
The Italian coastguard said the migrants had been spotted on Saturday morning by a plane patrolling the seas on behalf of a European anti-smuggling operation. Rescuers believe their dinghy deflated following a puncture.
Such boats are regularly crammed with migrants by people smugglers operating from Libya and were never built to withstand crossing the Mediterranean Sea.
Refugee shipwreck survivors arrive in Italy
Tommaso Fabbri, the head of the MSF mission in Italy, criticised the policies of Italian and European authorities who are trying to prevent migrants leaving the North African state in the first place.
"Only by opening legal, secure, stable and sustainable routes for those seeking protection will it be possible to prevent desperate people putting their own and their children's destinies in the hands of traffickers," he said in a statement.
Hundreds of thousands of migrants have been rescued at sea and taken to southern Italian ports in the last few years, including nearly 119,000 last year. Another 3,100 drowned along the way in 2017, the IOM says.
The majority of those putting themselves at the mercy of smugglers and the sea are African refugees fleeing wars or persecution as well as economic migrants.
Italy is working with various groups and authorities in Libya in an attempt to slow the flow of newcomers.
Additional reporting by agencies
Register for free to continue reading
Registration is a free and easy way to support our truly independent journalism
By registering, you will also enjoy limited access to Premium articles, exclusive newsletters, commenting, and virtual events with our leading journalists
Already have an account? sign in
Join our new commenting forum
Join thought-provoking conversations, follow other Independent readers and see their replies