Refugees recount their joy as they reach Austria and Germany
Before dawn, the first of the refugees clambered off a fleet of Hungarian buses to find a warm welcome from charity workers offering beds and hot tea
Fernande van Tets
,
Tony Paterson
Saturday 05 September 2015 21:20 Comments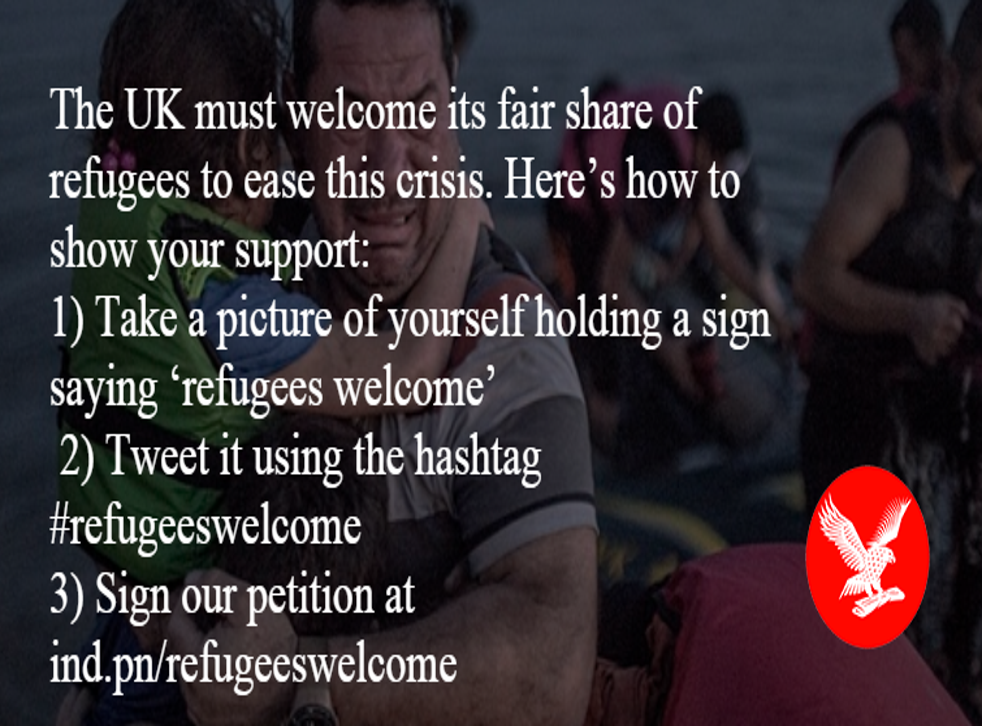 It was the day they had been waiting for. Some had travelled thousands of miles – via myriad modes of transport: boat, train, bus and even walking. The sense of relief was palpable, with many of the thousands of refugees and migrants streaming across the Austrian border, and then beyond into Germany, all too aware that others had paid the ultimate price trying to get where they were.
The exodus stemmed from Austria and Germany agreeing that they could no longer allow the situation that had been building in Hungary to continue, with thousands of people stranded and more arriving every day, and opened their borders to the thousands in Budapest and other cities.
Before dawn, the first of the refugees clambered off a fleet of Hungarian buses – which had set out overnight from the Hungarian capital's Keleti station – at the Austrian border, to find a warm welcome from charity workers offering beds and hot tea.
Thousands crossed from Hungary to Austria at the Nickelsdorf border, leaving services overwhelmed. "The local trains can only transport 300 people an hour; we have capacity for 1,000 at a transit centre nearby so we will take them there first," explained Andreas Zenger, a Red Cross spokesman.
Hamsa, a teacher from Homs in Syria, was one of the lucky ones: "I can't believe it – we've finally made it!" she exclaimed. The family had been travelling through Turkey for a month. "We were very unlucky; every time we reached a border, they closed it." Her daughter Hala, 18, wrapped herself in a purple fleece blanket, which matched her headscarf. "Finally, finally!" she said, raising her arms in the air. The family of five was waiting to board a bus for Vienna and then hoped to continue on to Germany, where they had family. Their journey, which started two years ago when they left their home city for Damascus, then Lebanon and Turkey, would be over.
Many others had found themselves following the same path, whisked by train to Vienna, then the southern German city of Munich, where onlookers cheered their arrival; children were handed sweets and toys.
The surprise overnight effort eased the immediate pressure on Hungary, which has struggled to manage the flow of thousands of refugees and migrants arriving daily. But officials warned that the numbers gathering to the south of Hungary was still rising, and more westward-bound travellers arrived in Budapest within hours of the capital's central railway station being virtually emptied.
Hungarian authorities had spent most of previous few days trying to force those pouring into the country to report to government-run refugee centres to apply for asylum in their initial EU entry point, as the 28-nation bloc's rules require. But thousands refused – some expressing fears that Hungary would deport or detain them indefinitely – and demanded free passage, overwhelmingly to Germany.
After a three-day standoff with police, thousands began to march west on 4 September, along one of Hungary's main motorways, and camped overnight in the rain by the roadside. Hundreds more broke through police lines at a railway station in the western town of Bicske, where police were trying to take them to a refugee camp, and blocked the main rail line as they, too, marched west.
The buses were meant to be a solution to that problem, but Hungarian officials were quick to state that the transportation to the border was a one-off. Hungary's prime minister, Viktor Orban, said that the refugees and migrants – many fleeing conflict, particularly from Syria – were taken to the border only because they were a public menace. Mr Orban said Hungary would deploy the police force along its border with Serbia after 15 September and the army, too, if parliament approved a government proposal.
"It's not 150,000 [people] that some [in the EU] want to divide according to quotas; it's not 500,000, a figure that I heard in Brussels: it's millions, then tens of millions, because the supply of immigrants is endless," he said. The mood in Hungary was in stark contrast to those in Austria and Germany. The Austrian state railway company, OBB, said it had added 4,600 seats for refugees and migrants by extending trains and laying on special non-scheduled services. At Vienna's main railway station, the Hauptbahnhof, it was difficult to believe that thousands of refugees were moving through – around 6,500 had arrived in the Austrian capital by the afternoon of 5 September, with more than 2,000 having been moved on to Germany.
Hundreds of volunteers had stacked storerooms with nappies, water, dried foodstuffs and boxes full of toys. There were camp beds and a mini-hospital, manned by doctors and psychologists, who were also volunteers. Translators held signs showing what languages they could speak. Mona (Arabic, English, French) came down to the station almost immediately after returning from her holiday two days ago.
Station announcements about delayed trains to Munich, due to problems abroad, were given in Arabic, while some of the trains were free to board without tickets – one quickly filled with 1,300 people.
But the migrants were still pouring in fast.
The German federal police spokesman, Simon Hegemueller, said 1,600 already had arrived at Munich's central station and that this figure was expected to reach 3,000 by the time it was due to close after midnight – up to 10,000 refugees and migrants were expected to follow in their wake.
Hundreds of the refugees had chanted "Germany! Germany!" and brandished photos of Chancellor Angela Merkel as they boarded trains and buses taking them out of Hungary. "We are just happy to be allowed to travel on to Germany," one said.
For her part, Ms Merkel had appeared to live up to their adoration, having said that Germany would place no upper limit on the number of refugees it would receive. However, she is committed to finding a European solution to the distribution problem: "We cannot have a situation in which just four or five countries shoulder the burden," she said.
Frank-Walter Steinmeier, Ms Merkel's foreign minister, said the decision to allow thousands of refugees to leave Hungary in one go was not something that would "become a practice".
Provisions are currently being made to distribute them across the country. Special refugee trains are being sent to Frankfurt and regions in eastern Germany.
"Deutsche Bahn is doing everything to ensure that the refugees can be brought from the borders to reception centres as quickly as possible," a German rail spokesman said. Measures to help with the crisis – which could be agreed as early as 6 September – include cutting red tape to facilitate the construction of asylum shelters, increasing funds for federal states and towns and speeding up asylum procedures.
In her weekly video podcast, Ms Merkel made clear that "the whole system" of how the EU accepts refugees "needs to be redesigned". And at an EU foreign ministers' meeting in Luxembourg, the usual diplomatic conviviality unravelled as they failed to agree on any practical steps to deal with the crisis.
Ministers are especially at odds over proposals for country-by-country quotas to take in asylum seekers. "Given the challenges facing our German friends as well, all of Europe needs to wake up," the Austrian interior minister, Johanna Mikl-Leitner, said. She concluded that the time for "reverie is over".
Fernande van Tets has been reporting along the Balkan route for France 24
This newspaper has started a campaign for the UK to welcome a fair share of refugees.
Register for free to continue reading
Registration is a free and easy way to support our truly independent journalism
By registering, you will also enjoy limited access to Premium articles, exclusive newsletters, commenting, and virtual events with our leading journalists
Already have an account? sign in
Join our new commenting forum
Join thought-provoking conversations, follow other Independent readers and see their replies