'Desperation has its limits': Refugees leap out of rescue boat and try to swim to Italy after being stuck at sea for days
'We have been warning for days, desperation has its limits,' says founder of rescue group after being caught in standoff with Rome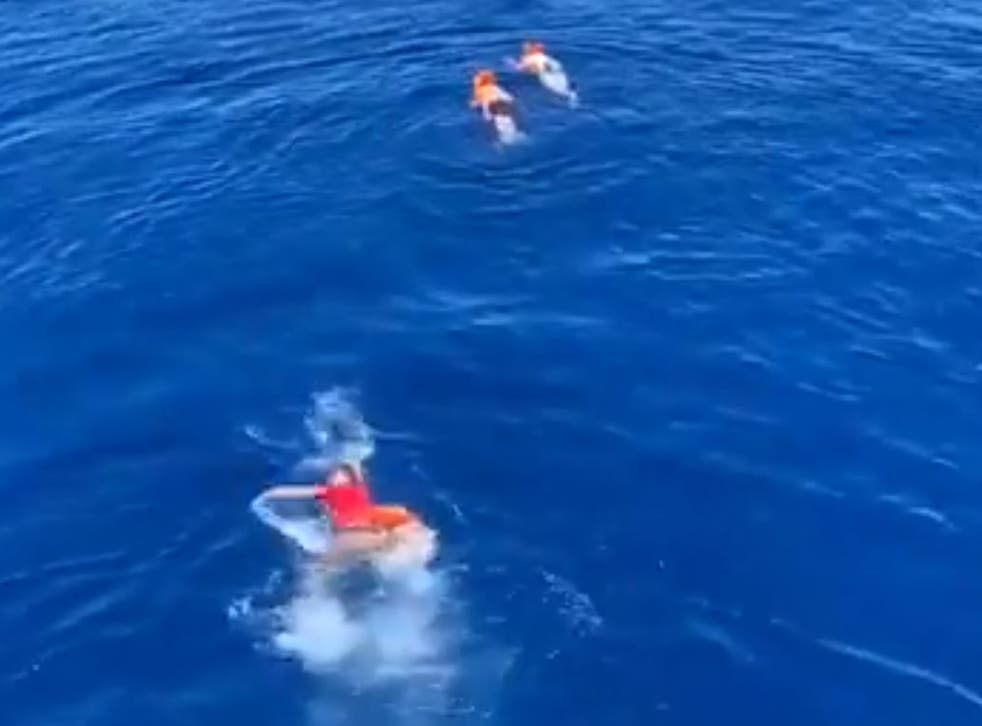 Several refugees tried to swim to Italy after being blocked for days from docking in the southern European country.
Four refugees in orange vests dived into the sea from Spanish rescue boat Open Arms, forcing several crew members to give chase bring them back aboard, footage released by Open Arms founder Oscar Camps shows.
"We have been warning for days, desperation has its limits," said Mr Camps.
Mr Camps said in the video that the situation aboard had become increasingly tense after the Open Arms found itself at the centre of another standoff between the Italian government and refugee rescue boats.
The vessel has been on a search and rescue mission in the Mediterranean Sea for 26 days and carried out its first rescue operation 17 days ago.
World news in pictures

Show all 50
It had 147 stranded refugees aboard when it reached Italian waters. In the last few days, 40 have been taken by Italian coastguard vessels to Lampedusa, including a few who were ailing and 27 who said they were minors.
But far-right Italian Interior Minister Matteo Salvini banned the Open Arms from docking at Lampedusa, causing it to be blocked for days close to the Italian coast.
On Sunday, Spain offered its southern port of Algeciras to Open Arms for disembarking in an attempt to break the deadlock.
The office of Spain's caretaker prime minister, Pedro Sanchez, said the offer reflected the "emergency situation" on the boat and Mr Salvini's "unconceivable response" in refusing docking.
But Algeciras lies five or six days' sailing away from the boat's current position, and Open Arms said it would be dangerous to accept the offer, although the group said it had not yet made a final decision.
"There is anxiety, bouts of violence, control is becoming increasingly difficult," said Open Arms spokesperson Laura Lanuza.
"To embark on a six-day sailing with these people on board who are at the very limit of their possibilities would be crazy. We can't put their health and lives at risk."
Earlier on Sunday, Mr Salvini earlier told the ship to leave Italian waters and go to Spain, and claimed in a tweet that Open Arms was staying anchored off Lampedusa "just to provoke me and Italy".
On Wednesday, an administrative court in Rome had suspended Ms Salvini's ban prohibiting the boat from entering the country's waters "because of the exceptional gravity and urgency of the situation".
The court ruled that the ban violated international laws and called for "immediate assistance to the rescued people most in need".
But Mr Salvini issued a fresh decree banning the ship from disembarking the passengers in Lampedusa, although Spain and five other countries had offered to take the migrants in.
"After 26 days of mission, 17 of waiting with 134 people on board, a court order in favour and 6 countries willing to host [the passengers], do you want us to sail 950 miles, about 5 more days, to Algeciras, the farthest port in the Mediterranean, with an unsustainable situation on board?" Mr Camps tweeted.
Open Arms says Mr Salvini is using the 107 migrants aboard the Open Arms for "xenophobic and racist propaganda".
The standoff comes after Mr Salvini pulled the plug on the ruling coalition between his League and the Five Star Movement last week, pushing Italy to the brink of a political crisis.
Additional reporting by AP
Register for free to continue reading
Registration is a free and easy way to support our truly independent journalism
By registering, you will also enjoy limited access to Premium articles, exclusive newsletters, commenting, and virtual events with our leading journalists
Already have an account? sign in
Register for free to continue reading
Registration is a free and easy way to support our truly independent journalism
By registering, you will also enjoy limited access to Premium articles, exclusive newsletters, commenting, and virtual events with our leading journalists
Already have an account? sign in
Join our new commenting forum
Join thought-provoking conversations, follow other Independent readers and see their replies