Renault security chief arrested over 'fake spy scandal' allegations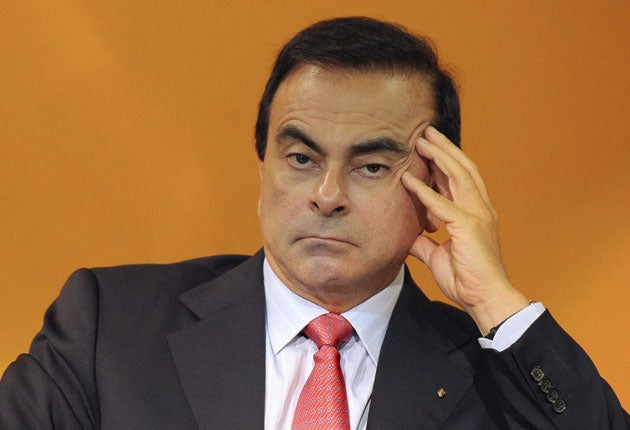 A Renault security boss has been arrested while trying to leave the country and accused of concocting the spying allegations which shook the French car giant – and the entire motoring world – in January.
Dominique Gevrey, a former military intelligence agent, was arrested on Friday evening at Charles de Gaulle airport just before boarding a flight to Guinea in West Africa. He has been formally accused of conspiracy to defraud.
Renault last night apologised to the three senior executives who were fired in January after being accused of selling secrets about the company's electric car strategy to unknown "foreign interests". The company promised that the trio would be compensated and that their careers and "honour" would be "entirely restored".
The Renault board was in emergency session last night amid calls for senior executives to resign for their handling of what has proved to be a deeply humiliating affair for the world's third largest automobile company.
Mr Gevrey is suspected of taking all or part of the €250,000 (£216,000) paid by Renault to an anonymous "deep throat" who provided details of bank accounts in Switzerland and Liechtenstein, allegedly held by the three accused men. It emerged 10 days ago, after an investigation by French counter-intelligence, that the bank accounts were fictitious and there was no evidence of any leaks from Renault.
Investigators are said to be examining the possibility that the "deep throat" never existed and that the money was embezzled by Mr Gevrey and an unnamed private investigator hired by the company.
The Renault president and chief executive, Carlos Ghosn, put his reputation on the line in January by insisting that he had "factual proof" that industrial espionage had occurred.
Patrick Monange, leader of the Renault section of the Force Ouvrière trades union federation, suggested yesterday that Mr Ghosn – one of the most respected and powerful figures in the world automobile industry – should pay the price. "The responsibility is first and foremost that of Mr Ghosn," Mr Monange said. "He should suffer the consequences of what has happened, perhaps by resigning."
Alain Gueguen, Renault delegate of the militant SUD trades union federation, pointed out that the arrested security chief was regarded as a protégé of Mr Ghosn. The two men had worked together in Tokyo when Mr Ghosn was head of Renault's allied Japanese company, Nissan.
There was also pressure last night on Renault's number two, Patrick Pélata. He said 10 days ago that he would "consider the consequences" if the espionage saga proved to be a "manipulation".
The three senior executives fired in January are also threatening legal action. One of them, Bertrand Rochette, said this month that he was "utterly disgusted" with the company. "They have dragged us in the mud before the entire world," he said.
French intelligence agents began to grow suspicious when Mr Gevrey refused to name his anonymous source and withheld cooperation from their inquiry. He and two other Renault security officials were questioned throughout the weekend. On Sunday night, it was announced that he was being placed under formal investigation for "conspiracy to defraud". The two other officials were released.
Join our commenting forum
Join thought-provoking conversations, follow other Independent readers and see their replies