Rise of the French far right: Front National party could make sweeping gains at this month's local elections
However, revelations about the bizarre candidates being fielded mean it may not do quite as well as its 30 per cent support nationwide may suggest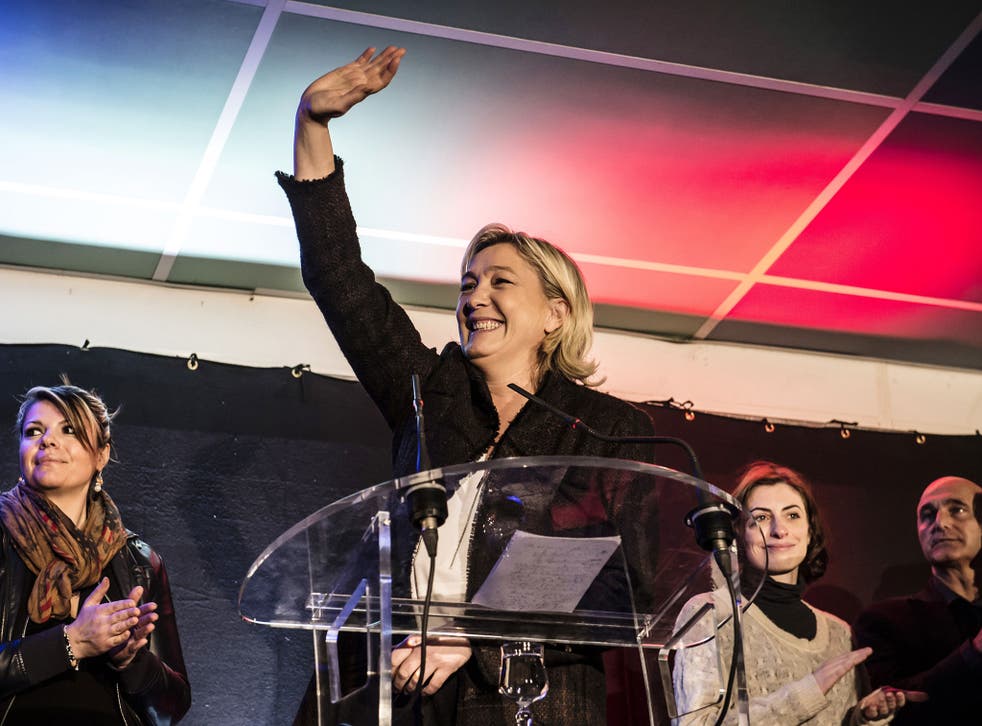 The rise of the French far right continues apace. And, despite a wave of revelations that it has fielded racist, bizarre and geriatric candidates, the Front National could make sweeping gains in important elections this month.
An opinion poll published today gave Marine Le Pen's Front National (FN) 29 per cent of support in the local elections on 22 and 29 March – joint top with the centre-right. Other polls in recent days have placed the FN ahead with 30 per cent of support nationwide.
The surveys also point to a polarisation of political opinion in France since the jihadist attacks on the satirical magazine Charlie Hebdo and a Jewish grocery in Paris in January, with many urban and young voters still clinging to the "Republican spirit" of the epic marches "against hatred" in Paris and other cities on 11 January.
But there has also been a strengthening of support in rural areas and in blue-collar or middle-class suburbs for Ms Le Pen's authoritarian, nationalist, anti-immigrant and anti-European rhetoric.
Political commentators say, however, that the poor quality of FN candidates may limit the party's breakthrough. There has been a drumbeat of revelations in recent days about various candidates running under Ms Le Pen's supposedly "moderate" and "professional" banner.
Several have been suspended from Ms Le Pen's "de-demonised" party after it was revealed that they had posted violent, anti-Semitic or Islamophobic comments on social media. And more than a score of NF candidates are over 90 years old.
Local elections in France are usually shaped by local issues and personalities. Many candidates run as independents, so despite the polls showing Ms Le Pen with 29-30 per cent of the "nationwide" vote, she may not capture outright control of any council this month.
In pictures: Extremists in the EU

Show all 6
All the same, the FN seems assured of getting by far its best ever result in a county council election. At present, the far-right party holds only two "departmental council" seats in the whole country. It seems certain to have scores of members in the new councils, which will be elected on 29 March under new rules allowing local politicians to stay in office for six years.
The two-round election will be closely watched as a guide to potentially explosive French presidential and parliamentary elections in two years' time. Today's poll put the governing Socialist Party in third place – suggesting President François Hollande or any other centre-left candidate – might struggle to reach the two-candidate run-off in 2017.
Officially, the FN has made greater efforts than ever before to vet its candidates to protect Ms Le Pen from embarrassment. However, the party, despite claims to the contrary, has evidently had great difficulty in finding active and respectable candidates to fulfil its pledge to contest 95 per cent of county council seats.
One FN candidate on Aveyron in south-central France had called on his Facebook page for the "destruction of the Jews once and for all". Another candidate in Ardèche in the Rhône valley had posted a swastika and the message: "Marine, you are the reincarnation of Hitler. You are going to clean up France."
Another FN candidate in Puy-de-Dôme in the centre of France was dropped after it emerged that he had had been convicted last year of trying to run over a pedestrian while shouting racist insults.
The party's task has been complicated by complex new rules that mean county councillors must seek election in two-person, man and woman teams. Despite the popularity of its female president, the FN remains a heavily male party.
Among those elderly candidates is Henriette Frantz, 100, who is running without leaving her sheltered home in the Rhône department around Lyon. She says that she has "always been right wing" and is campaigning for the right to a "quiet life".
There are other telling signs that the FN remains rooted in shallow soil. One far-right candidate in Orne, in Normandy, was imprisoned last month for driving without a licence. He is permitted, under the rules, to remain on the ballot paper.
Six members of the same family in Haute-Loire in central France are running in constituencies in different parts of the county – some of them many miles from their homes. Local party officials insist that all six are "the best possible candidates". The party's vice-president, Florian Philippot, the architect of Ms Le Pen's "reformed" version of far-right politics, rejected suggestions that the unmasking of racist candidates has exposed the true nature of the FN.
"The media finds what it is looks for," he said. "Overall, 99.92 per cent of our candidates have nothing to hide."
Register for free to continue reading
Registration is a free and easy way to support our truly independent journalism
By registering, you will also enjoy limited access to Premium articles, exclusive newsletters, commenting, and virtual events with our leading journalists
Already have an account? sign in
Register for free to continue reading
Registration is a free and easy way to support our truly independent journalism
By registering, you will also enjoy limited access to Premium articles, exclusive newsletters, commenting, and virtual events with our leading journalists
Already have an account? sign in
Join our new commenting forum
Join thought-provoking conversations, follow other Independent readers and see their replies