Rising star of Hungarian anti-Semitic party forced to resign after he discovers his Jewish heritage
It emerged that Csanad Szegedi's grandfather was a forced labour camp veteran and that his grandmother was a survivor of Auschwitz
Rob Williams
Thursday 16 August 2012 19:17 Comments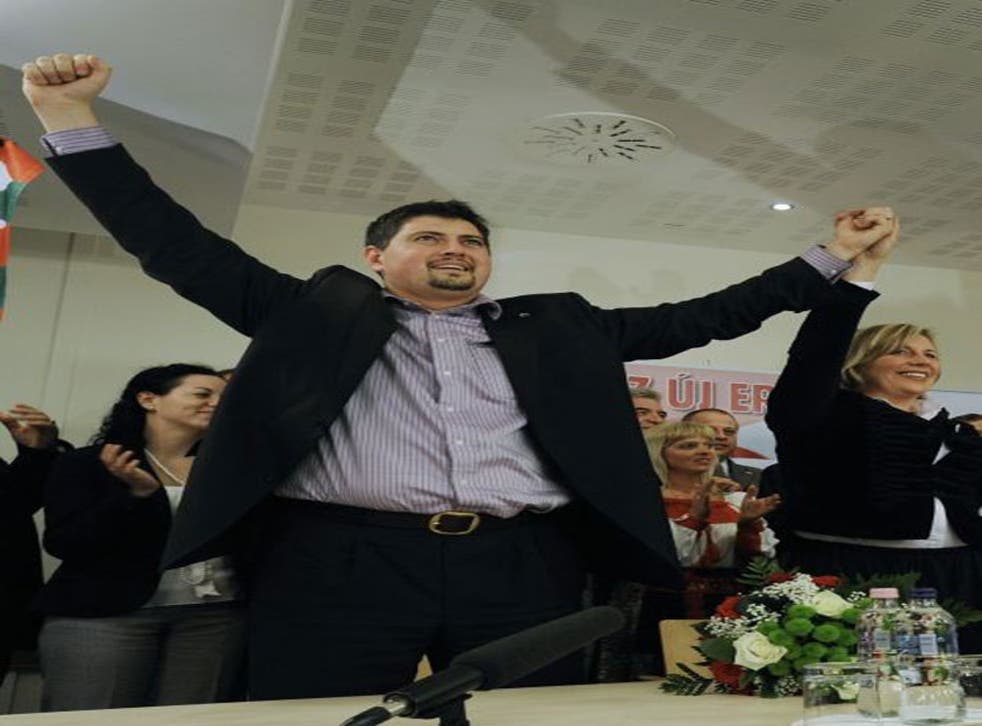 He was a rising star in Hungary's far-right Jobbik Party, and was notorious for his incendiary anti-semitic comments - including attacks on the 'Jewishness' of the political elite; but Csanad Szegedi's career as an ultra-nationalist standard bearer now looks to be over after the revelation that he is in fact Jewish.
Szegedi, who had in the past accused Jews of 'buying up the country', faced weeks of Internet rumours about his ancestry before acknowledging in June that his grandparents on his mother's side were Jews.
It emerged that his grandfather was a forced labour camp veteran and that his grandmother was a survivor of the Auschwitz death camp.
Following the revelation the 30-year-old has been politically exiled from Jobbik, and his career has been left in ruins. He resigned from the party last month after concerted pressure.
Central to Szegedi's fall from grace in the Jobbik party is an audio recording that dates from 2010 which he claims has been tampered with, but which the party believes is genuine.
On the tape a convicted felon, Zoltan Ambrus, is heard confronting Szegedi with evidence of his Jewish roots. He tells Szegedi that he has documents that prove he is of Jewish descent.
On the tape Szegedi allegedly offers Ambrus money to keep quiet about the documents.
After resigning from the Jobbik party last month Szegedi now faces pressure to give up his seat in the European Parliament as well.
Jobbik claims its issue with Szegedi is the alleged bribery, rather than his Jewish roots.
Szegedi came to prominence as a founder member of the Hungarian Guard. The group formed in 2007 wore black uniforms and striped flags recalling the Arrow Cross, a pro-Nazi party which governed Hungary at the end of World War II and killed thousands of Jews.
In all, 550,000 Hungarian Jews were killed during the Holocaust, most of them after being sent in trains to death camps like Auschwitz.
The Hungarian Guard was banned by the courts in 2009 but Szegedi had allegedly already joined Jobbik party, which was launched in 2003. Jobbik quickly rose to become the biggest far-right political force in Hungary.
Zoltan Ambrus, who served time in prison on a weapons and explosives conviction, allegedly rejected bribes from Szegedi to keep quiet over his Jewish background.
He said he secretly taped the conversation as part of an internal Jobbik power struggle aimed at ousting Szegedi from a local party leadership post. The party's reaction was swift.
"We have no alternative but to ask him to return his EU mandate," said Jobbik president Gabor Vona. "Jobbik does not investigate the heritage of its members or leadership, but instead takes into consideration what they have done for the nation."
Following the revelations Szegedi met in early August with Rabbi Slomo Koves, of Hungary's Orthodox Chabad-Lubavitch community,
"As a rabbi ... it is my duty to receive every person who is in a situation of crisis and especially a Jew who has just now faced his heritage," Koves said.
Szegedi apologized for any statements which may have offended the Jewish community during the meeting, and said he would visit Auschwitz to pay his respects.
Rabbi Koves said the conversation had been "difficult and spiritually stressful," but that he was hopeful for a successful outcome.
"Csanad Szegedi is in the middle of a difficult process of reparation, self-knowledge, re-evaluation and learning, which according to our hopes and interests, should conclude in a positive manner," Koves said. "Whether this will occur or not is first and foremost up to him."
Register for free to continue reading
Registration is a free and easy way to support our truly independent journalism
By registering, you will also enjoy limited access to Premium articles, exclusive newsletters, commenting, and virtual events with our leading journalists
Already have an account? sign in
Join our new commenting forum
Join thought-provoking conversations, follow other Independent readers and see their replies