Russia accuses Turkey of 'hypocrisy' after Erdogan admits airspace violation 'does not justify attack'
Syria shot down a Turkish warplane in 2012, in an incident which has many echoes with Tuesday morning's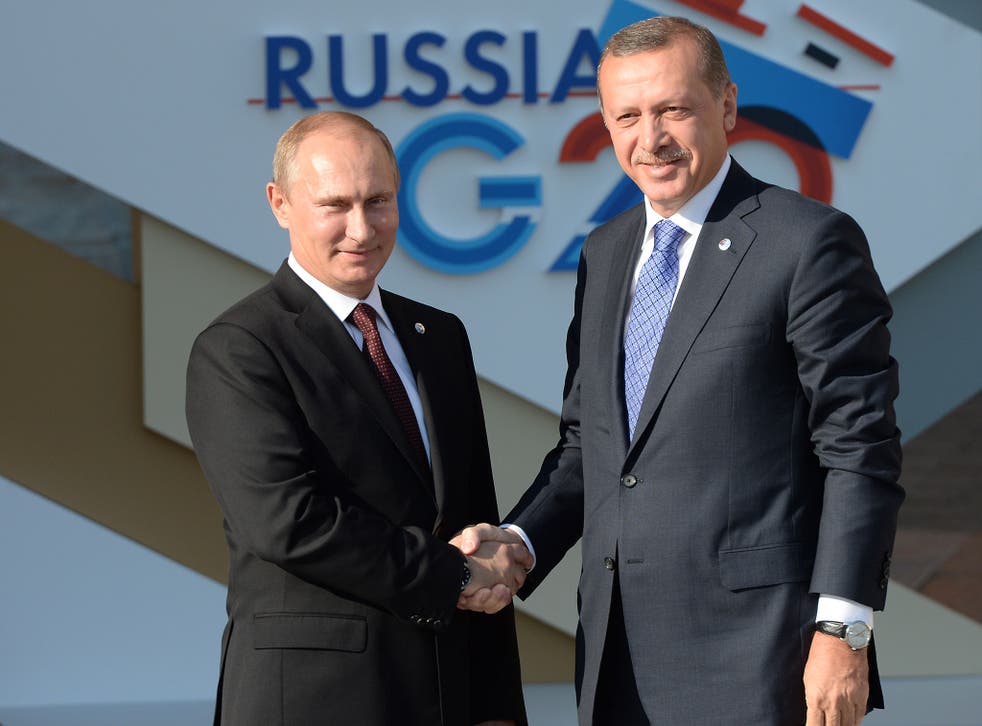 Turkey has been accused of hypocrisy over the downing of a Russian warplane on the Syrian border, after it emerged that President Recep Tayyip Erdoğan himself said "a short-term border violation can never be a pretext for an attack".
The Russian jet which came down on Tuesday morning entered a small sliver of Turkish airspace for 17 seconds, according to the Turkish military's own data, while the Russian defence ministry says the Su-24 bomber was in Syria at all times.
The incident has echoes of a reverse situation in 2012, when the Syrian regime shot down a Turkish F-4 Phantom which, it said, entered its airspace off the country's north-east coast.
Turkey releases audio of moment its F16 pilots warned Russian warplane
Then, Turkey spoke of its "rage" at the decision to shoot down the jet, which was on a training flight testing its own country's radar systems.
"A short-term border violation can never be a pretext for an attack," Mr Erdogan said at the time, threatening in response that "every military element approaching Turkey from the Syrian border… will be assessed as a military threat and treated as a military target".
Speaking on Wednesday, the Russian foreign minister Sergei Lavrov recalled the Turkish president's own comments, and said it was "hypocritical" of Turkey to use the alleged brief border violation as an excuse for this week's incident.
Instead, he said the downing of the plane appeared to have been a "planned provocation" on Turkey's part.
Nonetheless, Mr Lavrov said Russia has "no intention to go to war with Turkey", adding: "Our attitude to the Turkish people hasn't changed. We only have questions about the Turkish leadership."
Russian plane shot down by Turkish jets

Show all 5
Turkey's prime minister, Ahmet Davutoglu, sought to reduce tensions with Moscow, saying Russia is Turkey's "friend and neighbour" and insisting relations cannot be "sacrificed to accidents of communication".
Mr Davutoglu said Russia was an "important partner and tops the list of countries with which we have shown great sensitivity in building ties".
Nevertheless, the Turkish prime minister also criticised Russian and Syrian operations in Syria's Turkmen region, saying there is "not one single" member of the Isis group there. Mr Davutoglu repeated calls for operations in the area to stop immediately.
Join our new commenting forum
Join thought-provoking conversations, follow other Independent readers and see their replies