Russia also has its Victory Day – but nobody else wants to share it
Western leaders will stay away from parades for the 24 million who died in the Second World War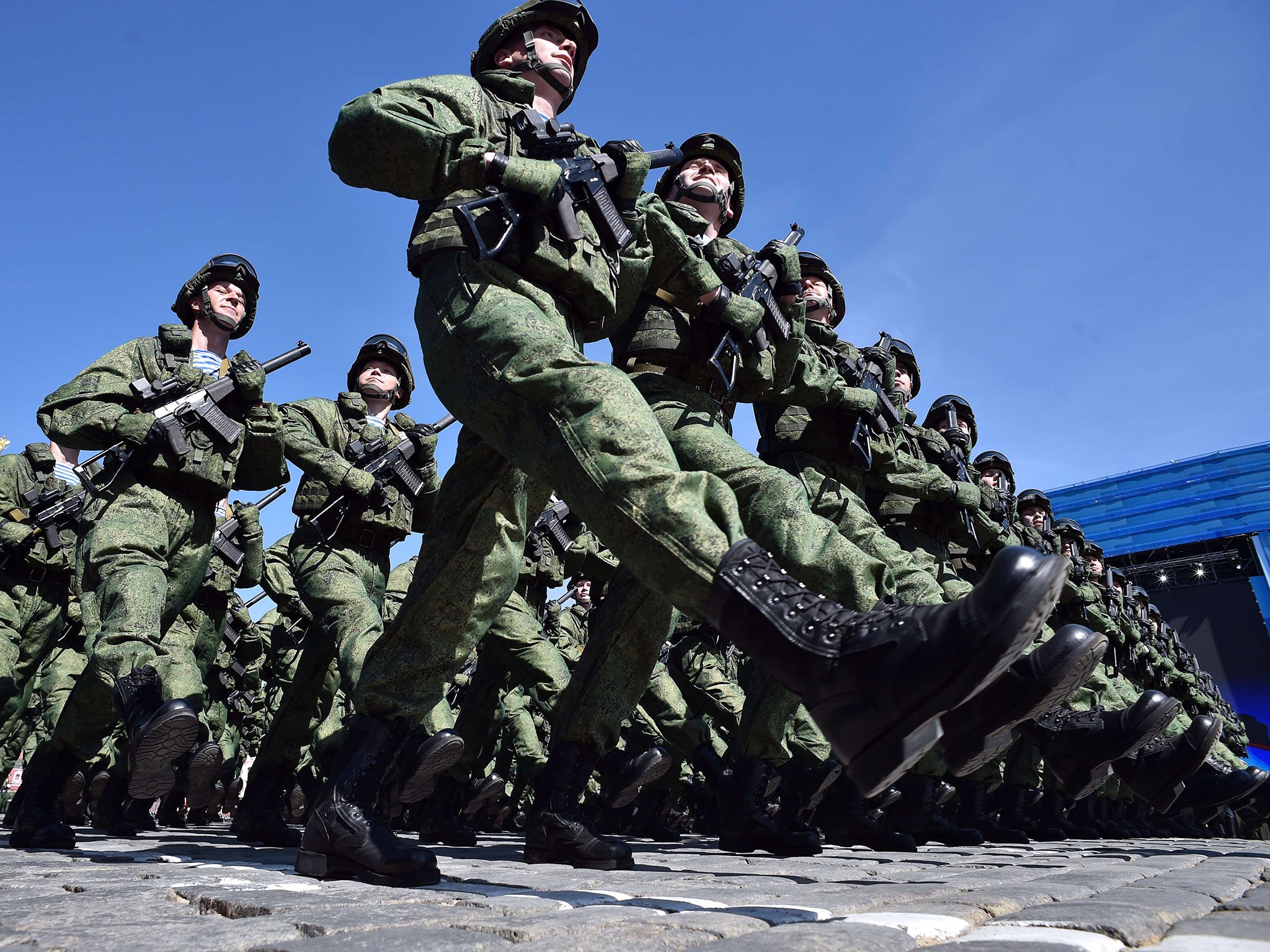 At a pop-up stall in central Moscow, street vendor Alexei Mendeleyev sells mugs emblazoned with images of President Vladimir Putin as he looks to capitalise on the patriotic fervour generated ahead of Russia's Victory Day celebrations.
Marked on 9 May – as opposed to 8 May as in western Europe – Victory Day "was, is and always will be a celebration" in Russia, says Mr Mendeleyev, who fled to Moscow last year from Ukraine's war-torn Donetsk region. Across the street, a woman tries to peddle Soviet pilot hats to passers-by – some of whom wear the orange and black-striped St George ribbon, a symbol akin to the red poppy, in their lapels or tied to their handbags and rucksacks.
Victory Day is a public holiday in Russia, marked by large parades and firework displays in cities across the country. The scale of the celebration is unsurprising: the Soviet Union suffered up to 24 million civilian and military casualties during the war – about 50 times greater than the losses incurred by Great Britain, according to statistics cited by the US National World War II Museum.
The pièce de résistance of this year's Victory Day, which marks 70 years since the Allied victory over Nazi Germany, will be a military parade through the centre of Moscow. About 200 vehicles will proceed along the city's main thoroughfare, Tverskaya Ulitsa, and onto Red Square outside of the Kremlin. A fly-by involving 150 planes and helicopters will take place overhead.
At a rehearsal on Monday, the crowd gave out a loud cheer as a RS-24 Yars intercontinental ballistic missile, which is capable of delivering three nuclear warheads, rumbled down Tverskaya Ulitsa. Russia will also use the parade to publicly unveil its new Armata T-14 tank – described on Twitter this week as a "beauty" by Deputy Prime Minister Dmitry Rogozin, who oversees the country's military-industrial complex. Organisers will be hoping the tank doesn't break down, as it appeared to do in a dress rehearsal on Thursday. The tank's driver raised a small red flag to show he had problems but managed to drive on about 30 minutes later after an attempt to tow it away was abandoned.
The parade announcer later announced that the stoppage had been planned to demonstrate how military equipment could be evacuated from the battlefield, prompting laughter from the audience. It will be the first new main battle tank deployed by Russia in 40 years, part of plans to produce 2,300 new tanks in the next five years under a costly programme to replace ageing Soviet-era military vehicles.
Chinese leader Xi Jinping and Cuban leader Raul Castro will be among the 27 foreign dignitaries who will travel to Moscow for celebrations marking Victory Day, presidential aide Yury Ushakov was cited as saying Wednesday by the Interfax news agency.
North Korean leader Kim Jong-un was also due to visit the capital in what would have marked his first foreign visit since taking power, though the country's titular head of state Kim Yong-nam will now travel in his place. There will however be noticeable absences at this year's parade on Red Square as many Western leaders have decided to shun the celebrations in protest at Russia's actions in Ukraine.
Barack Obama, David Cameron and French President François Hollande have all chosen not to attend the celebrations in Moscow. German Chancellor Angela Merkel will lay a wreath at the Tomb of the Unknown Soldier on Sunday, but will skip the main parade on Saturday, her spokesman Steffen Seiber said, according to Deutsche Well.For many, the decision by Western leaders to snub the ceremony is an affront to the memory of the war dead, who died in a conflict known as the "Great Patriotic War".
"In my view it is very disrespectful, and childish. If the West wanted to win the hearts and minds of Russians, they would have done right the opposite – attend the celebrations with the Russian citizens for whom 9 May is the holiest day of the whole year," says Guennadi Moukine, who was born in Russia but now works in Australia.
The most prominent absentee will be Ukrainian President Petro Poroshenko, the head of a one-time brotherly nation whose relations with Russia have soured following the Crimean annexation and the conflict in Ukraine.
"There will be a parade in Moscow on 9 May, in which the weapons that are being used today in Donetsk will be displayed. Ukraine has rejected an offer to take part in this parade," Mr Poroshenko said.
For others in Russia, the true meaning of Victory Day – a chance to commemorate the sacrifices made by soldiers and civilians alike – has been lost in the furore surrounding contemporary politics. "Why politicise and dramatise the attendance or non-attendance [of world leaders]?" asks Aislu Van Rain, a Russian teacher whose father was injured in the defence of Moscow and suffered from war trauma for the rest of his life.
"They would do better to think how to thank their own veterans," she adds.
Join our commenting forum
Join thought-provoking conversations, follow other Independent readers and see their replies