Unexpected deaths of six Russian diplomats in four months triggers conspiracy theories
Several deaths have been described as 'heart attacks' or the result of a 'brief illness' by officials, in some cases despite evidence to the contrary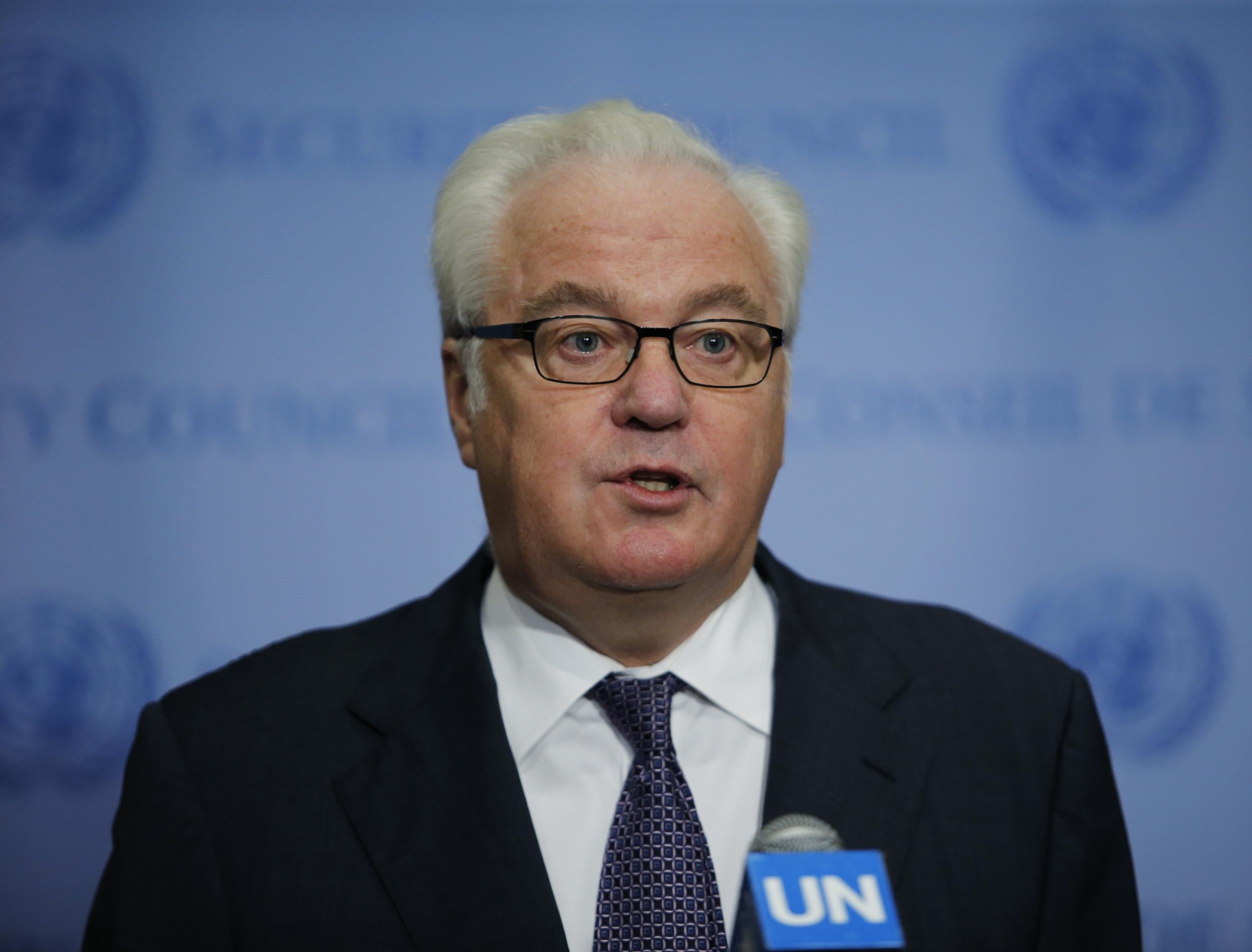 When Russia's ambassador to the United Nations died suddenly in New York last week, he became the sixth Russian diplomat to die unexpectedly since November, leaving internet conspiracy theorists trying to spot a pattern.
Vitaly Churkin, 64, was rushed to hospital from his office at Russia's UN mission on 20 February, after becoming ill without warning on his way in to work.
It was initially reported that Mr Churkin may have suffered a heart attack, but following an autopsy medical examiners said the death required further study.
Media company Axios note that not only is Mr Churkin's death unexplained, but it is also remarkably similar to the deaths of Russia's Ambassador to India on 27 January, the country's consul in Athens on 9 January, and a Russian diplomat in New York on US election day, 8 November.
The three other deaths were all also labelled "heart attacks" or the result of "brief illnesses".
Two more diplomats died more clearly violent deaths in the same period: Russia's Ambassador to Turkey, Andrei Karlov, was assassinated by in Ankara at a photography exhibition on 19 December, and on the same day another diplomat, Petr Polshikov, was shot dead in his Moscow apartment.
Additionally, an ex-KGB chief, Oleg Erovinkin, who was suspected of helping a British spy draft a dossier on Donald Trump, was found dead in the back of his car on boxing day, 26 December. Mr Erovinkin also was an aide to former deputy prime minister Igor Sechin, who now heads up state-owned oil company Rosneft.
Russian ambassador to Turkey shot dead in Ankara
Show all 13
Here's a timeline of the deaths since November.
8 November 2016
On the morning of US Election Day, Russian diplomat Sergei Krivov, 63, was found lying unconscious on the floor of the Russian Consulate in New York with a head injury. Initial reports said Mr Krivov fell from the roof and had blunt force injuries, but Russian officials quickly changed their story and said he died from a heart attack.
BuzzFeed reports police said Mr Krivov's death looked natural and quickly closed the case, but three months later medical examiners are still unsure how he died.
Additionally, the news site reports it being extremely difficult to ascertain exactly what Mr Krivov did at the consulate. According to Russian language media he may have been a consular duty commander, which means he would have been in charge of "prevention of sabotage" and suppression of "attempts of secret intrusion" into the consulate. In other words, making sure US intelligence agencies did not have ears in the building.
Putin calls creators of Trump dossier 'worse than prostitutes'
19 December 2016
Russia's Ambassador to Turkey, Andrei Karlov, 62, was assassinated at a photography exhibition in Ankara.
The diplomat was shot in the back as he made a speech by a Turkish police officer who reportedly shouted: "Don't forget Aleppo! Don't forget Syria!"
On the same day, another diplomat, Petr Polshikov, 56, was found dead from gunshot wounds in his Moscow apartment.
He had been shot in the head and a gun was found under the bathroom sink, but little else is known about the circumstances of his death, which are still believed to be under investigation.
Mr Polshikov served as a senior figure in the Latin American department of the Foreign Ministry.
26 December 2016
Ex-KGB chief Oleg Erovinkin, 61, who is believed to have helped the former MI6 spy Christopher Steele compile his dossier on Mr Trump, was found dead in the back of his black Lexus car in Moscow on Boxing Day.
Mr Erovinkin was a key aide to Igor Sechin, a former deputy prime minister and now head of Rosneft, the state-owned oil company, who is repeatedly named in the dossier, the Telegraph reported.
Media reports soon after his body was found suggested Mr Erovinkin had almost certainly been murder, but it was later claimed he had died of a heart attack.
9 January 2017
The Russian Consul in Athens, Greece, Andrei Malanin, 55, was found dead on the bathroom floor in his apartment by another member of embassy staff after he failed to arrive at work or answer his phone.
A Greek police official said there was "no evidence of a break-in" and the death appeared to be from natural causes. Mr Malanin lived alone on a heavily guarded street.
Further investigations are ongoing.
27 January 2017
Russia's Ambassador to India, Alexander Kadakin, 67, died after a "brief illness" according to Indian media, which quoted sources saying he had been unwell for a few weeks.
Reuters reports Mr Kadakin died from heart failure, but few further details are known.
20 February 2017
Russia's Ambassador to the UN Vitaly Churkin died suddenly in New York of suspected heart failure. A medical examiner suggested the need to carry out toxicology tests.
Join our commenting forum
Join thought-provoking conversations, follow other Independent readers and see their replies