Russia election: Pro-Vladimir Putin party United Russia set to win, after topping exit poll
The party is headed by Putin loyalist and Russian Prime Minister Dmitry Medvedev
Siobhan Fenton
,
Caroline Mortimer
Sunday 18 September 2016 19:10 Comments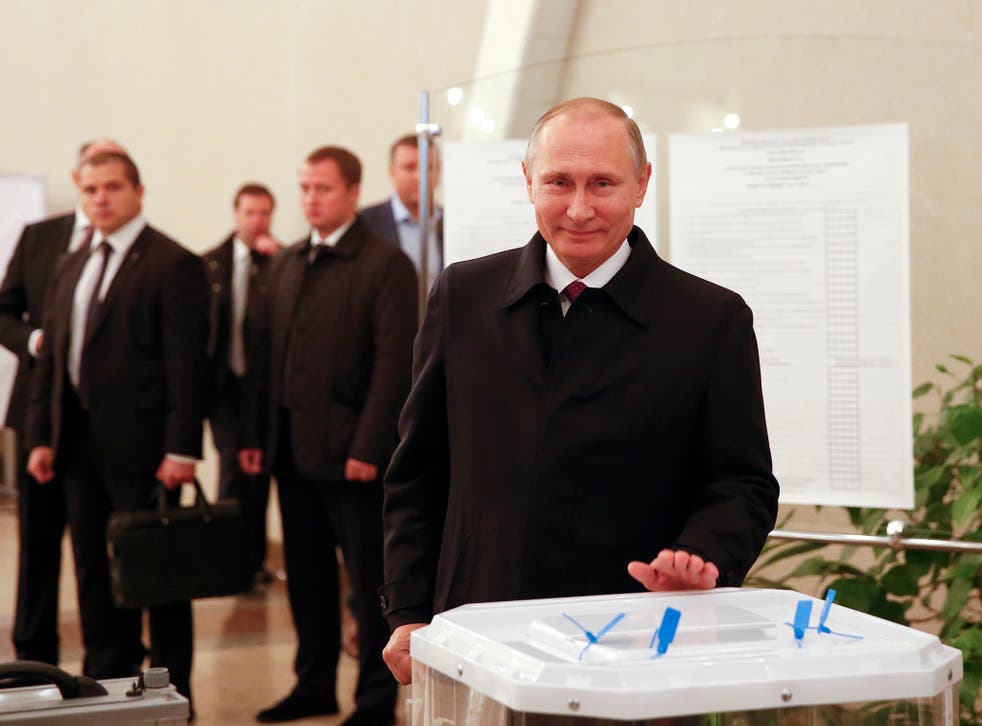 Early results have shown Russia's ruling United Russia party is set to win the country's parliamentary election amid allegations of electoral fraud and visible voter apathy in Moscow and St Petersburg.
With more than 10 per cent of ballots counted United Russia - which currently controls the Duma - was recording 46 per cent of the vote for party-list seats and was even further head in individual district races.
An exit poll earlier in the evening indicated the party had won with 44 per cent of the vote.
Meanwhile, opposition parties such as the Liberal Democrats and the Communists both received around 17 per cent of the vote with A Just Russia on six per cent.
None of the three parties challenge Mr Putin's rule openly and are on a list of officially sanctioned oppositional parties. The two parties which do challenge the Russian president are unlikely to make it into parliament.
There are currently 450 seats in the parliament's lower house, the State Duma, with over 4,500 candidates running across all 14 parties. Around 2,000 of these candidates are running as independents.
The majority of the votes have already been counted are further to the east of the country where support for Mr Putin's rule is stronger. The results are likely to change as votes are counted from the west which is more urbanised and the opposition is stronger.
Vladimir Putin is not formally a member of any party but has enjoyed support from United Russia previously. The party's leader Dmitry Medvedev, who is also Russian Prime Minister and former president, is a Putin loyalist.
The Russian leader, who has been president on and off since 2000, turned up at its election headquarters shortly after the first results were announced and congratulated the would-be lawmakers.
"Things are tough but people still voted for United Russia," he said. "It means that people see that United Russia members are really working hard for people even though it doesn't always work."
Mr Putin referred to the unusually low turnout as "not the highest," but said it was good enough for the Kremlin party to win an absolute majority.
The vote is being perceived by many as a litmus test for Mr Putin's expected presidential campaign in 2018. The perceived honesty of the election will be a critical factor in determining there is likely to be protesting on the streets such as in 2011 following the disputed election result.
Around 100,000 demonstrators marched in Moscow following the result chanting that Mr Putin - who was then serving as prime minister as the Russian constitution limits an individual to two consecutive terms as president - was a "thief" that "stole" the election.
It was the largest mass demonstration in Russia since the fall of the Soviet Union.
Vladimir Putin and the people

Show all 11
Voter turnout in Russia's largest cities appeared to be much lower than five years ago, indicating that the widespread practice of coercing state employees to vote in previous elections wasn't as prevalent this time around.
The turnout by 6pm (4pm UK time) was at a record low of 29 percent in Moscow, compared to over 50 percent five years earlier, and under 20 percent in St. Petersburg, Russia's second-largest city.
Previous elections have shown that the regions with the highest turnout were where voters, mostly state employees, were pressured to cast ballots.
Mikhail Kasyanov, a former prime minister and leader of the Parnas party, said after the first votes were counted that he was concerned about the low turnout: "Citizens had no faith in elections as an institution. This is the result of government policies. It's their fault."
Russian Election Commission chief Ella Pamfilova, who pledged to clean up the notoriously rigged system when she assumed the post earlier this year, said as the polls closed that she saw no reason to nullify the vote in any location, conceding, however, that the election "wasn't sterile."
Grigory Melkonyants, co-chairman of the election monitoring group Golos, said the lower voter turnout reflected less anxiety among local authorities to produce a high turnout.
Golos had received more than 2,000 complaints of suspected vote rigging from all over the country by early afternoon. Among the reported violations were long lines of soldiers voting at stations where they weren't registered, and voters casting their ballots on tables instead of curtained-off voting booths
Videos posted on YouTube appeared to show poll workers in several regions in southern Russia dropping multiple sheets of paper into a ballot box.
In the Siberian region of Altai, a candidate from the liberal Yabloko party claimed that young people were voting in the name of elderly people unlikely to come to polling stations.
Ms Pamfilova said the results from Altai could be annulled if allegations of vote fraud there were confirmed.
Additional reporting by agencies
Register for free to continue reading
Registration is a free and easy way to support our truly independent journalism
By registering, you will also enjoy limited access to Premium articles, exclusive newsletters, commenting, and virtual events with our leading journalists
Already have an account? sign in
Join our new commenting forum
Join thought-provoking conversations, follow other Independent readers and see their replies