Russia grants NSA PRISM whistleblower Edward Snowden a year's asylum
'Most wanted man on Earth' leaves Moscow airport for secret safe house after agreeing to stop leaking US information
Kevin Rawlinson
Friday 02 August 2013 15:36 Comments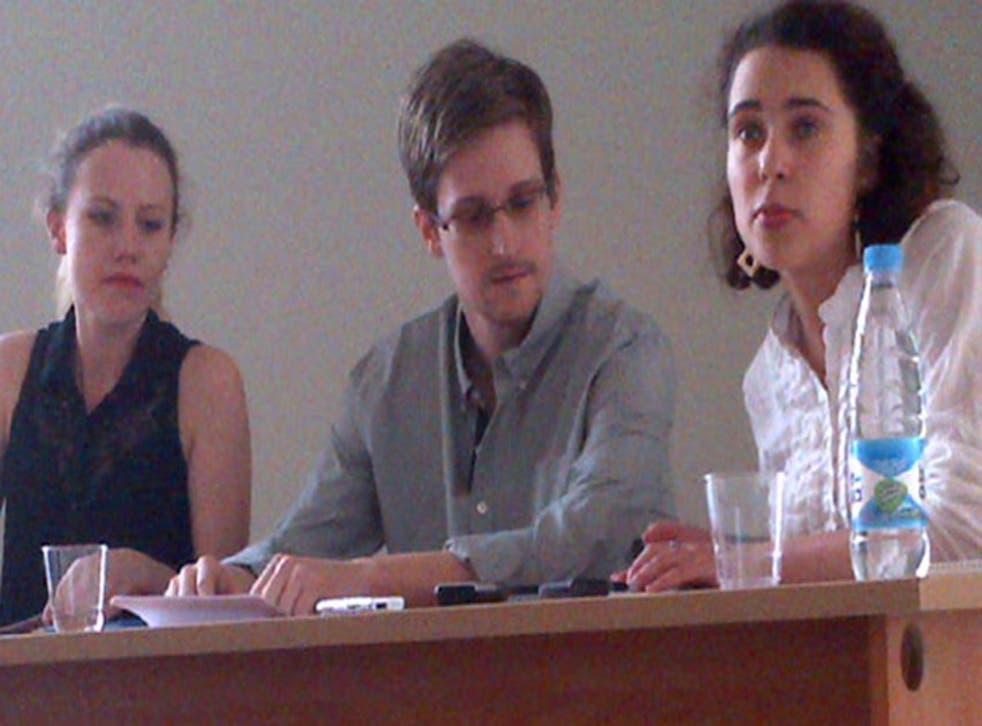 The former computer analyst turned whistleblower who revealed widespread surveillance by the United States finally left Moscow's Sheremetyevo airport after being granted temporary asylum by Russia.
Edward Snowden left the airport after more than a month of being holed-up in the transit area, unable to leave the country due to the threat of deportation to America.
Mr Snowden's lawyer said he had agreed to Russian President Vladimir Putin's requests to stop leaking the sort of documents which have caused embarrassment to the US authorities. The whistleblower called the development a victory for the rule of law.
"Over the past eight weeks we have seen the Obama administration show no respect for international or domestic law, but in the end the law is winning. I thank the Russian Federation for granting me asylum," he said in a statement released by anti-secrecy group WikiLeaks.
According to his lawyer Anatoly Kucherena, Mr Snowden has moved to a secret safe house more than a month after he first touched down on Russian soil.
He is a fugitive in the eyes of US authorities, who have made it clear that they wish to detain him for leaking details of its far-reaching surveillance programmes. A collection of documents Mr Snowden obtained while working for the National Security Agency (NSA) has sparked worldwide interest and drew criticism from countries the US is thought to have spied on.
However, despite writing to the governments of countries across the world – including Russia – asking for protection, the 30-year-old former NSA contractor remained isolated and trapped airside at the airport until today.
And, despite the almost constant interest in his case from across the world, he managed to give journalists the slip as he left in a taxi.
According to Reuters, Mr Snowden's lawyer said his client, whom he called the "most wanted man on planet Earth", took a taxi from the airport after being handed a "certificate on getting refugee status in the Russian Federation". Mr Kucherena added that Mr Snowden is free to live in Russia and that the location of his home would remain secret because "the issue of security is very important for him".
An image purporting to show the certificate soon appeared on Russian television. It revealed that Mr Snowden has been granted asylum for a year from Thursday 31 July.
Mr Kucherena added that his client would not be housed in an embassy building, despite three South American countries offering to take him in. Some of the other countries approached by Mr Snowden, whose US passport was revoked by Washington, told him that he would need to be on their sovereign territory in order to make a valid claim for asylum.
With only a year of guaranteed safety in Russia, that option may remain attractive to him, although his new documents reportedly prohibit him from leaving Russia.
When he first landed, Russian authorities refused to admit Mr Snowden and told him to cease his whistleblowing activities as a condition of being allowed to stay. However, they were equally disinclined to intervene on behalf of the US, which demanded Mr Snowden be handed over.
According to the Associated Press, Mr Snowden has now agreed to Mr Putin's demands.
White House spokesman Jay Carney said the US authorities saw the development as "unfortunate", adding: "We are extremely disappointed by it". And he said that the White House was reviewing the decision to hold a meeting between Presidents Barack Obama and Vladimir Putin.
After he landed in Moscow, it initially looked likely that Mr Snowden would follow WikiLeaks founder Julian Assange into the welcoming arms of Ecuador. The WikiLeaks representative Sarah Harrison was dispatched to Moscow, as was an Ecuadorean diplomat. But a travel document handed over by the South American nation was soon withdrawn and the Ecuadorean government appeared to turn away from the idea of helping Mr Snowden.
Mr Snowden was still accompanied by Ms Harrison as he left the airport, according to Wikileaks. On Twitter, the group wrote: "We would like to thank the Russian people and all those others who have helped to protect Mr. Snowden. We have won the battle – now the war."
Mr Snowden's father, Lonnie Snowden, who had previously stated his belief that his son should come home, said he now believed Edward should stay in Russia.
Register for free to continue reading
Registration is a free and easy way to support our truly independent journalism
By registering, you will also enjoy limited access to Premium articles, exclusive newsletters, commenting, and virtual events with our leading journalists
Already have an account? sign in
Join our new commenting forum
Join thought-provoking conversations, follow other Independent readers and see their replies