Russia hospital fire: Five coronavirus patients killed in blaze in St Petersburg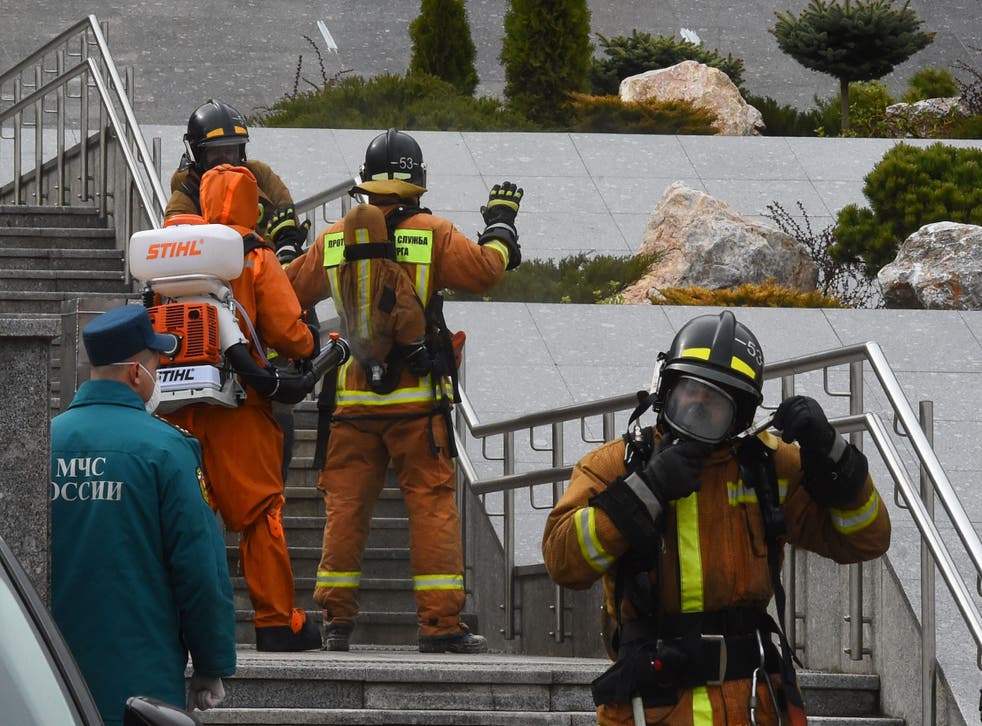 At least five coronavirus patients have been killed in a blaze while still plugged into ventilators at St Petersburg's St George Hospital.
According to witnesses, the fire swept through the intensive care ward on the fifth floor of the hospital just before 6.30am local time. Fire crews, on scene within six minutes, helped medical staff evacuate approximately 150 patients from the nearest wards, before localising and extinguishing the fire within half an hour. But their efforts were not enough to save the five seriously ill victims.
Initial accounts point to a malfunction in one of the ventilators, leading to the oxygen supplies catching fire. Quoting anonymous sources in law enforcement, Russian state media suggested that either a short circuit or an overload of one of the machines was to blame.
Those same unconfirmed reports suggest that four of the victims died from carbon monoxide poisoning, and a fifth was starved of oxygen when his ventilator stopped working.
The incident is the second fatal hospital fire to be linked to faulty ventilators in the space of just three days. On 9 May, a hospital in Moscow reported that one man had died and a further three injured after a fire broke out in intensive care. Authorities have already announced criminal investigations into both fires over possible negligence.
St George hospital was one of the first hospitals in St Petersburg to be reformatted to take in Covid-19 patients in early March. The entire hospital was at one point placed under quarantine following an uncontrolled Covid-19 outbreak that incapacitated many of its own staff, but began accepting patients once again in mid-April. With over 500 beds, it is one of the biggest medical facilities in Russia's northern capital.
Today's news from the hospital continues a terrible run for Russia as it battles the coronavirus pandemic. Overnight, authorities announced a near-record 10,899 diagnoses, taking the overall number to 232,243.
By official caseload, that pushes the country into the top two nations affected worldwide.
Register for free to continue reading
Registration is a free and easy way to support our truly independent journalism
By registering, you will also enjoy limited access to Premium articles, exclusive newsletters, commenting, and virtual events with our leading journalists
Already have an account? sign in
Register for free to continue reading
Registration is a free and easy way to support our truly independent journalism
By registering, you will also enjoy limited access to Premium articles, exclusive newsletters, commenting, and virtual events with our leading journalists
Already have an account? sign in
Join our new commenting forum
Join thought-provoking conversations, follow other Independent readers and see their replies