Russia 'does not value human life', says Ukrainian FM amid prisoner exchange row
Exclusive: Ukraine's minister of foreign affairs, Pavlo Klimkin, says Moscow trying to 'fragment Ukraine using every means possible'
Oliver Carroll
Kiev
Sunday 02 September 2018 19:00 Comments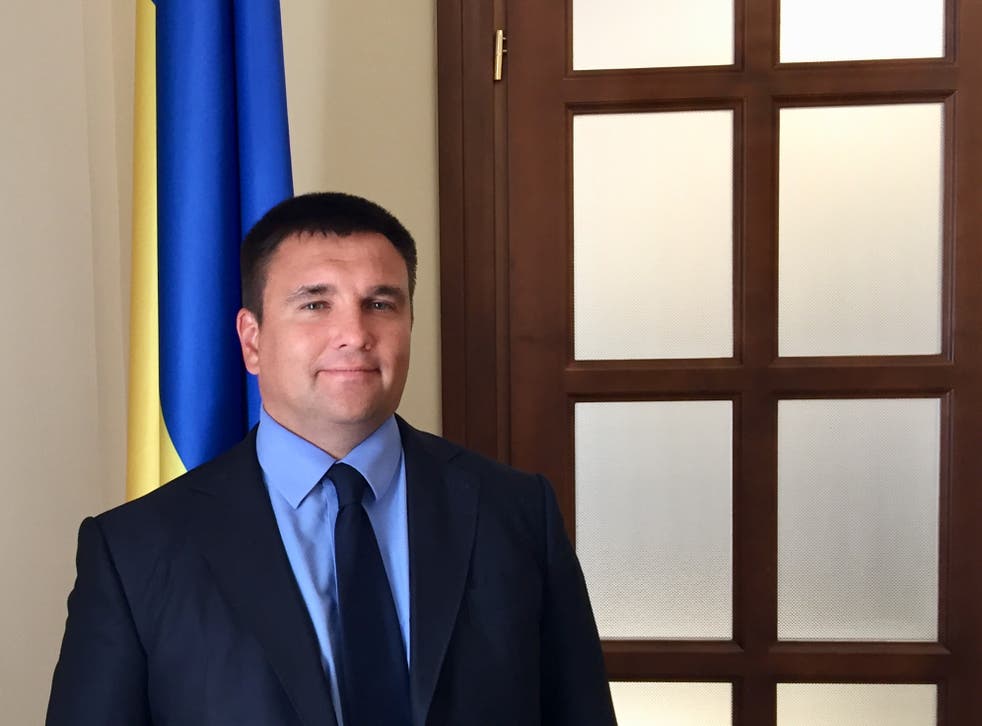 Efforts to free hunger striker Oleg Sentsov, imprisoned in a Russian jail, are stalling because the Kremlin "doesn't value human life", Ukraine's foreign minister has said.
In an interview with The Independent, Pavlo Klimkin claimed Russia saw people as "human material" to be expended.
"It's two fundamentally different worlds," he said. "We have been proposing all kinds of prisoner exchange schemes, but the Kremlin does not seem to care for its people. We're completely different."
Accepting his department had initially been "too cautious" in pushing for the release of prisoners, Mr Klimkin said he is now working "every possible channel". Ukraine was being helped by the French, Germans and Americans in its efforts, he said. Many of those contacts were necessarily confidential – some of them even shielded from the family.
Mr Klimkin said he hoped Russia would eventually agree to a "face-saving" deal, perhaps seeing Ukrainian prisoners released to a third country: "Knowing what I do, I believe we will get it done eventually, but it would be wrong to give a timescale. That's too sensitive – both for us and, more importantly, the family."
The slow-moving negotiations on the prisoner exchange issue speak of a wider breakdown in relations between Russia and Ukraine.
War in the Donbass, pitting Ukrainian forces against Russian-backed separatists, has entered its fifth year. More than 10,000 are dead. An embittered, poor and weary population lies on both sides of the demarcation lines.
The latest frontline of confrontation is Azov sea, a shared maritime space of great importance for Ukrainian ports Mariupol and Berdyansk. Ukraine claims Russian security agencies have engaged in a targeted campaign of intimidation and dubious checks of Ukrainian ships.
In Kiev, as the country enters presidential election season, politicians have stepped up rhetoric against "the Russian aggressor".
Peter Tatchell detained in Moscow- Gay activist held after one-man protest against Russian treatment of LGBT+ community
Two weeks ago, the populist transport minister Volodymyr Omelyan announced the signing of "an important document" that would see all bus and train connections to Russia cut. "Now, only bears will go to Moscow, just like in the good old days," he said.
A week later, Ukrainian president Petro Poroshenko said Kiev would rip up a Russian-Ukrainian Friendship Treaty, signed in 1997. Mr Poroshenko, who faces an uphill battle for re-election in March, is basing his appeal on a militaristic agenda.
Critics say both moves amount to little more than political symbolism – and that they would also hit the many millions of Ukrainians travelling to work and family in Russia.
Ukraine's Russian-born foreign minister, who is considered to be on the moderate wing of politics, told The Independent the treaty was already broken.
"To talk about friendship and cooperation, either politically or emotionally, is total rubbish," he said. "Russia has broken every clause, even the preamble. They shouldn't be allowed to claim otherwise."
But the minister said he had sympathy for Ukrainians with ties to Russia, and indicated he was against the proposal to cut transport links. "It's weird to argue the grandmother who wants to visit her sister in Russia should have no way of doing so," he said.
He denied that nationalistic politicians were calling the shots in Kiev: "Look, they have an impact. Definitely. But they are not dominating the political landscape."
In the longer run, Ukraine did need to "decouple" from its eastern neighbour, he insisted. "The Russian goal is about derailing the Ukrainian democratic project and fragmenting Ukraine using every means possible," he said.
The Minsk peace settlement remains a source of controversy in Ukraine. Reached in February 2015, a low point for the Ukrainian military after its forced withdrawal from Debaltseve, the agreement sees the wartorn territories returned to Ukraine once a number of conditions are set: ceasefire, free elections, withdrawal of heavy weapons, amnesty and return of border control to Ukraine.
All sides are already in clear violation of the deal. Periodically intense fighting continues around well established hot spots near Donetsk and Mariupol, on the coast of the Azov sea.
According to international observers, Ukrainian forces also have retaken several settlements in a "grey zone" near Horlivka, to the northeast of Donetsk. Meanwhile, video evidence indicates Russia has not stopped its illicit arms supplies to separatist forces.
Mr Klimkin argued that Ukrainian armed forces had been left with "no choice" but to re-engage.
"We began a disengagement process, but within a couple of days we saw encroachment on their side, new positions, hiding here, there," he said.
The only way of achieving further progress on Minsk was an "international peacekeeping force".
The deployment of international peacekeepers goes beyond the vague text of the Minsk protocols, and Russia is yet to agree to western proposals. Mr Klimkin insisted that a new watertight "roadmap" was essential to avoid "Russian tricks".
He claimed his opposite number, Sergei Lavrov, wanted to retain "Russian structures" in eastern Ukraine and thereby hand Kiev a "Trojan horse" with the return of separatist-controlled territories.
"Lavrov was open about it in front of French and German negotiators, saying, and I quote, 'If the international community is present in Donbass you will elect people you like'."
Speaking a few hours before the assassination of the belligerent separatist leader Alexander Zakharchenko in Donetsk, Mr Klimkin said ordinary Ukrainians needed "guarantees" before Donbass could begin any process of reintegration. Ukrainians would not agree to the legitimisation of "a bunch of criminals, supported by the Russians", he said. They also needed to see "3,000 Russian troops and 1,300 units of heavy armour" removed from eastern Ukraine.
"Putin claims all the tanks and weapons appeared magically from the mines around Donetsk," he said. "Believe that if you want to. But how then do you explain the Buk missile that we know came from Kursk and downed a passenger liner, or the latest devices for electronic warfare that we see every week?"
Ukraine's army has itself benefited from considerable foreign assistance, and at least $600m of US military aid.
Many had assumed a Russia-friendly Trump administration would cut back military support. Surprisingly, the opposite has proven the case. Not only has Ukraine been handed the tank-piercing Javelin missiles it has long asked for, but on Friday US special envoy on Ukraine Kurt Volker indicated the United States was ready to increase military aid further.
World news in pictures

Show all 50
"We're very happy with our close and committed relationship," said Mr Klimkin.
According to The New York Times, that close relationship may have caused Ukraine to close sensitive investigations into President Trump's former campaign manager Paul Manafort. It was undeclared work for former Ukrainian president Viktor Yanukovych that eventually caused the successful US prosecution of the political consultant.
Volodymyr Aliev, an MP close to the president, suggested to the paper that four cases had been called off "so as not to damage relations".
Mr Klimkin agreed there was a perception of wrongdoing, but said his department was not susceptible to such pressure: "I believe we should all be interested in finding the truth. Manafort was one of the key figures in the former Ukrainian regime."
Whether it be this or in the excitable nationalist sentiments around government, Ukraine's democracy was in its early stages, he insisted.
"We are only at the beginning," he said. "We need a game-changing moment to move Ukraine on to become a democracy, totally based on the rule of law. It's a long way to get there. But we have momentum."
Register for free to continue reading
Registration is a free and easy way to support our truly independent journalism
By registering, you will also enjoy limited access to Premium articles, exclusive newsletters, commenting, and virtual events with our leading journalists
Already have an account? sign in
Join our new commenting forum
Join thought-provoking conversations, follow other Independent readers and see their replies