Man jailed in Russia after peaceful protests 'beaten, tortured and threatened with rape'
Ildar Dadin is the first person sentenced under a controversial new law banning public assembly
Tom Embury-Dennis
Wednesday 02 November 2016 18:41 Comments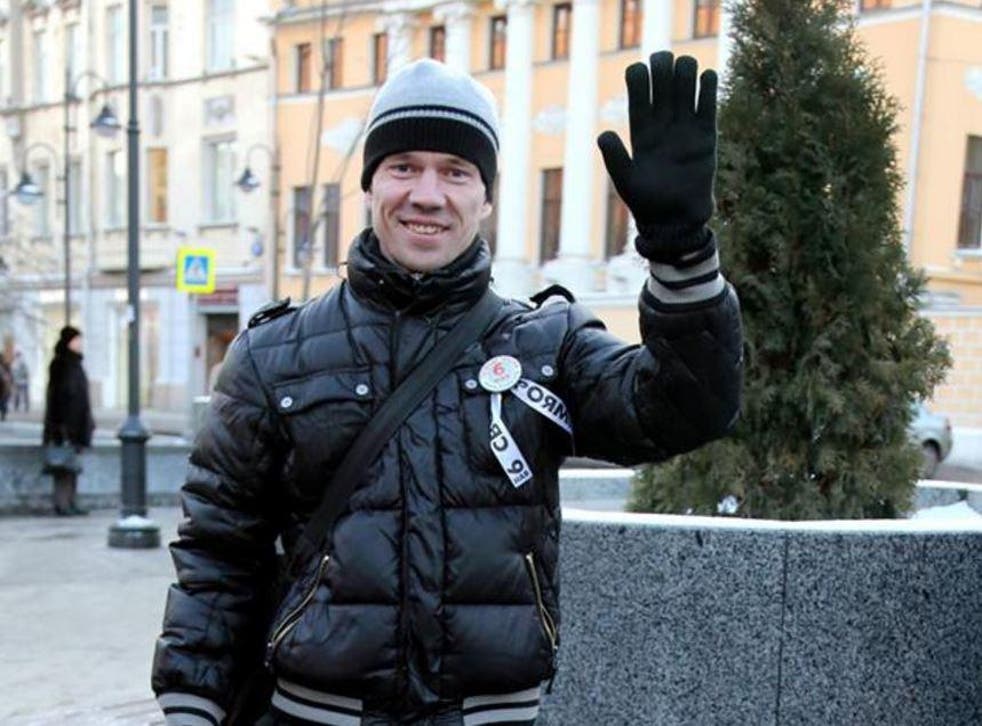 A man jailed in Russia for peaceful protest says he has been beaten, repeatedly tortured and threatened with rape.
In a letter to his wife and smuggled out of prison by his lawyer, Ildar Dadin alleges he had his head forced down a toilet and was strung up by his handcuffed wrists.
The 34-year-old is serving two and a half years after becoming the first person sentenced under a controversial new law banning public assembly.
Kremlin spokesman Demitry Peskov said the case demanded the "closest attention" and that President Vladimir Putin would be informed.
Local Russian media have reported an investigative committee would also be looking into the claims, though the prison service denies any wrongdoing.
Amnesty International is calling for Mr Dadin's release in light of the letter.
"We are urging Russian authorities to end the pattern of impunity for torture and other ill treatment and investigate Ildar Dadin's appalling allegations," said Sergei Nikitin, director of Amnesty International Russia.
"They must also immediately and unconditionally release Ildar Dadin, and provide him with full remedy for the injustice done to him. No one should be in jail for peacefully expressing their opinion."
According to Dadin's letter, which was published in full by Meduza, he arrived at Segezha prison in north-west Russia on 10 September 2016.
The following day he was allegedly beaten four times by groups of up to a dozen people.
World news in pictures

Show all 50
On 12 September he says he was hung up by handcuffs, before having his underwear taken off and threatened with rape unless he stopped his hunger strike.
In the letter he states that Maj Sergey Kossiev, the head of the prison, warned him: "You've been just lightly beaten. If I order it my officers will beat you much more severely. If you try to complain, you'll be killed and buried outside the prison fence."
Dadin alleges he suffers "regular beatings, bullying, humiliation, insult, intolerable conditions of detention" and "it all happens with the other prisoners".
Prison authorities have confirmed the use of force against Dadin, but claim only to have used it when he refused to leave his cell or defied orders, according to The Moscow Times.
He finishes the letter with a warning that he cannot hold out for much longer.
"If I am again subjected to torture, beatings and rape, it is unlikely that I will last more than a week," he writes.
"In case of my sudden death, you may be told that I committed suicide, had an accident, was shot while trying to escape, or while fighting with another prisoner, but this would be a lie.
"It would have been planned in advance to eliminate witnesses and victims of torture."
Amnesty reports Dadin managed to secretly dictate the letter to his lawyer during their last meeting, before it was smuggled past prison authorities.
On Wednesday, the charity's Moscow office was sealed off by Russian authorities. Staff arrived to find the office doors sealed, the locks removed and the electricity turned off.
Dadin's supporters gathered outside the Kremlin on Tuesday evening in protest.
Register for free to continue reading
Registration is a free and easy way to support our truly independent journalism
By registering, you will also enjoy limited access to Premium articles, exclusive newsletters, commenting, and virtual events with our leading journalists
Already have an account? sign in
Join our new commenting forum
Join thought-provoking conversations, follow other Independent readers and see their replies