Russia to hold military drills in the Balkans to coincide with Nato exercises
Armed exercise will involve 150 Russian paratroopers, 50 air force staffers, three transport planes and an unspecified number of troops from Serbia and Belarus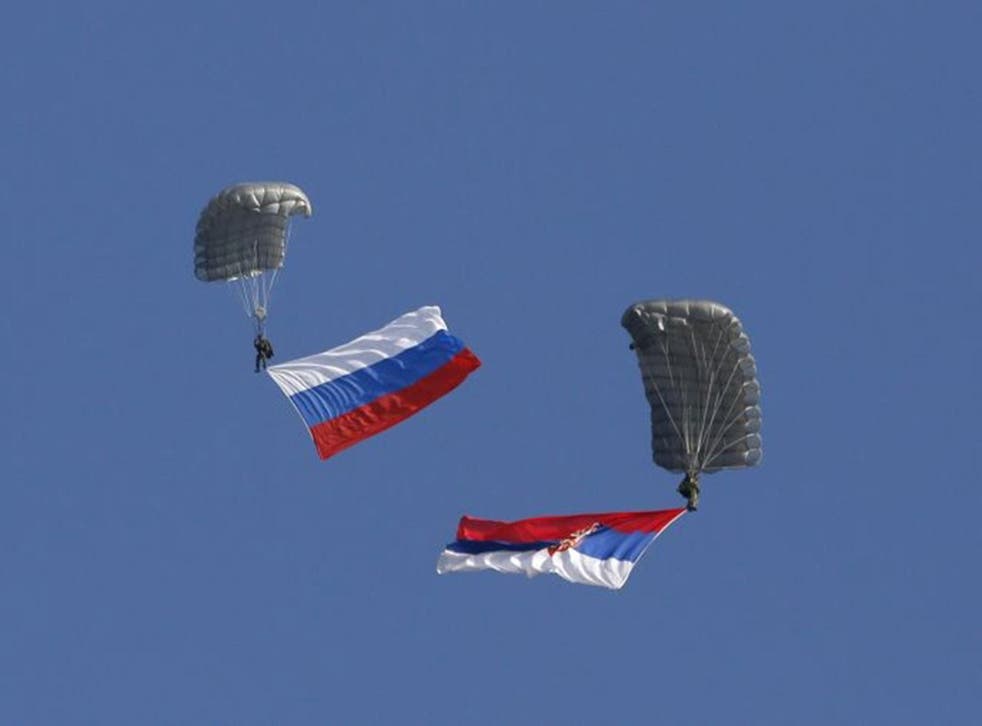 Russian troops are planning to conduct war games training exercises in Serbia while Nato holds an emergency exercise drill in Montenegro.
The 13-day armed exercise in Serbia, dubbed "The Slavic Brotherhood 2016," will begin on Wednesday.
It will involve 150 Russian paratroopers, 50 air force staffers, three transport planes and an unspecified number of troops from Serbia and Belarus, Russia's Defence Ministry said.
The five-day Nato drill began in Montenegro on Monday and will include training on fighting floods and chemical attacks.
The exercises will involve 680 unarmed personnel from seven Nato countries and 10 partner states.
The parallel drills come amid deteriorating relations between Russia and the West over the conflict in Syria.
Nearly half of Russians fear Moscow's intervention in the conflict could lead to World War III, a poll found.
US generals previously warned a future war with Russia would be "extremely lethal and fast". They said it would produce violence on a scale not seen for 60 years.
Russian warships move through English Channel under Royal Navy watch
Both Serbia and Montenegro, which were a single state before their split in 2006, are traditional Russian Orthodox allies. However, since the split, Montenegro pursued pro-Western policies while Serbia has been struggling to tear itself from Moscow's grip.
Montenegro has been invited to join Nato, despite strong opposition from Russia. Serbia is under strong pressure from the Kremlin not to join the Western military alliance or the European Union.
Although Serbia, a Nato partner, has held exercises with the Western alliance, they have not been so large and foreign troops and equipment have not participated on its soil.
Montenegrin officials have accused Russia of standing behind an alleged coup on election day earlier in October to topple the pro-Western government because of its Nato bid.
Some 20 Serbian citizens were arrested in Montenegro during the vote, suspected of trying to stage the coup, while Serbian authorities reportedly deported an unspecified number of Russian operatives from their territory.
Additional reporting by AP
Join our new commenting forum
Join thought-provoking conversations, follow other Independent readers and see their replies