Russia offers to loan Greece funds for infrastructure and transport works
While Greek PM Alex Tsipras warns EU sanctions against Russia 'could bring about a new Cold War between Russia and the West'
Nathalie Savaricas
Wednesday 08 April 2015 22:08 Comments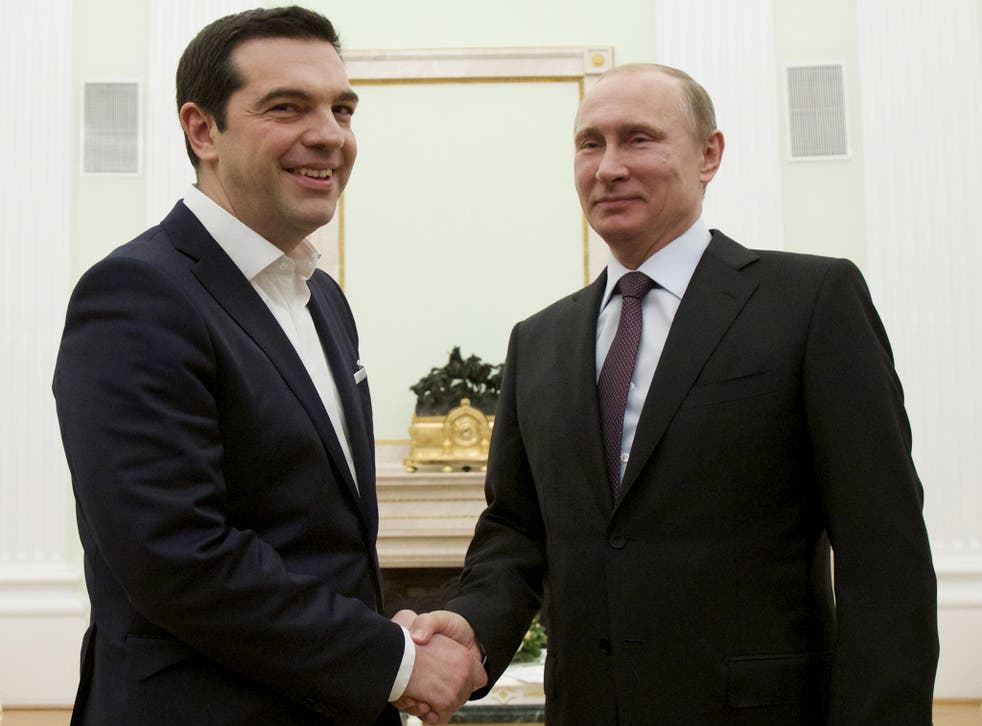 Russia would be willing to supply loans to Greece for major infrastructure and transport works, Russian President Vladimir Putin has said, as the Greek Prime Minister Alex Tsipras said European sanctions on Russia risked a new Cold War.
Greece did not seek direct financial help from Russia during the two-hour meeting, as some had speculated it might, but Russia said it would be willing to supply funds for major projects, such as the planned Turkish Stream pipeline that would carry natural gas to Europe via Turkey.
"Greece isn't a beggar to go around countries asking for the solution of its financial problems," Mr Tsipras said at a joint press conference after the meeting. "Because the financial crisis isn't only Greek, it's also European – for a European problem we'll find a European solution."
The press conference dampened some fears in Europe that Greece would try to reach out to Moscow for financial help, weakening Europe's unity over Russia. But Mr Tsipras did use the opportunity to reiterate his party's antipathy toward the EU's sanctions on Russia, imposed in the wake of Russia's military intervention in the Ukraine.
"We think it [sanctions] could bring about a new Cold War between Russia and the West," Mr Tsipras said.
He also responded to criticism levelled against him by European officials and German politicians for meeting with Mr Putin. Greece's right to exercise a "multidimensional foreign policy" while making use of its strategic geopolitical role as an EU and a Balkan country "is non-negotiable", he said. Mr Putin also said its aim was not to separate Greece from the EU. "I want to assure you that we do not aim to use any internal European Union situations to improve ties with the European bloc as a whole. We want to work with the whole of united Europe," Mr Putin said.
Beyond energy, both sides agreed they would continue finding ways to enhance co-operation in various areas such as tourism, trade and farming. Greece's farmers have been severely affected by a Russia embargo on some imports from the EU – imposed in retaliation for EU sanctions. Russia accounts for 13 per cent of the debt-saddled country's fruit and vegetable exports. Prior to the meeting, some Russian officials had signalled Moscow might consider lifting the ban for Greece, but Mr Putin dismissed the claims, saying he could not make an exception "just to one EU country".
Mr Tsipras's visit to Moscow coincided with a repayment by Greece of an IMF tranche worth €500bn (£363bn).
The Greek parliament is due to vote on Thursday on rehiring nearly 4,000 public-sector workers fired under austerity measures, as well as hiring a further 8,000. The vote coincides with a planned protest by state workers against the repayment of any further funds to the IMF.
Register for free to continue reading
Registration is a free and easy way to support our truly independent journalism
By registering, you will also enjoy limited access to Premium articles, exclusive newsletters, commenting, and virtual events with our leading journalists
Already have an account? sign in
Join our new commenting forum
Join thought-provoking conversations, follow other Independent readers and see their replies