Russia 'plotted to kill Montenegro's PM and overthrow government to stop country joining Nato'
Such a massacre could have tipped country into civil war and derailed any hopes it had of joining Nato and EU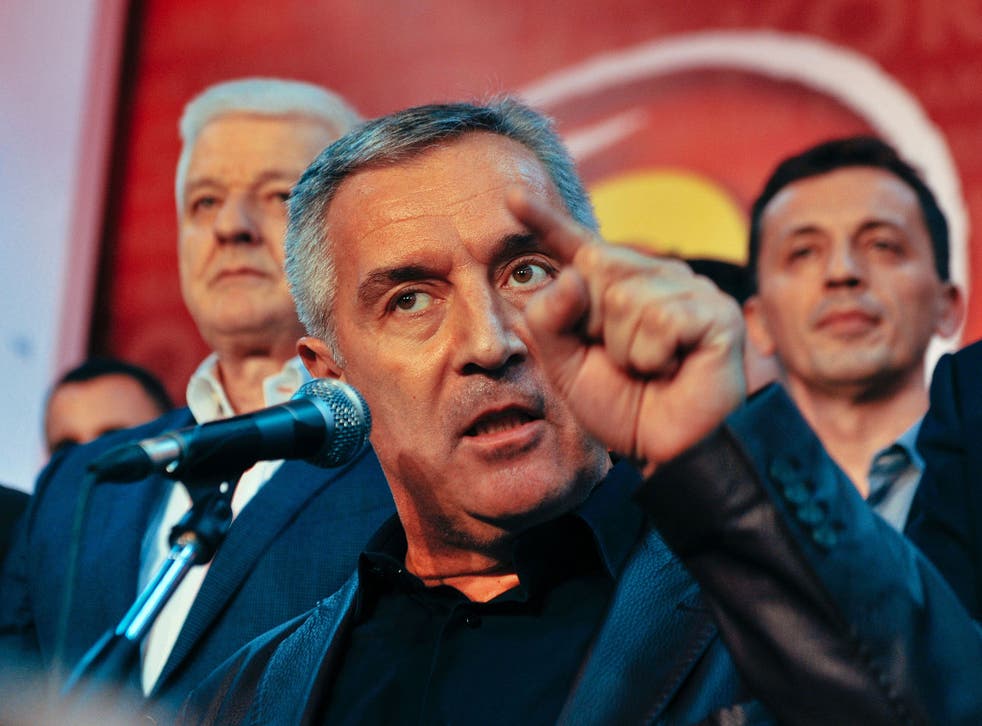 Russia was behind a plot to kill Montenegro's pro-Western former prime minister to stop the country from joining Nato, senior British government officials have claimed.
Senior government sources told The Sunday Telegraph the alleged plot to kill Milo Djukanovic had been constructed in such a way that it could be blamed on rogue Russian nationalists if uncovered.
In November, a special prosecutor in the former Yugoslav republic said a group of "Russian nationalists" had planned to assassinate Mr Djukanovic to get an opposition party into power.
Moscow has denied any involvement in the plot, and Montenegrin opposition parties have said it was fabricated and accuse Mr Djukanovic of using the security services to extend his quarter century of dominance.
Michael Flynn resigns as national security adviser over Russia row
However, the newspaper reports the alleged plot was foiled hours before it was due to take place on 16 October, on the eve of the nation joining Nato.
Moscow has repeatedly warned Montenegro to ditch its plans to join Nato. If Montenegro joined the Western military alliance, Russia would lose strategic access to the Adriatic Sea and Serbia would remain its only ally in the region.
"You are talking about a plot to disrupt or take over a government in some way. You can't imagine that there wasn't some kind of approval process," an unnamed source is quoted as saying.
Two Russian intelligence officers reportedly spent months recruiting and equipping a small force of Serbian nationalists to attack the parliament building.
The alleged plot would have seen the attackers, disguised as police, open fire on a crowd of opposition party supporters as the election results were announced.
In the resulting confusion, other conspirators planned to force their way into the parliament building and kill the Prime Minister.
Such a massacre could have tipped the country into civil war and derailed any hopes it had of joining Nato and, later, the EU.
The Montenegrin police reportedly arrested more than 20 people on the eve of the election, including a former commander of Serbia's special forces, while Serbian authorities detained others across the border.
After winning the parliamentary elections, Mr Dukanovic announced he would resign as Prime Minister and his deputy Dusko Markovic would take over the role and form the new government.
The newspaper said Britain and the United States' intelligence agencies had gathered evidence of high-level Russian involvement in the plot.
World news in pictures

Show all 50
When asked about the newspaper report, Britain's foreign ministry said Montenegro had identified Russian nationalists as behind the plot.
"Montenegro must itself deliver a competent, transparent judicial process and trial of the coup suspects," a foreign ministry spokeswoman said.
"Success would be a major step in convincing the international community of real progress in Montenegrin rule of law reform and compatibility with Nato and EU standards," she added.
The director general of MI5, Andrew Parker, said in November that Russia was pushing its foreign policy in increasingly aggressive ways including cyber-attacks and espionage, posing a growing threat to Britain and the rest of Europe.
Moscow has denied this, and has challenged Britain to produce hard evidence.
Join our new commenting forum
Join thought-provoking conversations, follow other Independent readers and see their replies