Russia protests: Police arrest hundreds of anti-corruption demonstrators as thousands take to streets
Opposition leader Alexei Navalny also detained in Moscow as authorities blame detentions on 'illegal provocation'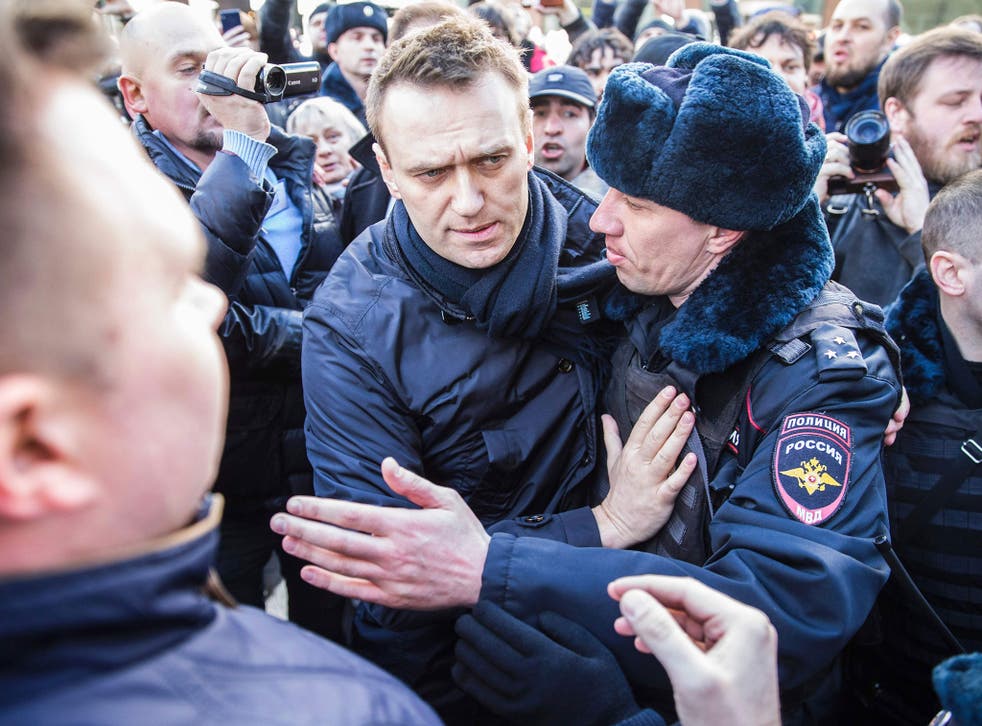 Police arrested hundreds of protesters after thousands of Russians took to the streets across the country to demonstrate against corruption.
Officials also detained anti-corruption campaigner and opposition leader Alexei Navalny in Moscow, who hopes to challenge President Vladimir Putin in next year's presidential election.
Police estimated 7,000 people crowded into the capital's Pushkin Square for an unsanctioned protest, thought to be the biggest since a wave of anti-Kremlin resistance in 2011 and 2012.
Mr Navalny called for the protests with his Foundation for Fighting Corruption organisation, with Russians in most of the country's largest cities, including Vladivostok and St Petersburg, taking part.
"I'm happy that so many people came out [onto the streets] from the east [of the country] to Moscow," Mr Navalny said, moments before he was detained.
Demonstrators are calling for the resignation of Prime Minister Dmitry Medvedev after reports by Mr Navalny's foundation found he had amassed a collection of mansions, yachts and vineyards – far outstripping what his government salary alone could afford.
"People are unhappy with the fact that there's been no investigation" of the corruption allegations, said Moscow protester Ivan Gronstein.
According to state media reports, police arrested the protestors for "illegal provocation".
Violence broke out during the demonstrations on Sunday, with many protesters accusing the police of using excessive force.
A grey-haired man was seen being dragged along the pavement by police in Moscow and the main square was cleared in around three hours after protesters were herded down side streets.
Some demonstrators showed up with their faces painted green, a reference to a recent attack on Mr Navalny in which an assailant threw a green antiseptic liquid onto his face.
Mr Medvedev's spokeswoman called the allegations "propagandistic attacks" unworthy of detailed comment and said they amounted to pre-election posturing by Mr Navalny.
Elsewhere, at a rally in the far eastern city of Vladivostok, one media source reported seeing 30 people detained after unfurling banners reading "The prime minister should answer".
World news in pictures

Show all 50
Opinion polls suggest Mr Navalny's opposition has little chance of fielding a candidate capable of unseating Putin, who enjoys high ratings. But Mr Navalny and his supporters hope to channel public discontent over official corruption to attract more support.
Join our new commenting forum
Join thought-provoking conversations, follow other Independent readers and see their replies