Russia is 'tearing down' world order, US ambassador to UN says in final speech
Russia has taken 'one aggressive and destabilising action after another' ambassador says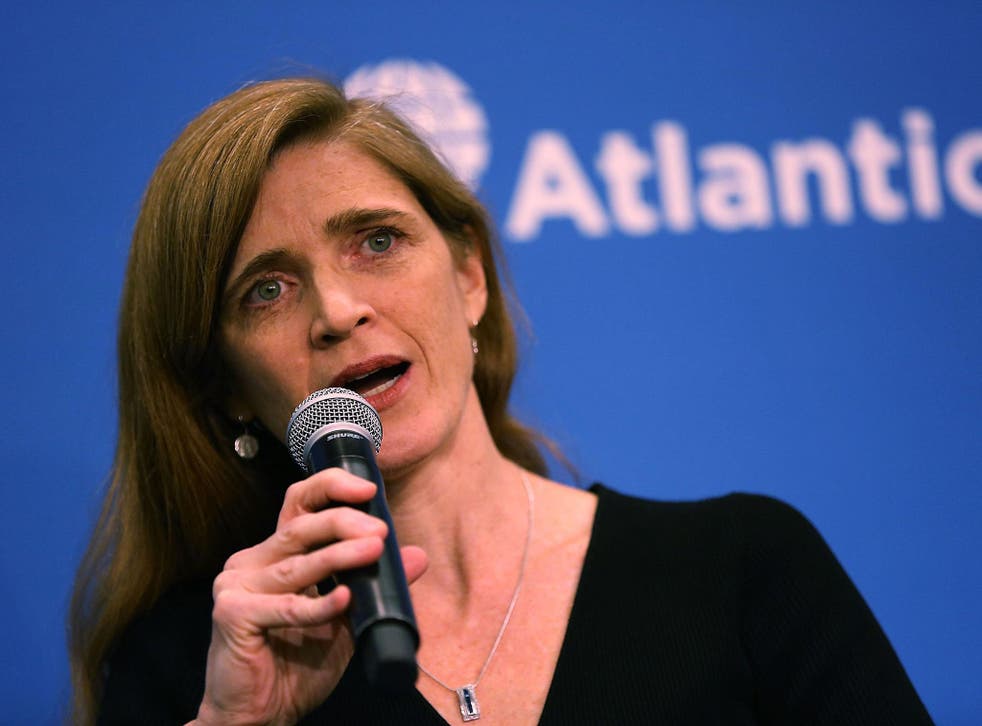 Russia is engaging in aggressive and destabilising actions that are "tearing down" the world order, Samantha Power said in her last major speech as US ambassador to the United Nations.
Ms Power said Russia has taken "one aggressive and destabilising action after another" and called for the US to maintain its sanctions on Moscow and support the Nato alliance, which US President-elect Donald Trump has criticised.
Speaking to the Atlantic Council, a Washington, DC, think tank, Ms Power cited Russia's intervention in Ukraine, support of the Syrian government in the country's civil war and efforts to influence elections in the US and other democracies.
"Russia's actions are not standing up a new world order," she concluded. "They are tearing down the one that exists."
In pictures: Russian air strikes in Syria

Show all 19
She said Moscow has repeatedly used a "deny and lie" strategy to evade responsibility for misdeeds on the international stage.
Discussing Mr Trump's suggestion in an interview with The Sunday Times that he will consider ending sanctions on Russia in return for a nuclear arms reduction deal, Ms Power urged against lifting US sanctions too quickly.
"Easing punitive measures on the Russian government when they haven't changed their behaviour will only embolden Russia," she said.
Trump's advisor suggests Obama's sanctions against Russia are to 'box in' the incoming President
She also urged Mr Trump to continue supporting Nato, after he said the alliance was "obsolete" because it had not defended against terror attacks.
Ms Power also cited repeated allegations made by US intelligence analysts of an attack to disrupt the US election through hacking and misinformation.
"I know some have said that this focus on Russia is simply the party that lost the recent presidential election being 'sore losers,"' she said, "but it should worry every American that a foreign government interfered in our democratic process."
Additional reporting by Reuters
Register for free to continue reading
Registration is a free and easy way to support our truly independent journalism
By registering, you will also enjoy limited access to Premium articles, exclusive newsletters, commenting, and virtual events with our leading journalists
Already have an account? sign in
Register for free to continue reading
Registration is a free and easy way to support our truly independent journalism
By registering, you will also enjoy limited access to Premium articles, exclusive newsletters, commenting, and virtual events with our leading journalists
Already have an account? sign in
Join our new commenting forum
Join thought-provoking conversations, follow other Independent readers and see their replies