Three attackers target police station in Stavropol region
Russia suicide bombing: Three attackers target police station in Stavropol region
Three men including at least one suicide bomber have attacked a police station in Russia's Stavropol region near the north Caucasus.
Witnesses described hearing at least five explosions as well as automatic gunfire at the scene, though initial reports suggest no civilians or police officers were harmed.
Video purporting to be from the scene showed the blast-damaged front entrance to the remote station, as well as scattered debris and damage to cars and buildings on the street opposite.
Initial reports from the Interfax news agency suggested three suicide bombers had been involved, and that all had blown themselves up while failing to harm anyone else.
In pictures: Russia suicide bombing

Show all 10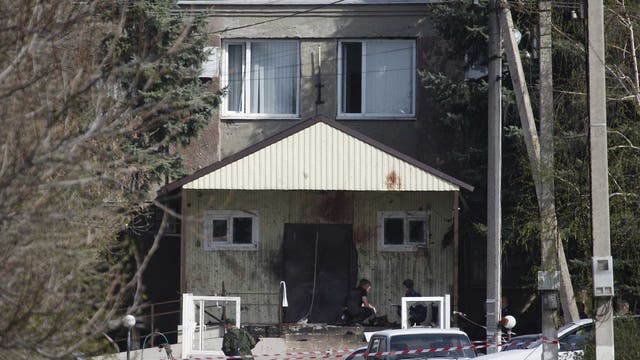 But a spokesman for the Interior Ministry in Stavropol, who was not named, later said only one of the men was a suicide bomber.
"An attack took place on a regional police station," he said. "One of the attackers blew himself up, two others were killed."
A police official told RIA Novosti the incident took place in the Novoselitsk district in Stavropol, and that more details were being "clarified".
The incident took place in a region close the volatile North Caucasus, where Isis militants have claimed a province and bomb attacks on government assets have become increasingly common.
Local security forces were prepared for such attacks in Stavropol, the ministry official told Reuters. He said police had activated their "Fortress Plan", putting the station into a military-style defensive state.
Join our new commenting forum
Join thought-provoking conversations, follow other Independent readers and see their replies