Russia's biggest newspaper attacks Manchester over 'disgusting' gay couples and 'many fat people'
Homophobic column comes as Kremlin urged to act on torture of gay men in Chechnya
Lizzie Dearden Comments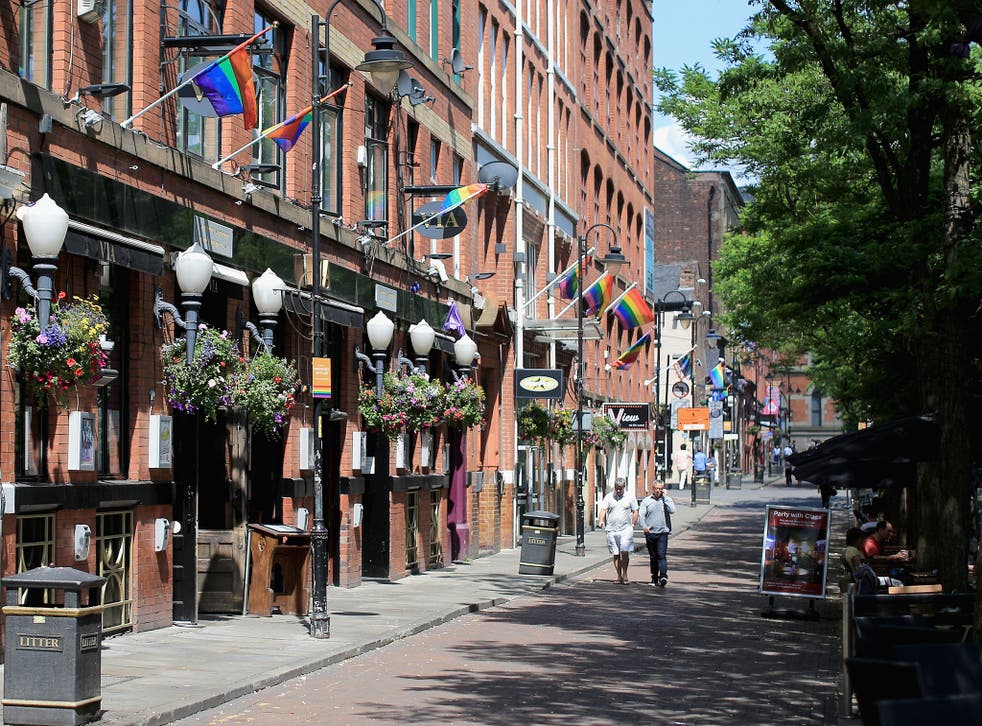 An article in Russia's biggest selling newspaper has attacked Manchester for being full of "many fat people" and "disgusting" gay couples.
The column, published amid international alarm over the detention and torture of gay men in Chechnya, argued that Moscow must not follow the British city's "frightening" example.
Alisa Titko, a columnist for tabloid Komsomolskaya Pravda, was shocked when she found herself in Manchester's Gay Village.
"There is a whole part of the city for gay people," she described.
"There is even a plaque there saying 'Gay Village'.
"It is the most popular place for such couples, there are cafes and clubs there with small rainbow flags."
Ms Titko described the "disgusting" sight of same-sex couples openly holding hands and kissing in bars, amid "explicit" murals, including art depicting Batman and Superman kissing.
Merkel raises concerns with Putin over Chechnya 'torture' of gay men
"At one of the tables, there was a wedding of two rather large girls," she wrote.
"It is such a pleasure that there are no such gay streets in Moscow."
Ms Titko also attacked women in Manchester for allegedly having rolls of fat "hanging from their bodies" and wearing leggings and miniskirts.
"Their women are so fat, they look disgusting to their men," she quoted a Russian friend as saying, after panicking that onlookers might assume they had "something going on".
"You see, they eat so much fast food and potatoes.
"And they drink beer from huge glasses. Here is the result."
Ms Titko wondered whether it was possible that men "turn gay because girls are too fat and non-sexual", adding: "It can influence it."
LGBT+ rights around the globe

Show all 9
She blamed a rise in the number of LGBT people coming out in Russia on their mothers failing to beat them enough as children.
"Let's remain Russian," the article concluded. "Start normal families. Have children in wedlock. And not confuse love with debauchery."
The Komsomolskaya Pravda article dismissed growing calls for tolerance in Russia, where an anti-gay "propaganda law" was introduced in 2013 claiming to "protecting children from information advocating for a denial of traditional family values".
It has been used to prosecute LGBT activists and charities, as well as online support groups for teenagers in Russia, where gay couples are frequently harassed.
In the Russian republic of Chechnya, more than 100 men have reportedly been detained and tortured, with several killed after being identified as suspected "homosexuals".
The Kremlin has backed denials by the Chechen government, whose officials appeared to encourage relatives to kill gay men in "honour killings", while arresting activists protesting against the campaign in St Petersburg.
German Chancellor Angela Merkel called on Russian President Vladimir Putin to properly investigate the allegations in Chechnya, protect LGBT people and uphold the freedom to protest in a tense press conference this week.
Register for free to continue reading
Registration is a free and easy way to support our truly independent journalism
By registering, you will also enjoy limited access to Premium articles, exclusive newsletters, commenting, and virtual events with our leading journalists
Already have an account? sign in
Join our new commenting forum
Join thought-provoking conversations, follow other Independent readers and see their replies