Russian opposition leader and anti-corruption activist Alexei Navalny to stand trial for fraud in 'fabricated' case
Accused is known for his investigations into corrupt dealings by officials and his campaigning against Putin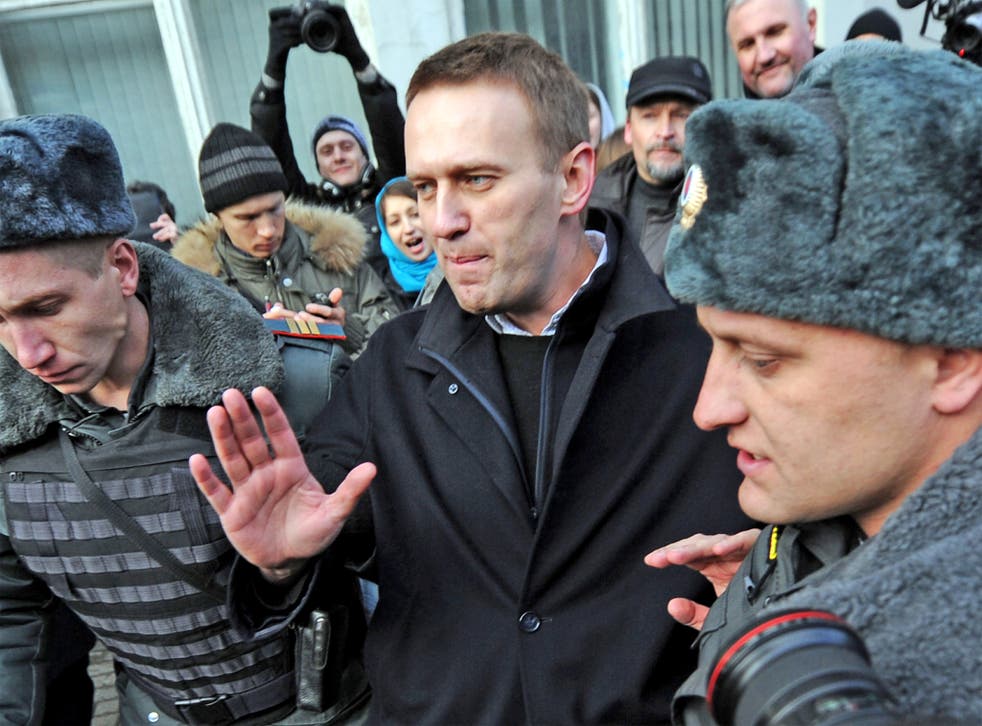 A Russian court announced that it would put the country's pre-eminent opposition leader on trial this month, in a case that has been widely decried as politically motivated.
The provincial court in Kirov said that hearings against Alexei Navalny, who is known for his investigations into corrupt dealings by officials and his campaigning against President Vladimir Putin, would begin on 17 April.
Mr Navalny, 36, is accused of stealing a consignment of timber while he was acting as an adviser to Kirov's governor in 2009, and thus defrauding the local budget of around £330,000. If found guilty, he could be jailed for up to 10 years. Even if he receives a suspended sentence, he would have a criminal record and thus be ineligible for public office.
He has repeatedly denied the claims and says the entire case has been "completely fabricated" on the orders of Mr Putin.
News of the trial came shortly after Mr Putin announced that all Russian officials have just two months to divest themselves of any foreign-held company shares or bank accounts. The Kremlin wants officials to keep their money inside Russia, after a number of scandals (many of which were uncovered by Mr Navalny) concerning officials who were surreptitiously keeping funds or properties abroad that did not appear to tally with their modest official salaries.
In February, Vladimir Pekhtin, a senior lawmaker from Mr Putin's United Russia party, resigned after Mr Navalny revealed he owned nearly £1m of property in Florida. One Russian MP told The Independent that the sudden move against officials with suspicious overseas holdings in recent months has created a sense of panic inside parliament.
"Of course, people are really worried. A lot of people have property or money stashed abroad and it was always understood that that was OK," said the parliamentarian.
"Now it seems like the rules have changed. They want to show that they can be tough on corruption too; they don't want this to be just an issue for the opposition."
Aware that Mr Navalny's methods have won him support among Russians tired of official corruption, the Kremlin seems to be trying to co-opt his ideas for itself while divesting them of their sharp anti-Putin rhetoric.
It has moved more slowly with Mr Navalny than with lower-level participants in the street protests that he led against Mr Putin's rule, which began in 2011.
There was speculation that the court case against him could have been left to hang as a threat to keep him quiet. Now, however, it appears that authorities are determined to see through the process.
Mr Navalny's lawyers complained yesterday that the court had violated due procedure and bypassed preliminary hearings in the case, during which they would have made a number of complaints. Mr Navalny himself wrote on Twitter that the court's decision was "trash".
Join our new commenting forum
Join thought-provoking conversations, follow other Independent readers and see their replies