Russian opposition leader Alexei Navalny barred from standing against Vladimir Putin in election
Anti-corruption activist was sentenced to a five-year suspended prison sentence in February which he says was politically motivated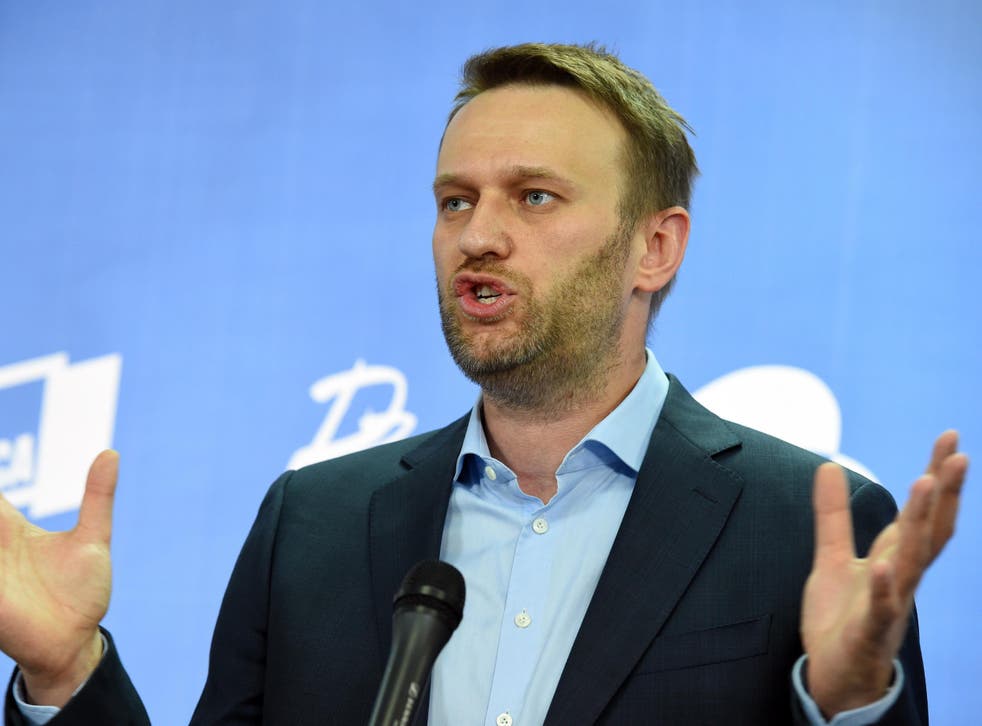 Alexei Navalny, the leader of the opposition in Russia, can not run for presidency because of his criminal conviction, the country's Central Election Commission said in a statement on Friday.
"Navalny does not have passive suffrage," said the statement, meaning he was ineligible to run for office.
Mr Navalny was found guilty of embezzlement in February and given a five-year suspended prison sentence in a court case he says was organised to stop him running for president.
He was also arrested and jailed temporarily for allegedly assaulting a police officer during a protest in March and spent 25 days in prison for staging anti-Putin rallies.
The country has been gripped bya series of mass protests in cities across Russia in recent weeks against the perceived corruption of Vladimir Putin's government.
Mr Navalny, who has campaigned against government corruption for years, was attacked with a form of antiseptic green dye which almost blinded him at his offices at the Anti-Corruption Foundation in Moscow in April.
The 41-year-old released a 50-minute documentary in March accusing Russia's Prime Minister and ex-President Dmitry Medvedev of amassing a "corruption empire" of luxury properties, yachts and vineyards using a network of charities run by close associates.
The money allegedly came from donations from the wealthy oligarchs, many of whom control companies with monopolies on key industry such as energy, who make up Mr Putin's inner circle.
World news in pictures

Show all 50
The protests are the largest since 2012 when thousands took to the streets shortly before Mr Putin was inaugurated for his third term as President.
Mr Putin is expected to run for a fourth term in office in the presidential elections next year and has been cracking down on dissent in the run up.
He briefly stepped down and served as Prime Minister under Mr Medvedev between 2008 and 2012 as, under Russian law, a President can only serve two consecutive terms at a time. There are no rules saying how many terms in total a Russian President can serve, however.
The length of a single term was extended from four to six years by Mr Medvedev.
Additional reporting by Reuters
Join our new commenting forum
Join thought-provoking conversations, follow other Independent readers and see their replies