Russian state-controlled TV 'accidentally' broadcasts secret plans for nuclear torpedo system
Vladimir Putin had announced the development of a system to defeat Nato defences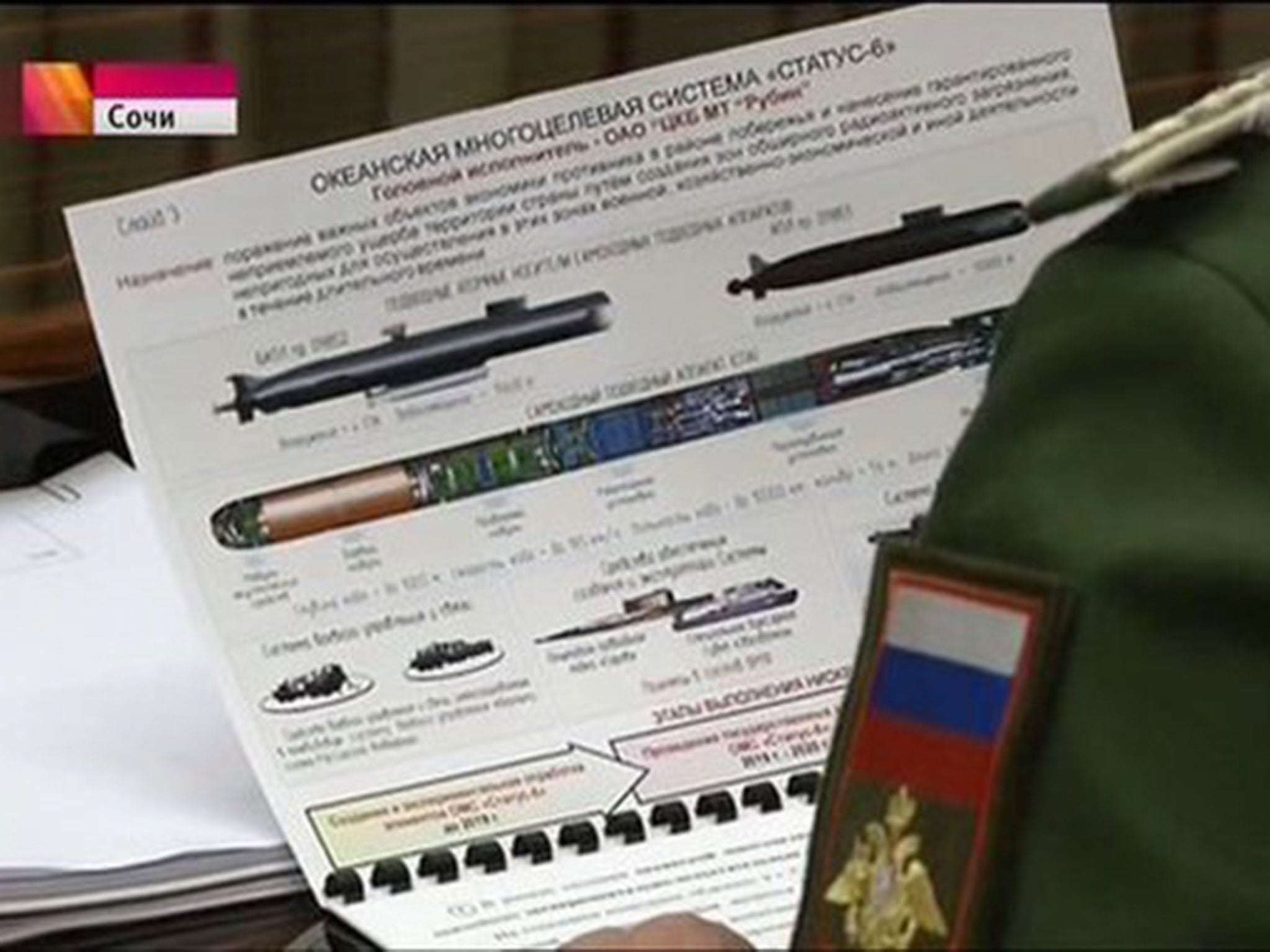 Secret plans for a new Russian nuclear torpedo system have been shown on state-controlled television in what the Kremlin said was an accident.
A close-up of a confidential document detailing "Ocean Multipurpose System: Status-6" was broadcast for several seconds by Channel One Russia and NTV during coverage of a meeting between Vladimir Putin and military officials.
The plans said submarine-fired nuclear torpedoes would devastate their targets, creating "zones of extensive radioactive contamination making them unsuitable for military or economic activity for a long period", according to a translation by AFP.
Russia Today reported that the weapon is designed to bypass Nato radars and existing defence systems to hit coastal areas.
Other documents seen in the footage had been blurred or obscured in the broadcast and the clip was later deleted, but not before screenshots had spread around the internet.
Dmitry Peskov, the Russian President's official spokesperson, said "measures" would be taken to avoid a repeat of the incident.
"It's true some secret data got into the shot, therefore it was subsequently deleted," he told journalists.
"In future we will undoubtedly take preventive measures so this does not happen again."
He did not comment on speculation that the Kremlin may have staged the slip as a show of military strength.
Russia's Putin defends air campaign in Syria
The secret document was broadcast as Mr Putin met senior generals and representatives from the arms industry in Sochi to discuss his military modernisation programme.
He vowed that Russia would counter Nato's US-led shield programme with new weapons "capable of penetrating any missile defences".
In another meeting on Wednesday, Mr Putin said that Russia was not engaging in an arms race but merely trying to "catch up" with other nations.
Which countries have nuclear weapons?
Show all 14
"I have said this before and I'll say it again: we are not trying to be drawn into some sort of an arms race," Mr Putin said.
"We simply need to catch up on what was missed in the 1990s-2000s, when the Armed Forces, as well as the military industrial enterprises, were chronically left without financing."
The Russian President has attended three meetings on Russia's military capabilities in three days as the country continues its intervention in Syria and tensions remain over the Ukrainian conflict.
Additional reporting by AP
Join our commenting forum
Join thought-provoking conversations, follow other Independent readers and see their replies