Russian warships will not be refuelled in Malta, says Maltese foreign minister
Russia denounces 'spurious suggestions' Mediterranean battlegroup could be used to bomb Syria
Samuel Osborne
Thursday 27 October 2016 09:57 Comments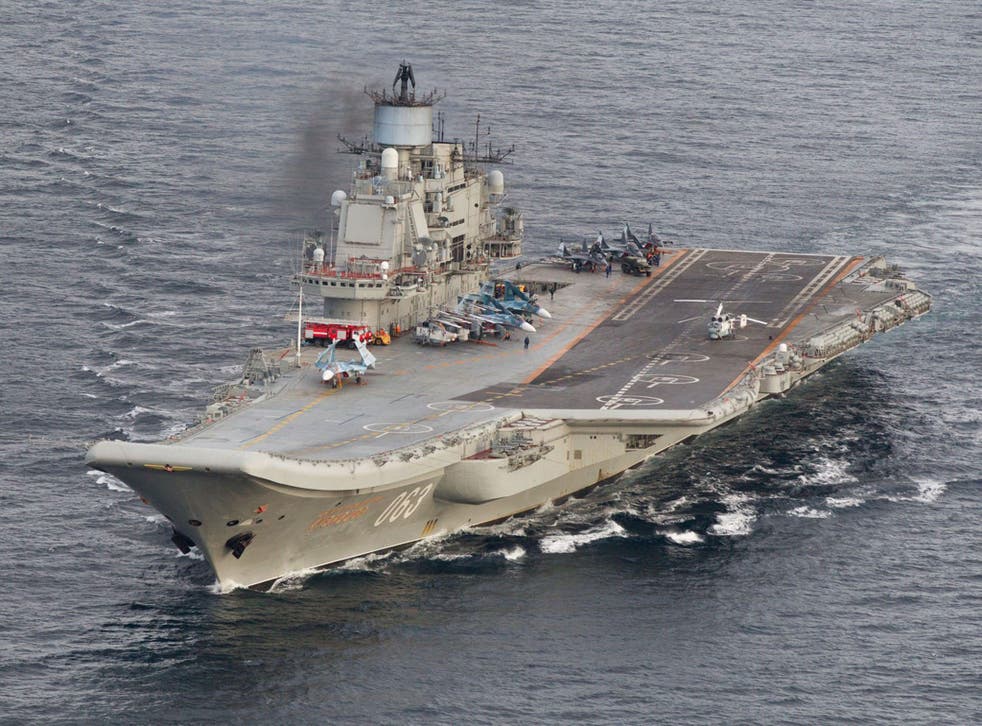 No Russian warships will be refuelled in Malta on their way to Syria, the country's foreign minister has said, after Russia withdrew its request to refuel at a Spanish port amid international outrage.
The battlegroup, which passed through the English Channel last week, was expected to dock in the North African enclave of Cueta on Wednesday to take on supplies.
Maltese Foreign Minister George Vella dismissed claims the flotilla was planning to refuel at Malta, though he did not confirm or deny whether Russia made a request to stop, the Times of Malta reports.
On Tuesday, Nato Secretary-General Jens Stoltenberg warned the Syria-bound ships could be used to target civilians in the besieged city of Aleppo and to launch more air strikes
Russian warships move through English Channel under Royal Navy watch
However, senior Russian Foreign Ministry official Andrei Kelin dismissed his statement as "absurd".
"The concerns are not based on anything as our planes have not come near Aleppo for nine days," he told the RIA news agency. "Our battle group is in the Mediterranean. Our ships have always had a presence there.
"Why make some spurious suggestions and then make some political recommendations based on them? It is of course absurd."
The UK-based Syrian Observatory for Human Rights has questioned Russia's statements about a moratorium on bombing Aleppo, saying the city has been hit by strikes since a lull in fighting ended on Saturday.
In pictures: Russian air strikes in Syria

Show all 19
Malta's reaction came after a campaign by activist group Avaaz called on the country to follow Spain in stopping what it called the "Russian death fleet" from docking.
"A tidal wave of public pressure is spreading across the Mediterranean pushing governments to say no to supplying Russia's death-fleet," Christoph Schott, senior campaigner at Avaaz, said.
"First Spain and now Malta have recognised that they could be literally fuelling the slaughter of civilians in Aleppo by letting the Russians dock, now Greece and all governments in their path should follow suit."
The convoy is expected to continue its journey past Malta, the Greek islands and Cyprus. It is unclear what stops - if any - it will make.
The battlegroup includes the Admiral Kuznetsov, Pyotr Veliky (Peter the Great) battlecruiser, the Vice-Admiral Kulakov destroyer, Severomorsk destroyers and several supply vessels.
Amnesty International has urged other countries to refuse any requests for refuelling stops or any other assistance.
The groups campaign manager for Syria, Kristyan Benedict said: "The Russian military's record of attacks on schools, hospitals and civilian homes in Aleppo and elsewhere in Syria is notorious.
"Third-party countries must avoid becoming complicit in any future Russian attacks on Syria carried out in the eastern Mediterranean."
Register for free to continue reading
Registration is a free and easy way to support our truly independent journalism
By registering, you will also enjoy limited access to Premium articles, exclusive newsletters, commenting, and virtual events with our leading journalists
Already have an account? sign in
Join our new commenting forum
Join thought-provoking conversations, follow other Independent readers and see their replies