Saint-Denis raid: 'Forgotten' Paris residents wake up to fear a night of terror outside
'It was like Iraq - there were Kalashnikovs, rifles … Every two seconds, boom, boom, boom…'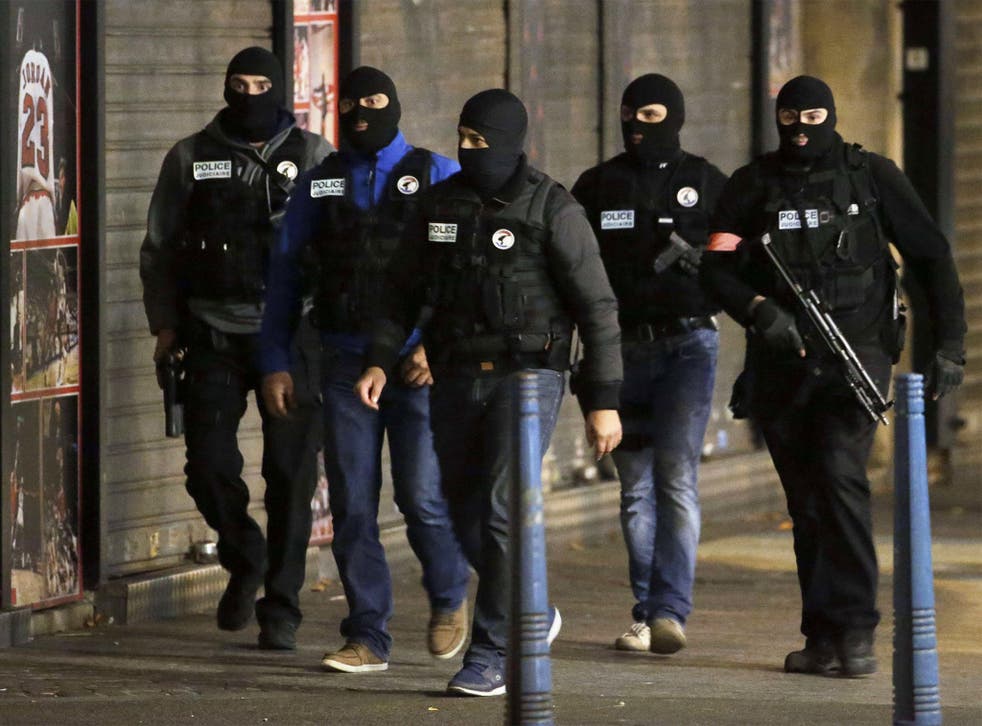 They awoke just after 4am to the sound of gunshots. The semi-automatic and machine gun fire was heard all over the centre of Saint Denis – to the astonishment of residents.
"It was like Iraq," said Ibraim Samake, 22, who, eight floors up in a flat in Rue Gabriel Peri, could hear gunfire in Rue du Corbillon, some 100 metres away, all too clearly. "There were Kalashnikovs, rifles … Every two seconds, boom, boom, boom…"
Suspect captured in Paris raid
Emerging from the fog of sleep, Gregoire Badufle, 42, and his wife Gwenaelle, 35, at first wondered whether the gunfire 120 metres from their flat in the Rue de la République was the start of another terrorist attack. They were far from the only ones to entertain such fears. But then reason kicked in. "If you want to kill people at that time of day," said Mr Badufle, "you don't go to the centre of Saint Denis. There's no one about."
They phoned the police, and were relatively reassured to be told that it was a raid. No need for Mr Badufle and his wife to wake their four young children; only later would the two teachers discover that the operation was happening next to the primary school attended by their oldest two, Matthias, 10, and Ariel, seven.
The raid had been going for some 20 minutes when Reda, 32, a Saint Denis taxi driver returning home from a night shift, stumbled upon it. He found his way barred by a cordon of more than 100 police officers, in balaclavas, pointing pistols, machine guns and shotguns at the building in the Rue du Corbillon.
Saint-Denis raids heard from resident's balcony
This time, even France's notoriously tough flics (cops) were apprehensive. "They were very nervous. You could tell they were clearly frightened," said Reda, who did not want to give his full name. Coming from the Rue du Corbillon were the sounds of an intense firefight. "You would hear 15 minutes of shooting, 10 minutes of silence, then another 15-minute burst of gunfire," he said.
At about 4.40am there was what sounded like an explosion to Mr Samake coming from the Rue du Corbillon. About an hour later the Badufles heard another explosion. Mr Badufle looked at his bedside clock. It was 5.38am. And now there was silence.
But it wasn't over. Working in his bakery in the Rue Gaston Philippe, Ali Zetrine, 35, was astonished to see dozens of army trucks rumbling past. Reinforcements were arriving and with them, ambulances for the wounded.
In pictures: Saint-Denis raid

Show all 33
And then, at about 7.20am, more machine gun fire. Now in a shisha cafe in the Rue Gaston Philippe, Reda thought he heard at least five explosions. And then silence that this time lasted the rest of the day.
By the end of a sleepless night in the suburb where some residents complain bitterly about being forgotten by the state, there was the incongruous sight of journalists and camera crews from all the world gathering behind a tight police cordon.
The police searches would continue until shortly after midday. Slowly it emerged that two suspected terrorists were dead and five police officers injured. A police dog had also been killed.
Seven people had been arrested. As he was taken away by police, one suspect was naked apart from a jacket over his head. As they were forced into the street, all the arrested suspects were surrounded by armed police.
Photos emerged of massive bullet holes in the back of the house raided in Rue du Corbillon. All of its windows seemed to have been blown out.
Even Saint Denis residents admit that its relatively pretty centre ringed by estates has problems with gangs, drugs and crime. But not necessarily – until now – with Islamist radicalism. "I can't remember hearing of anyone from Saint Denis going to Syria," said Mr Badufle.
"But," he added, "you can find people from all over the world here. Which probably makes it easy to hide someone in Saint Denis."
Somehow his children had slept through the gunfight. Matthias and Ariel grinned as they watched their dad being interviewed.
"They thought it was cool to see their street on the television," he said. He paused, lowered his voice. "We are trying to keep things as calm as possible."
Join our new commenting forum
Join thought-provoking conversations, follow other Independent readers and see their replies