Children told 'Santa's reindeer' are resting after three deer shot dead at winter wonderland
Staff find trail of blood and bullet in a tree
Tom Embury-Dennis
Friday 22 December 2017 19:02 Comments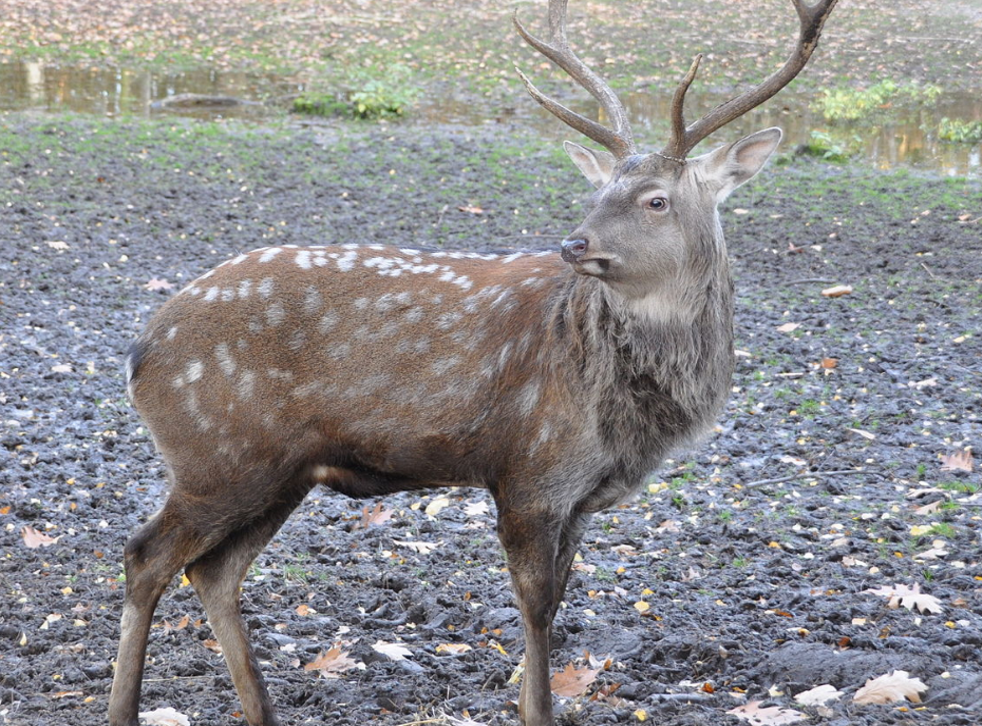 Three sika deer have been shot at close range by poachers at a children's winter wonderland experience in Ireland, leaving a trail of blood and a bullet lodged in a tree.
The deer pen was discovered empty when a staff member at Djouce golf club, which was hosting the "Santa's Journey" event, went to feed the animals on the morning of 15 December.
The man found a trail of blood leading from the golf course to the main road.
Visiting children were told the deer were resting to prepare to fly Father Christmas' sleigh.
"We got three sika deer for the event and they were an integral part for the children… they were shot and dragged across the fairway," the man, who did not want to be named, told the The Times.
The Gardai (Irish police) told The Independent they were currently treating the incident as a theft, but it is believed the deer were shot and killed before more than one poacher entered the grounds to remove the bodies.
Paul Cullen, who reared the deer and rented them to the event, told The Times the poachers must have known they were not wild animals.
Boy calls 911 to warn of Grinch stealing Christmas
"There was a 6ft fence around them and green netting. There is no way even with a lamp from the road you would have thought they were wild deer roaming the course," he said.
"There is also loads of lights and a big sign saying 'Santa's Journey'."
The event stayed open and the three deer, who visitors were told were Santa's pets Prancer and Dancer, were replaced by one donated by a neighbour.
Santa's Journey involved a train ride that passed by Reindeer's Way, where the deer were kept, and a visit to Santa's workshop. The event was due to close on Friday.
Shelter - Homeless this Christmas

Show all 8
"One day you would hope that the culprits will be found. The bullet could be matched to the gun," Mr Cullen said.
A vehicle was spotted close to the golf club on the night of the incident, according to local newspaper The Wicklow People.
Anyone with information on the deer can contact Wicklow Garda Station on +353 404 67107.
Register for free to continue reading
Registration is a free and easy way to support our truly independent journalism
By registering, you will also enjoy limited access to Premium articles, exclusive newsletters, commenting, and virtual events with our leading journalists
Already have an account? sign in
Join our new commenting forum
Join thought-provoking conversations, follow other Independent readers and see their replies