Sarkozy's home raided by police in campaign funding inquiry
Alleged illegal donations from L'Oréal heiress probed after former leader loses immunity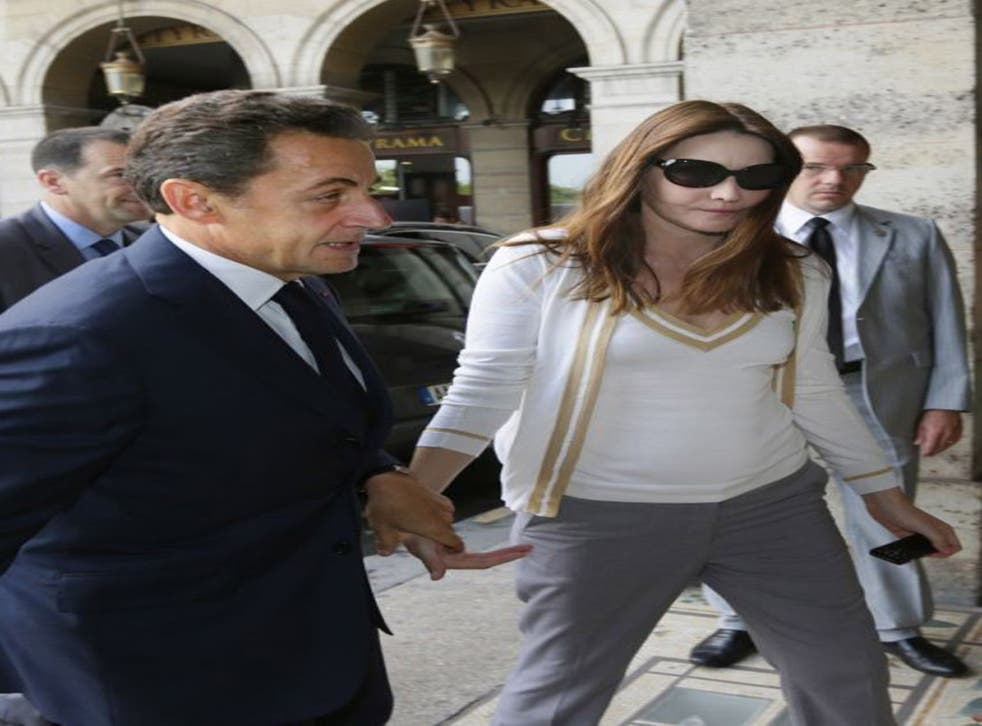 French police have raided the home and offices of former president, Nicolas Sarkozy, as part of a probe into suspected illegal financing of his 2007 presidential campaign by France's richest woman, the L'Oréal heiress.
Yesterday's searches were part of an investigation into financing of Mr Sarkozy's 2007 presidential campaign and alleged brown envelopes of cash from Liliane Bettencourt.
Detectives searched the mansion rented by Carla Bruni-Sarkozy in a gated community in the west of Paris where she and the former President live with Bruni's 11-year-old son and the couple's new baby daughter.
The office of the legal firm where Sarkozy is a partner and a new office he moved into after losing the presidential election to Francois Hollande in May were also searched. The couple were not present during the searches, their lawyer said yesterday. Judicial immunity which protected Mr Sarkozy from legal investigations expired on 15 June.
The probe centres on the finances of Ms Bettencourt. A long-running family feud over her cosmetics fortune ballooned into a multi-layered investigation and political affair two years ago. Allegations then emerged that she provided illegal campaign cash to Sarkozy's party during the 2007 campaign. But he vigorously denies the claims.
The allegations struck a chord with Mr Sarkozy's critics, who were frustrated with his handling of the recession-hit economy and saw him as too cozy with the rich.
An accountant for Ms Bettencourt said in 2010 that she gave €50,000 in cash in 2007 to Mr Sarkozy's party treasurer for the presidential campaign – well beyond the €4,600 legal limit on individual donations. A book released last year suggested that Sarkozy himself received undeclared campaign money.
A judge in Bordeaux is currently investigating whether Sarkozy's right-wing UMP party benefited from envelopes of cash from the ageing and mentally fragile Ms Bettencourt, during Sarkozy's successful election campaign in 2007. In February, Eric Woerth, the former French budget minister and treasurer of Sarkozy's ruling UMP party, was placed under judicial investigation over cash he was alleged to have received from the billionaire Ms Bettencourt to fund the 2007 campaign. He denies any wrongdoing.
Sarkozy's lawyer, Thierry Herzog, said the raids would show nothing and that he had already supplied information to investigators that debunked suspicions of secret meetings with Bettencourt.
"These raids... will as expected prove futile," he said in a statement last night.
He said magistrates looking into whether Sarkozy had received campaign funds from Ms Bettencourt had been supplied with diary details of all Sarkozy appointments in 2007.
The diary details proved "that the purported 'secret meetings' with Madame Liliane Bettencourt were impossible," he added.
Sarkozy, 57, who has taken a low profile since his defeat, could come under the spotlight in a number of legal cases now that he is no longer head of state.
He could also become a focus of the separate investigation into whether or not there was a shady "cabinet noir" at the highest reaches of the French government which used the secret services to spy on journalists at Le Monde to uncover their sources for stories about the Bettencourt affair.
A security chief and Sarkozy ally has been placed under investigation in the alleged political spying scandal. Sarkozy has denied any links to the case.
Days after losing his presidential immunity, relatives of French victims of a deadly bombing in Pakistan in 2003 filed a lawsuit accusing Sarkozy and two former advisers of violating a duty to secrecy in an investigation of the attack.
Join our new commenting forum
Join thought-provoking conversations, follow other Independent readers and see their replies