Search is on for second cache of art confiscated by the Nazis
Collector's son who lived in flat where €1bn haul was found disappears without trace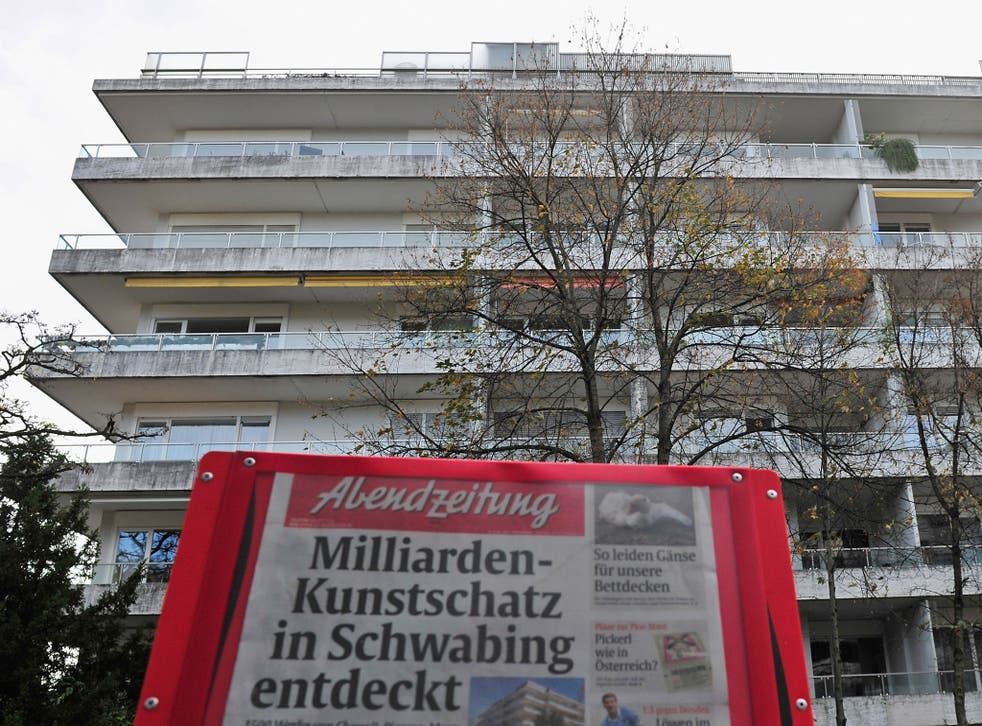 German customs officials were yesterday searching for what they believe is a second secret cache of modernist paintings looted by the Nazis following the sensational discovery of 1,500 masterpieces by artists including Picasso and Paul Klee in a squalid Munich apartment.
The huge haul of so called "degenerate" art confiscated by the Nazis from Jewish owners during the 1930s and 1940s is estimated to be worth some €1bn (£846m).
Its discovery by customs officials in 2011 was revealed by Germany's Focus magazine at the weekend. The paintings were discovered stacked between dirty plates and cans of food past their sell-by date, in the run-down apartment of the reclusive 80–year-old Cornelius Gurlitt, the son of an art collector who was yesterday said to have disappeared without trace.
"He could be anywhere in Germany. We think he may have access to unlimited funds," a Munich customs spokesman said. The works are currently being held in a customs storage depot outside Munich while a state prosecutor's investigation continues.
Customs officials said they were searching for a second cache of valuable "lost" art works by modern masters including Picasso, Max Beckmann, and Marc Chagall among others, which they thought Mr Gurlitt was living off by slowly selling them and parking the proceeds in a Swiss account.
They said their suspicions were raised by his sale of a Max Beckmann masterpiece entitled "The Lion Tamer" at auction in Cologne in December 2011 – two months after his secret cache of paintings was discovered and confiscated by customs officials. "The Lion Tamer" was sold off for a total of €864,000 at the Lempertz auction house.
Mr Gurlitt assumed all the characteristics of a mystery man yesterday. Customs officials said he appeared to have done everything possible to avoid detection: they said he had not registered his address, which is illegal in Germany, had no social security number, no computer, no mobile phone and neither doctor nor dentist. He has no living relatives.
His huge cache of artworks was procured by his father, Hildebrand Gurlitt, a well-known pre-war art dealer who acquired the paintings for next to nothing from their mainly Jewish owners after the Nazis ruled that the works were "degenerate art" which had no place in an Aryan Third Reich. In many cases the Jewish owners had to sell the works to fund their escape from the impending Holocaust
Mr Gurlitt Sr's wife, Elena, is said to have told officials after the war that the paintings were destroyed in the devastating allied air raid on Dresden in February 1945. However, her son hung on to them and kept them hidden in the squalid Munich apartment still registered in his mother's name despite her death in 1967.
Cornelius Gurlitt was stopped by customs officers searching for currency smugglers while travelling on a train from Switzerland to Munich. He had €9,000 in a paper envelope, which was legal. Customs officers were nevertheless suspicious. They stumbled on the vast collection when they searched his home in October 2011.
State prosecutors have launched an investigation into what is believed to be the discovery of the biggest haul of artworks looted by the Nazis since 1945.
The Berlin art historian Professor Meike Hoffmann is currently trying to establish the identities of the paintings' original owners. Most of the art works were thought to have been irretrievably lost. There are search warrants out for 200 of the paintings. Professor Hoffmann said she was unable to comment yesterday as the legal investigation was still underway.
The works are said to include a series are by the impressionist Franz Marc. One of them – "Die Blauen Pferde am Strand", or "The Blue Horses on the Beach" – is valued at €45m.
Join our new commenting forum
Join thought-provoking conversations, follow other Independent readers and see their replies