Sex and blackmail allegations at heart of Vatican leaks scandal
The trial of the Pope Francis's only female staffer, a priest and two journalists resumes on Monday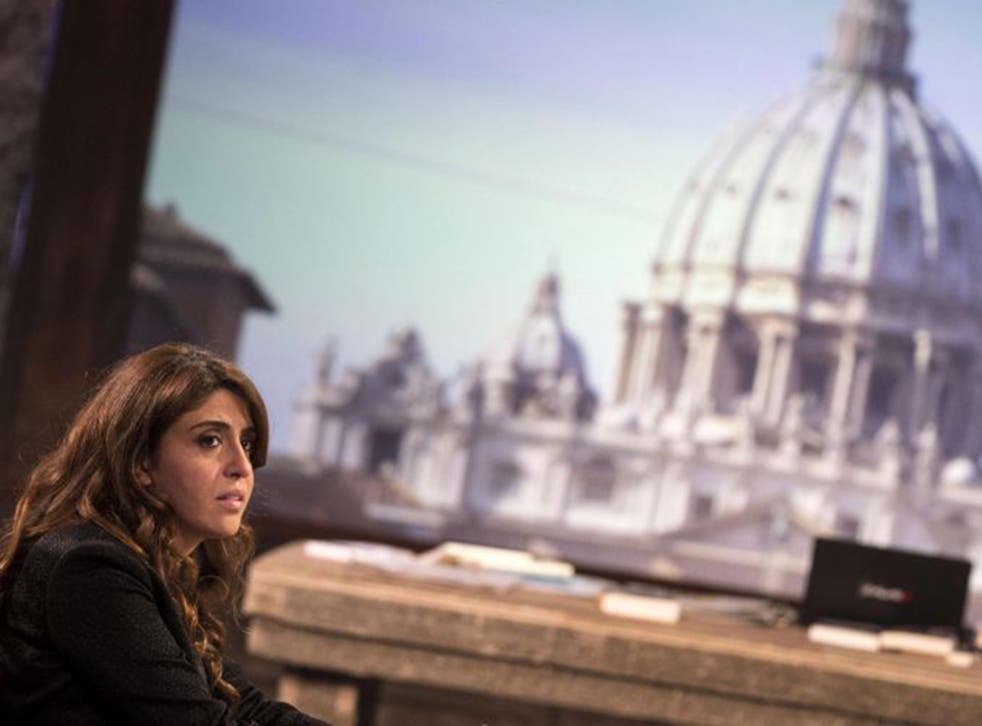 In 2013, when Pope Francis appointed outside management consultants to shed light on the inner workings of the Vatican, he hoped to bring order to an organisation mired in corruption and intrigue. The embarrassing leaks that resulted in the publication of hundreds of secret letters are believed by many to have contributed to Pope Benedict XVI's unprecedented step of resigning earlier that year.
Now Pope Francis faces a somewhat similar scandal. But this time, sex and blackmail allegations have been thrown in – and his own management consultant appointees are at the heart of it.
On Monday, the trial of five people resumes inside the Vatican, including Francesca Immacolata Chaouqui, a PR expert and the only female member of the Pope's commission. The other four include Gianluigi Nuzzi, a journalist whose earlier book about papal secrets brought the original "Vatileaks" scandal to a head, and, also from the commission, Lucio Vallejo Balda, a Spanish priest.
The trial centres on claims that Balda, Chaouqui and another plaintiff leaked confidential documents relating to the Vatican's finances to Nuzzi and another journalist, who is also on trial.
The details contained in the leaked documents are, by the Vatican's scandal-prone standards, fairly tame, containing charges of overspending and the levying of below market rents to favoured tenants. The journalists are charged with using illegal means to obtain the documents, while Chaouqui, Balda and the fifth defendant are charged with forming an "organised criminal association" to violate confidentiality.
The trial risks damaging the Pope's reputation for opening up the Vatican to greater inspection by the outside world. As the veteran Vatican correspondent John Allen points out: "Over time … a perception of trying to punish journalists for legitimate professional activity could have negative consequences for how both the Pope and the Vatican are covered." And threatening to jail those responsible for long terms – the defendants face up to eight years – is not a recipe for improving relations with the media at large.
But it is the steamy allegations that have erupted that have caught people's attention. Held in custody since early November, Balda, who claims he felt pressured into the sin of breaking Vatican confidentiality by Chaouqui, also claims that she seduced him when they were staying together in a hotel in Florence.
After he refused to continue the dalliance, he says, she was "furious". For her part, Chaouqui denies having slept with the priest. "If I wanted to betray my husband, I wouldn't do it with an old priest," she said.
The scandal has now spread further, with Chaouqui under investigation for allegedly attempting to blackmail Silvio Berlusconi's brother Paolo, owner of Il Giornale daily newspaper. She is said to have threatened to reveal details of secret bank accounts held by the two brothers in the Vatican Bank if negative press about her continued to appear in the paper.
The Berlusconi brothers deny the existence of such accounts. Chaouqui denies all wrongdoing.
Register for free to continue reading
Registration is a free and easy way to support our truly independent journalism
By registering, you will also enjoy limited access to Premium articles, exclusive newsletters, commenting, and virtual events with our leading journalists
Already have an account? sign in
Register for free to continue reading
Registration is a free and easy way to support our truly independent journalism
By registering, you will also enjoy limited access to Premium articles, exclusive newsletters, commenting, and virtual events with our leading journalists
Already have an account? sign in
Join our new commenting forum
Join thought-provoking conversations, follow other Independent readers and see their replies