Shadows of Trump and Putin loom over Ukraine
At this year's annual Yalta conference Ukraine's President Petro Poroshenko raised the issue of Russian agression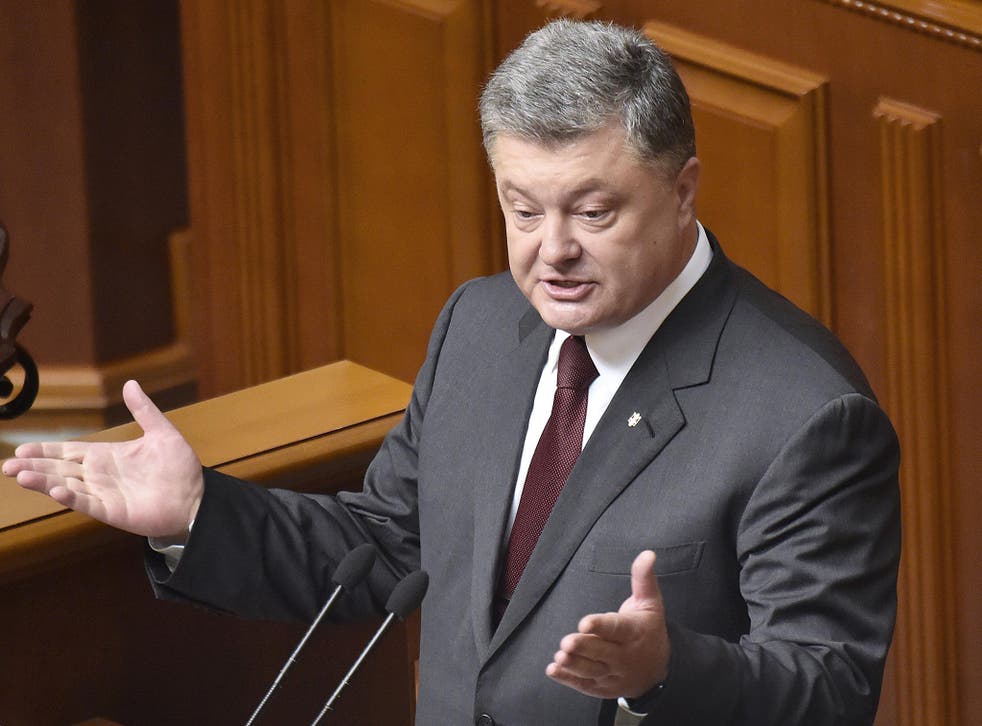 The international conference in Yalta on the Crimean coast three years ago was infused with hope and optimism. Ukraine was starting on the journey to EU membership; as befits such an historic occasion, the talks were held at the Livadia Palace where Roosevelt, Stalin and Churchill met to carve up post-war Europe. There were celebrations, a concert and an art show.
The Yalta conference now takes place in the Ukrainian capital, Kiev, Crimea having been annexed by the Kremlin following the uprising against the government of Viktor Yanukovych when it turned away from the EU. Instead of music and paintings the main exhibit at the central hall for the day's opening was a cage in which Ukrainian soldiers demonstrated assembling assault rifles blindfolded.
But it is not just Russian-backed separatists who are now a matter of concern for the Ukrainian government. There is trepidation about Donald Trump's praise of Vladimir Putin, his disparagement of Nato and what may happen if the Republican nominee ends up in the White House after the forthcoming US elections.
Hillary and Bill Clinton have been present at the Yalta conference in the past and Mr Trump has made a speech via satellite in support of Ukraine. Since then, however, his repeated statements of support of Mr Putin, his condoning of the annexation of Crimea and suggestion that he may not defend Nato allies under attack has caused consternation. This was heightened when Mr Trump hired Paul Manafort, who had played a key part in getting Russia's ally, Mr Yanukovych, to the Ukrainian presidency before his overthrow. Mr Manafort subsequently resigned after details emerged of his links with pro-Russian parties in Ukraine.
Ukraine's president, Petro Poroshenko, who is due to address the UN General Assembly next week, spoke today at this year's conference. He said: "I requested a meeting with the two [US presidential] candidates. One of the candidates has already confirmed, Hillary Clinton. We are still waiting for confirmation from Trump". Asked what he hoped from the next American president, Mr Poroshenko responded: " The US should be a leader."
Mr Poroshenko did not address Mr Trump's remarks about possibly accepting Russian control of Crimea. But he raised the issue of Russian "aggression" in Crimea several times and claimed the territory has been turned into a "concentration camp to the best Soviet standards".
With the US election just 55 days away, it is not only Ukrainians who are concerned about what Mr Trump may do. Barney Frank, a veteran former member of the US Congress and chairman of the House Financial Services Committee said: " What Mr Trump has been saying about Putin is scary, it makes one think that if he gets elected, it will encourage Putin to be even more aggressive towards his neighbours."
David Axelrod, the former special advisor to President Obama, commented: "Let's face it, of the two candidates who spoke to this conference in support of Ukraine last year, the only candidate who can still claim to do that now is Hilary Clinton."
However, Newt Gingrich, the speaker of the US House of Representatives, and former presidential candidate, maintained that Mr Trump's position was being misrepresented. He said: "Trump is an American nationalist, he will think every morning 'what is what is best for America?'.
"His criticism of Nato is about something which has long been an issue, it is about Nato members paying their share of defence. I remember discussing this with Donald Rumsfeld and George W Bush. In fact what Trump is saying is that he will increase US military spending to deal with Russia and China. That is not isolationism".
Mr Poroshenko wanted to stress the need for continuing EU support. Kiev has expressed regret at the Brexit vote, but Ukraine, declared the President, was determined to pursue its dream of joining the organisation. "This is the country where a million people went on the streets asking for one thing, joining the EU. The majority of the people here believe in Europe", he said.
The Ukrainian leader warned, however, that "Euroscepticism, anti-Americanism, and isolationism is putting united Western action at risk" and urged the need to fight back against "populism and cynicism".
He continued: "We are not part of Nato, we are defending ourselves with our own weapons. What we need most from you is not money, not weapons, not advisors. We need your unity and solidarity.
"But sanctions are the only mechanism to keep Putin at the negotiation table. The European Union must consider moving from semi-annual to annual sanctions, as a frequent return to this issue leads to much debate in the European Union and gives Russia the chance to undermine its unity."
Join our new commenting forum
Join thought-provoking conversations, follow other Independent readers and see their replies