South Ossetia: Separatist leader Leonid Tibilov plans referendum on 'reunification' with Russia
'The political reality is that we have to make a historic choice to be reunited with brotherly Russia'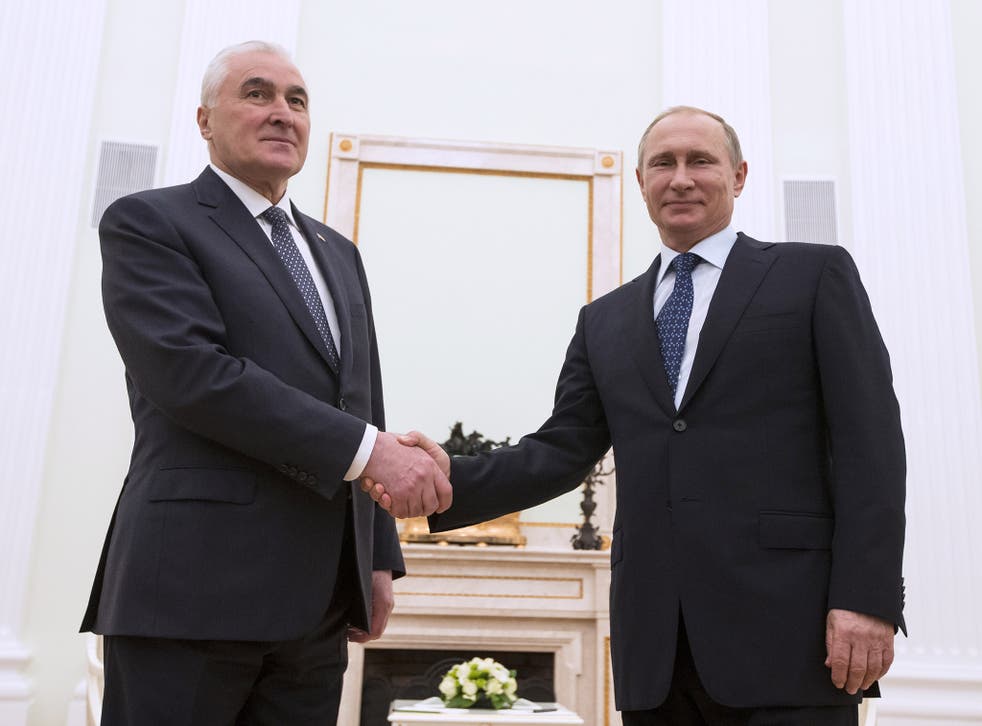 The separatist leader of Georgian breakaway region South Ossetia has proposed plans to hold a referendum on whether the region should join Russia, in a move that has left observers guessing as to who is behind the move: South Ossetia or Moscow. Leonid Tibilov told a press conference that "reunification" with Russia is an ancient dream of South Ossetians, after meeting with Russian presidential aide Vladislav Surkov.
"In principle we understand Mr Tibilov's motivation, but I wouldn't make any guesses before the referendum takes place," Russian state duma deputy Leonid Slutsky said. "Next we must put our heads together to discuss whether this is necessary. We have to understand that the response from the international community will be absolutely explosive."
The European Union and the United States, neither of which recognise Russian-backed South Ossetia as an independent state, condemned Russia's former President Dmitry Medvedev for choosing to recognise both South Ossetia and a second breakaway region, Abkkhazia, as independent following the 2008 Russian-Georgian war.
"The political reality is that we have to make a historic choice to be reunited with brotherly Russia," Mr Tibilov told journalists, "to ensure the security and prosperity of our country and our people".
Ties between Moscow and South Ossetia became even closer in March this year, after Mr Tibilov and President Vladimir Putin signed a treaty "of alliance and integration", which would see closer cooperation on political, social, defence and security spheres between both regions, a move both the EU and the US denounced. At the time of signing the agreement, South Ossetia's foreign minister Dmitry Sanakoyev said that there were no plans "to discuss unification between Russia and South Ossetia".
In July, the EU gave a warning to Russia after claims from Georgia that Russian troops, which have been patrolling Georgia's administrative border with South Ossetia since the end of the war in 2008, had used signs to redraw part of its de facto border with South Ossetia.
Join our new commenting forum
Join thought-provoking conversations, follow other Independent readers and see their replies