Spanish Parliament votes to reappoint Mariano Rajoy Prime Minister as thousands protest
Demonstrators take to the streets of Madrid over Mr Rajoy's reappointment, which ends 10 months of political deadlock in Spain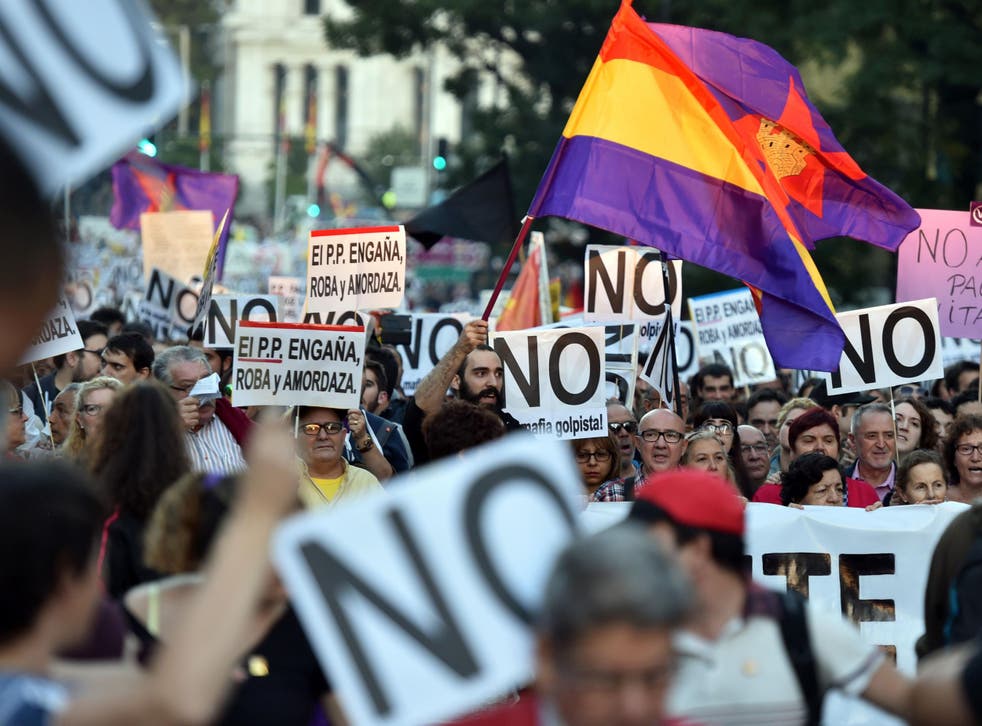 Mariano Rajoy is to be officially reappointed Prime Minister of Spain after securing enough parliament votes to form a minority government.
His appointment ends 10 months of political deadlock in Spain, with two inconclusive elections and fruitless attempts at coalition-building between bickering parties.
Thousands of demonstrators marched towards Madrid's main square Puerta del Sol on Saturday shouting "they don't represent us" as Spanish politicians voted on whether to grant the acting Prime Minister a second term.
Among the lawmakers who voted, 170 were in favour of reappointing Mr Rajoy, leader of the conservative Popular Party, while 111 voted against it.
The 68 who abstained are all believed to be Socialist MPs, in line with a reluctant party decision to let its arch-rival govern in order to unblock a protracted political deadlock.
Mr Rajoy's appointment is unlikely to result in political stability, as his weak minority government will struggle to pass legislation.
Protesters unhappy about corruption and sweeping spending cuts during Mr Rajoy's first term took to the streets under strong police watch, holding banners reading "No" and other political slogans.
Spanish Interior Minister Jorge Fez Diaz said around 3,000 people had taken part in the demonstration, according to journalist Felipe Sahagun.
Mr Rajoy, 61, needed a majority in the 350-seat parliament during a first confidence vote on Thursday but was rejected.
So parliament held a second vote on Saturday, in which he only needed to win more votes in favour than against.
He has been Acting Prime Minister since December and is now likely to be sworn in as leader of a proper administration before King Felipe VI on Sunday.
After winning a 2011 election, Mr Rajoy slashed public spending to tackle rising debt as Spain endured a severe recession.
World news in pictures

Show all 50
Unemployment soared to 27 per cent and the country's banks needed a 41 billion euro (£37 billion) European bailout.
Voters punished Rajoy's People's Party (PP) even as the economy later recovered, stripping it of its absolute majority.
But the PP still won the most votes in elections last December and in June, and Rajoy resisted calls from rival parties to step aside and let another PP leader try and form a coalition.
Register for free to continue reading
Registration is a free and easy way to support our truly independent journalism
By registering, you will also enjoy limited access to Premium articles, exclusive newsletters, commenting, and virtual events with our leading journalists
Already have an account? sign in
Register for free to continue reading
Registration is a free and easy way to support our truly independent journalism
By registering, you will also enjoy limited access to Premium articles, exclusive newsletters, commenting, and virtual events with our leading journalists
Already have an account? sign in
Join our new commenting forum
Join thought-provoking conversations, follow other Independent readers and see their replies