'Robin Hood' cafe in Madrid is charging rich customers to give to the poor
'People with nothing can come and eat here in the restaurant and get the same treatment as everyone else,' says the head of the charity behind the initiative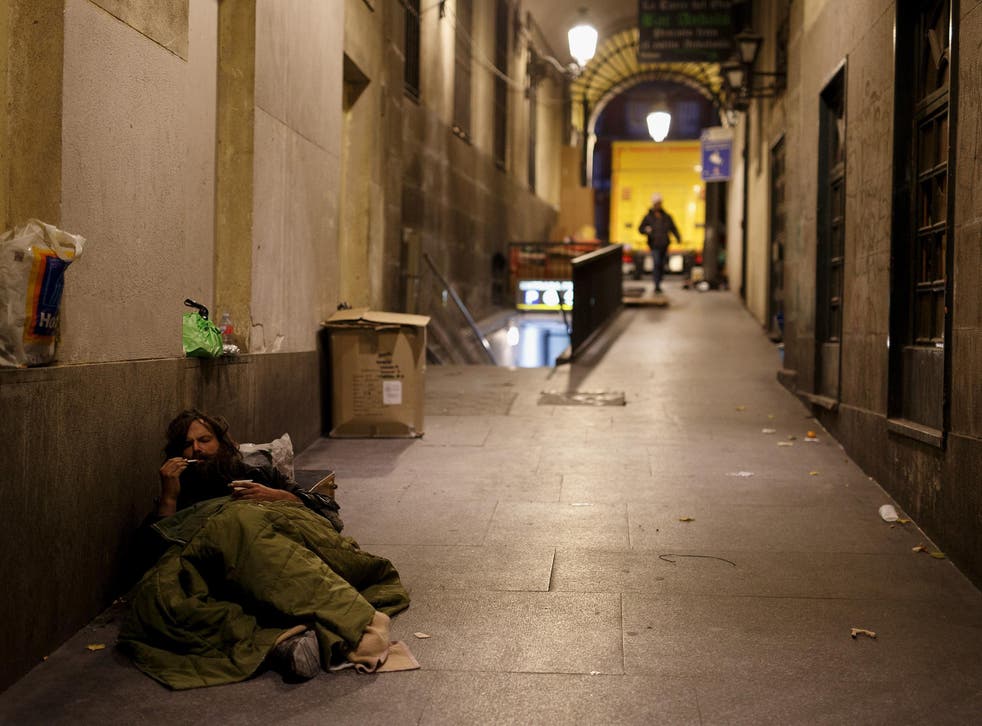 A cafe in Spain is charging customers by day, and using the proceeds to serve meals to homeless people free of charge at night.
The Robin Hood restaurant opened on a side street in central Madrid on Tuesday, operating a simple but unique business model.
At breakfast and lunchtime the initiative runs as an ordinary Spanish bar, selling coffee, croquetas, and cigarettes, before reopening in the evening as a restaurant, serving a sophisticated sit-down supper to people who cannot afford to pay.
Run by local charity Mensajeros de la Paz, which means "messengers of peace", the cafe aims to feed 100 homeless men and women each day, in two sittings.
"The inspiration came from Pope Francis, who's spoken again and again about the importance of giving people dignity, whether it's through bread or through work," said Father Ángel García Rodríguez, who set the charity up 54 years ago, in an interview with the Guardian.
"So we thought, why not open a restaurant with tablecloths and proper cutlery and waiters? People with nothing can come and eat here in the restaurant and get the same treatment as everyone else," he added. "It's just common sense."
Mensajeros de la Paz also run a social centre in a nearby church, providing about 200 homeless people with breakfast and lunch each day.
Inequality has soared in Spain, which has been in a state of financial crisis since 2008. The country's overall unemployment rate is now close to 20 per cent and youth unemployment is among Europe's highest, at 42 per cent.
In this context, Mensajeros de la Paz has become known for its progressive initiatives, including free wifi, virtual confession via smart phone app, and free tea and coffee at Father Rodríguez's church, all day, every day.
Last year the charity organised a gala dinner for 200 homeless people on Christmas Eve in Madrid's City Hall. The food was prepared and served entirely by a team of volunteers.
"'Man does not live on bread alone,' but the Bible forgot that some people don't even have bread," Father Rodríguez told the Guardian. "So we're trying to give them bread".
Despite it's name, taken from the English folk hero who stole from the rich in order to redistribute their wealth to the poor, the 79-year-old priest said the restaurant's business plan did not include ambushing anybody with medieval weapons. "The idea is not to rob from the rich to feed the poor but to share," Father Rodríguez told Europa Press.
He added, speaking to the Guardian: "The name is just to spice it up a bit and to get people to notice. We could have called it 'The Brothel' and I'm sure that would have got people's attention, too."
The restaurant's opening night on Tuesday was reportedly packed.
"The food here is great and very elegant," one homeless diner, Ramón Luis, told the British newspaper. "I'd give it loads of stars and I'll be back tomorrow."
The causes of homelessness

Show all 7
A homeless woman, Carmen Junquito, said the tablecloths and crockery made a welcome change to the soup kitchen sandwiches she normally had for dinner.
"This restaurant is life and happiness to me," she told the Guardian. "It's the best thing there is; the best thing in the world."
Father Rodríguez said if the initiative proved successful, he hoped the Robin Hood restaurant would become the first in a chain of similar establishments.
He added that he also hopes to attract famous chefs, who will volunteer to cook in the kitchen from time to time.
Join our new commenting forum
Join thought-provoking conversations, follow other Independent readers and see their replies