Spain's Podemos party MPs reject full salary and pledge to slow rate of public spending cuts
Spanish MPs are already among the lowest paid in the European Union, with a backbencher earning less than £30,000 a year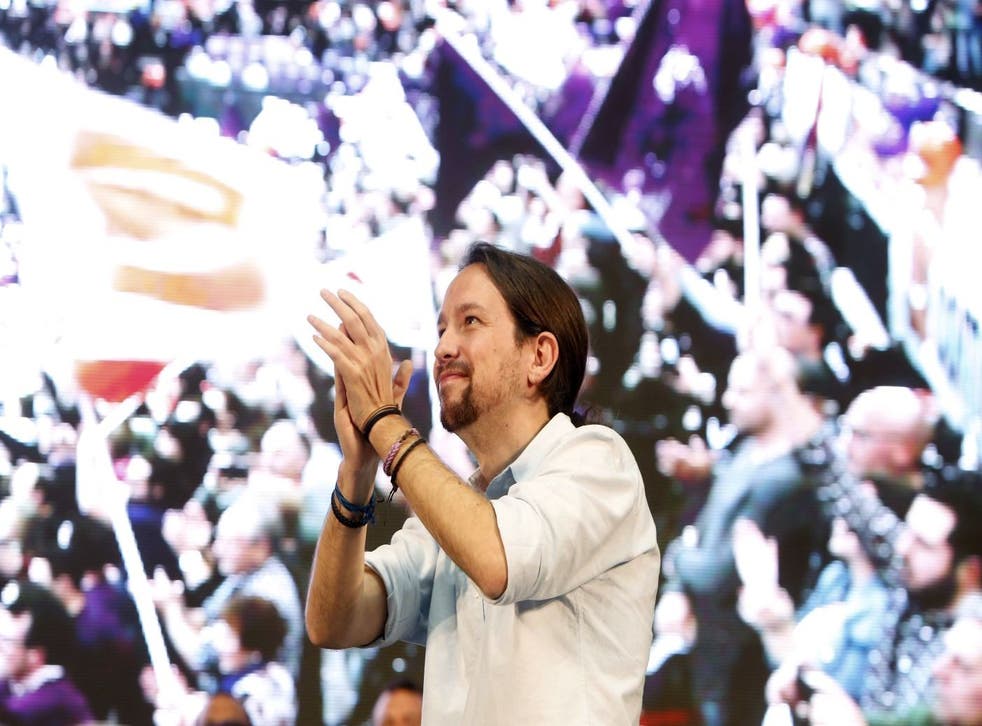 They are leftist politicians whose anti-corruption platform brought them surging to power. Now newly elected MPs from Spain's Podemos party have put their money where their mouth is, rejecting a full parliamentarian's salary and many of the allowances and perks.
While pledging to slow the rate of public spending cuts, Podemos announced that its own MPs will take only about £1,400 a month, less than the £2,400 to which they are entitled. The MPs, the first to represent the party after it won 69 seats in last month's general election, will also forgo a £2,200 annual taxi allowance and any retirement benefits.
Spanish MPs are already among the lowest paid in the European Union, with a backbencher earning less than £30,000 a year – considerably less than the £74,000 salaries paid to British MPs.
The Podemos decision was announced after a nine-hour meeting of the party's executive, known as its Citizens' Council. The meeting decided that "all deputies in the group should give up privileges". It is in stark contrast to the established parties, especially the governing PP, which has been overwhelmed by corruption scandals in recent years.
Even the Prime Minister, Mariano Rajoy, has been forced to deny that he benefited from a slush fund that was allegedly orchestrated by Luis Bárcenas, the PP's former treasurer. Mr Bárcenas denies any wrongdoing. Several PP officials serving on municipal councils and in local government have been jailed in recent years following corruption investigations.
Podemos, not yet two years old, was the real and dramatic winner in its first general election, finishing third and preventing either the PP or the other main party, the Socialists, or PSOE, from winning a majority.
As the leader of the biggest party, Mr Rajoy is desperately trying to form a governing bloc in the 250-seat parliament before it returns on 13 January. By that date, King Felipe must propose a candidate for prime minister, on whom MPs must then vote.
The election result has thrown the issue wide open. The PP, with its 123 seats, does not have a majority even with the support of the centrist Ciudadanos, which finished fourth. On Tuesday the Prime Minister, who is now acting as a caretaker, used a radio interview to float the idea of a three-party coalition, with the PSOE and an unnamed third party, presumed to be Ciudadanos.
"These three political forces that would add up to more than 200 seats are united by fundamental issues," said Mr Rajoy. He added that such a coalition, would "send a good message about the stability of the country".
It is unlikely to be so straightforward. There is much personal animosity between Mr Rajoy and the PSOE leader, Pedro Sánchez. So far the PSOE has ruled out any deal that sees Mr Rajoy remaining in office, while the Ciudadanos leader, Albert Rivera, has refused to join any formal coalition.
However, a leftist coalition seems equally unlikely. Podemos has promised a binding referendum on Catalan independence should it enter government, a policy that the PSOE could not agree to.
If it is not possible to form a government, fresh elections will be held in March or April – at which point Podemos's policy on MPs' salaries could prove popular with voters.
Join our new commenting forum
Join thought-provoking conversations, follow other Independent readers and see their replies