Spain's 'wayward' Infanta Cristina absent from annual military parade ahead of fraud trial
Black sheep of Spanish royal family faces charges of tax fraud in Majorca on Monday
Alistair Dawber
Madrid
Friday 08 January 2016 19:40 Comments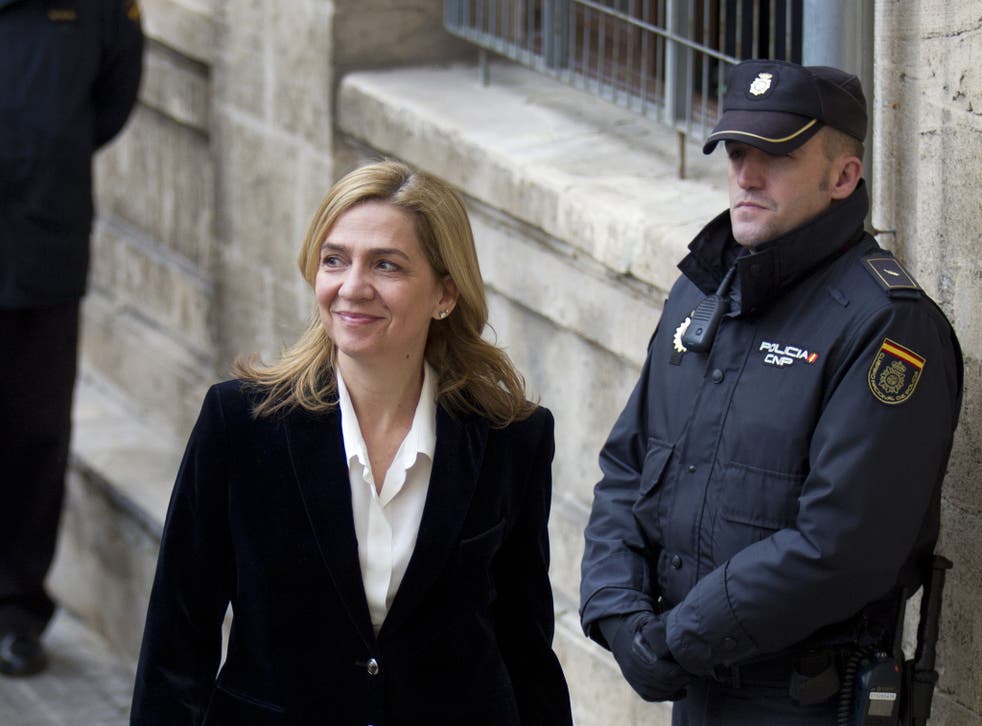 The first week in January is a big one for the Spanish royal family. Each Epiphany, or Día de los Reyes, since 1782, the monarch and his family have dressed up in their military finery as the great and the good make their way to Madrid's royal palace for a grand military parade.
This year there was one notable absentee. Cristina, the "Infanta" and King Felipe's 50-year-old sister, was not invited to the palace.
Instead, she was at her home in Geneva where she has been living since 2013 and no doubt preparing for her trial, which begins on Monday in Majorca. When she appears in the dock to answer lawyers' questions, she will become the first Spanish royal ever to go on trial charged with a criminal act.
The fall from grace of the sixth in line to the Spanish throne has been breathtaking. She stands accused of tax fraud, along with her husband, Iñaki Urdangarin, a former Olympic handball player, and several others. If convicted, Infanta Cristina faces up to three years in prison. Her husband, who is additionally charged with more serious offences, faces the prospect of 19 years behind bars if found guilty. They will both plead not guilty.
At one time, before Felipe gave up bachelorhood and married the forever photographed Queen Letizia, the Infanta and her husband were Spain's golden couple.
They met at the Atlanta Olympics in 1996, where Mr Urdangarin was a competitor, coming home with a bronze medal; Cristina was an ambassador for the Spanish team.
Married in 1997, the couple has four children and were granted the grand titles of the Duke and Duchess of Palma de Mallorca.
Mr Urdangarin was first investigated over the alleged diverting of funds from a non-profit, the Nóos institute, to his own accounts in 2011.
The accusations hit Spain hard and in his Christmas address that year, the then king, Juan Carlos, Cristina's father, said "justice is the same for everyone".
Palace officials denied it was a direct reference to Mr Urdangarin's case, but if it was a sign that the Spanish royals were prepared to cut Mr Urdangarin loose, they may not have been prepared for what happened a little over a year later, when Cristina herself was accused of helping her husband and was formally named as a suspect.
True to their father's words, Felipe stripped his sister of the dukedom last year after it was confirmed that she would face trial. She has also voluntarily renounced other royal titles.
"I do not believe Cristina will resume a more prominent role in the royal family, even if she is acquitted," says Carolyn Harris, a historian specialising in Europe's royal families.
Last year, more serious money laundering charges against Cristina were dropped, and her lawyers will argue on Monday that the court in Palma de Mallorca should drop the case against the princess altogether because the prosecutor is not bringing the charges.
After Monday's preliminary proceedings, the court has four weeks to decide whether the case against Cristina goes ahead.
Regardless of the outcome, Cristina's reputation may be permanently damaged. Speaking when she was charged, Emilio de Diego, a history professor at Madrid's Complutense University, said that Cristina had always been the royal family's wayward child.
"The deterioration in Princess Cristina's image has no turning back, at least for a long time," he said.
"Princess Cristina has always been the wayward daughter of the family, I think some of the monarch's mistakes when it comes to family matters began there, by tolerating that she work at a private firm like La Caixa [a Barcelona-based bank – Cristina worked for its charitable foundation] and collect a salary without renouncing her status as a princess."
According to reports this week, Cristina herself feels that she has been ostracised. "It is very tough to be abandoned by your family," a "friend" of Cristina told the El Español website earlier this week.
Much has been made in the Spanish press about the extent to which the case contributed to Juan Carlos's decision to abdicate 18 months ago. It is perhaps unfair to blame Juan Carlos's woes on his daughter, and indeed, the royals have a new lease of life under Felipe, who is Europe's youngest monarch.
The former king was once known as a playboy himself, but should Cristina eventually be convicted and sent to prison it will be a blow to the royal family, which only returned in Spain after the dictatorship ended in 1975.
Register for free to continue reading
Registration is a free and easy way to support our truly independent journalism
By registering, you will also enjoy limited access to Premium articles, exclusive newsletters, commenting, and virtual events with our leading journalists
Already have an account? sign in
Join our new commenting forum
Join thought-provoking conversations, follow other Independent readers and see their replies