Spain sees a stark rise in sexual attacks carried out by multiple attackers
Of 104 recorded cases, 356 aggressors are thought to have been involved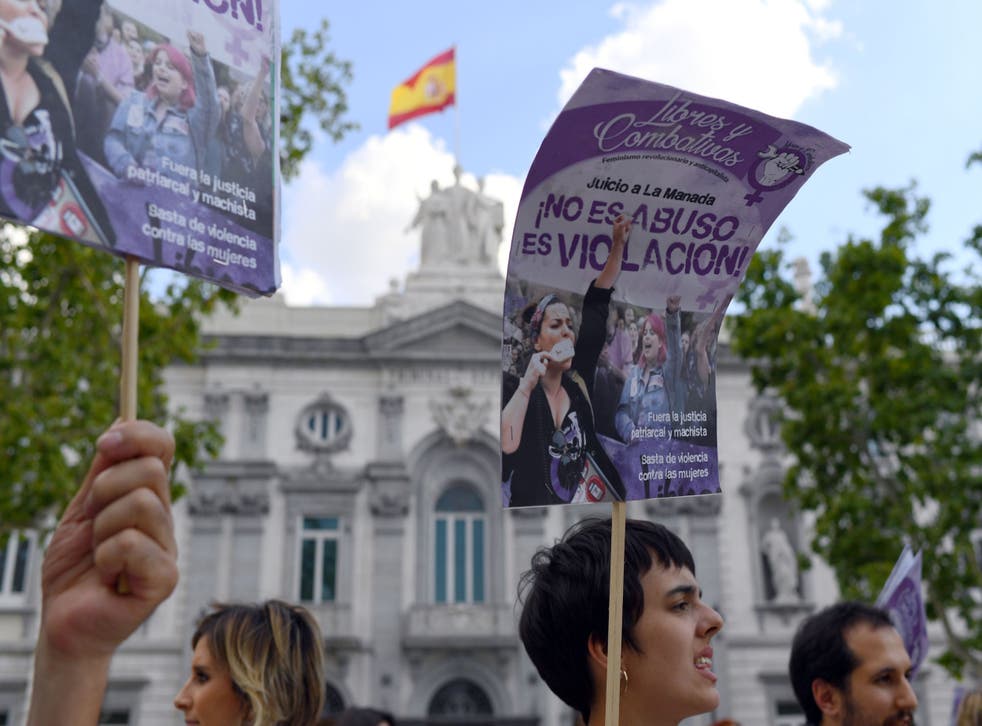 Campaigners have condemned a stark rise in sexual assaults carried out by multiple attackers in Spain – saying punishments for such crimes are too lenient because judges hold outdated macho views.
There were 14 group sex attacks in 2017, according to the Geoviolencia Sexual project. This rose to 59 in 2018 – and 14 in the first three months of this year.
For 104 recorded cases, it is believed there were 356 aggressors involved. One in three victims in those cases were minors.
A gang attack on a teenager in 2016 sparked national protests and an ongoing review of the country's rape laws. The men called themselves "la manada", meaning "the wolf pack".
World news in pictures

Show all 50
The five men were convicted of sexual abuse but cleared of gang rape charges in December 2018 for their attack during the Pamplona bull running festival. However, last month, Spain's Supreme Court increased their sentences from nine to 15 years, ruling they had committed rape.
Cecilia Gomez, a women's rights activist in Barcelona, said she thought the rise in sexual attacks carried out by multiple attackers was linked to more people feeling able to report sexual violence to the police in the wake of the #metoo movement against sexual harassment and assault.
She said: "Some of the shame women feel is going away. Some of the victim-blaming, where people feel responsible for their own sexual assault and think, 'Did I drink? I did smoke some marijuana. I was out late at night', is going too.
"People are finally speaking out about it. While it is not welcome that these cases happen, it is welcome these women are finding the strength to say something. The attackers in these multiple sex attacks tend to be men and victims, for the most part, are women."
Ms Gomez, who is part of Women's March Barcelona, argued judges in Spain held old-fashioned and macho views.
"There is a lack of education for judges on sexual violence," she said. "You have old-school judges who clearly have a machista point of view who have not even been taught how to deal with sexual violence victims. Victims are coming against judges who have absolutely no understanding. It is an endemic systemic problem. If people do not directly say no then it is looked at as consent which obviously it is not."
Rape must involve specific acts of violence such as being threatened with a knife or dealt physical blows under Spain's criminal code.
But experts have identified "involuntary paralysis" or "freezing" as a highly common physiological and psychological response to sexual assault.
Ms Gomez condemned the way prosecutors were handling an alleged attack on a 14-year-old perpetrated by six men in Manresa.
The teenage victim of the alleged attack gave a tearful testimony in court last week – saying she felt intimidated during the alleged incident in the northeastern region of Catalonia.
The men are charged with abusing the girl, who is now 17, when she was just 14 in a disused factory in October 2016. A seventh man is accused of masturbating while watching and failing to help her.
Prosecutors sparked controversy for arguing the men should face the lesser charge of sexual abuse rather than rape because the girl was drunk, under the influence of drugs and did not fight back.
Women's rights associations descended on city halls across Spain to protest the charge last week, Ms Gomez said. She noted the trial had been postponed until September and a ruling has yet to be made.
She raised alarm bells about the rise of Vox, an anti-immigrant nationalist party, gaining electoral clout in the country.
She said: "Vox is trying to strike fear in the hearts of women and men who defend women's rights. They are trying to vilify those that defend the rights of women. They are saying they are out to protect men in gender violence cases and that they are the victim in this. You now hear the word 'feminazi' a lot in Spain. There is a real fear of feminism even though it just describes someone who wants equal rights for men and women. The word feminism strikes fear in the hearts of many here."
Vox wants to eradicate subsidised feminist groups, create a Ministry of the Family and introduce "an organic law protecting the natural family, which shall be recognised as an institution that came before the state".
The party has called for abolishing laws allowing abortion and same-sex marriage.
Earlier in the year, an ultra-conservative Spanish group used an image of Adolf Hitler wearing makeup with the symbol of feminism on his military cap to launch a bus campaign against feminism that branded women's rights campaigners "feminazis".
Between 2008 and 2015, 58 men were killed by their partners or ex-partners compared to 488 women, a study by Spain's highest judicial body, the CGPJ, showed.
Figures showed 2017 was the worst year on record for violence against women – 158,217 women were subjected to domestic violence, an 18 per cent year-on-year rise. Some 47 women were killed by their partners in 2018.
Join our new commenting forum
Join thought-provoking conversations, follow other Independent readers and see their replies