Spanish politics is changing drastically as radical left-wing groups take control and enforce siestas
Also curbs on tourism and a real-life Ministry of Truth: Say hola! to the new Spanish politics
Alistair Dawber
Monday 20 July 2015 00:38 Comments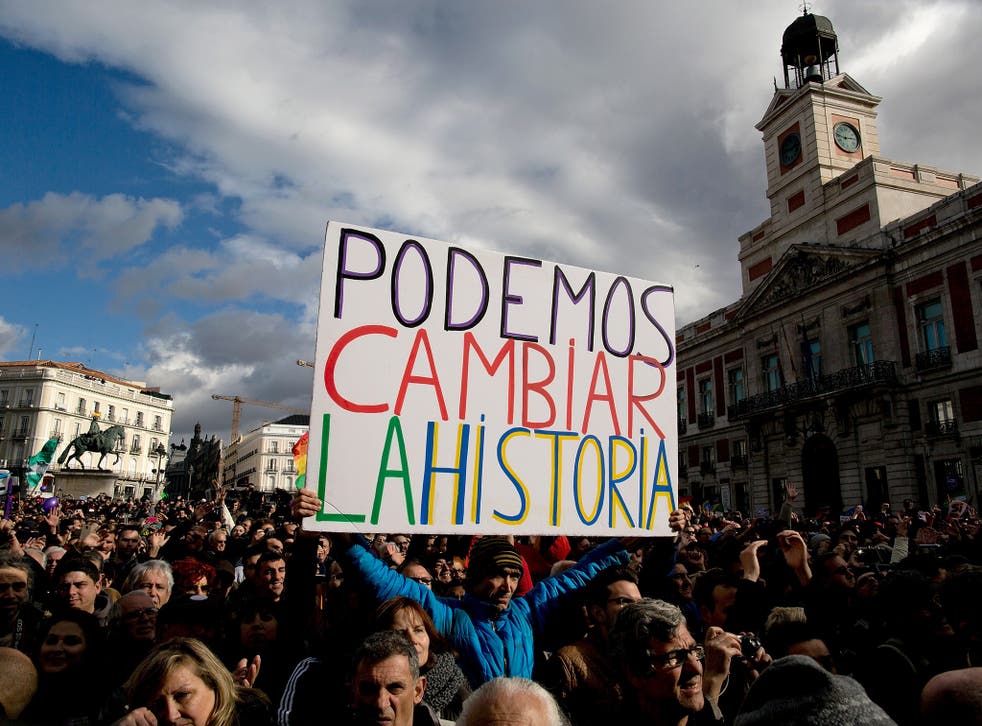 Across Spain, the times they are a-changin'. Two months ago, new local and municipal governments were elected, bringing into office left-wing administrations in some of country's largest cities – and, with them, some eye-popping legislation.
Madrid and Valencia had long been bastions of the centre-right Popular Party (PP), which was swept aside by new radical left-wing groups aligned to Podemos. In Madrid, the new mayor, Manuela Carmena, a former judge, has already made her mark on the capital by promising to change the names of the 167 streets that bear the names of the Franco-era leaders.
Among those to go will be the Calle del General Varela, which is named after Franco's first war minister. Officials also plan to rename Plaza Margaret Thatcher after a left-wing gay rights campaigner who died earlier this year.
Another development might leave those that voted for Ahora Madrid, Ms Carmena's party feeling uncomfortable. Ms Carmena's opponents have accused her of trying to muzzle Spain's press after she unveiled a new website, Version Original, which according to officials will contain "original information" to be used as the "basis for a news story". "It is a website based on data that has been corroborated and is official, and which is not open to opinion, nor is it a space for debate," officials said.
Critics have called for the taxpayer-funded site, which will be staffed by the town hall's communications team, to be closed. Esperanza Aguirre, the PP's leader in Madrid, said the site reminded her of the Ministry of Truth in George Orwell's 1984.The Socialist party spokesman, Antonio Miguel Carmona, said: "I am against VO and I defend the freedom of the press. Democracy means freedom to get things wrong."
If the debate in Madrid concerns principles of freedom of speech, elsewhere in the country, new councils are getting involved in more day-to-day affairs. In the small town of Ador near Valencia, the new administration has made the siesta compulsory.
While welcomed by almost everyone, many in Spain regard the afternoon nap as a best an anachronism, and at worst, something that can stunt the country's fragile economic growth. But that has not stopped the town's mayor, Joan Faus Vitoria, from enforcing the siesta between 2pm and 5pm. "Children should stay indoors between 2pm and 5pm so that they do not go outside and play with balls and disturb older people," a spokesman for the Ador town hall told The Local, an online newspaper.
"Many people here work in the countryside, so it's very usual to take a long lunch break and have a siesta after eating."
One of the most remarkable changes since the elections is the renewed interest in limiting tourists to popular places. Ms Carmena used Madrid's new VO website to deny a report last week that Madrid was set to follow Barcelona and introduce a tourist tax on hotels, but there have been calls elsewhere for the numbers of visitors to be limited.
In Barcelona, another new left-wing mayor, Ada Colau, has frozen licences for new tourist lettings. Many in the Catalan capital have called for there to be a reduction on the 27 million people that visit Barcelona each year.
Locals are concerned that too many tourists are behaving badly and not spending enough money. The same is true in the Canaries, where taxes are being considered as a way of protecting the environment. With almost a quarter of Spaniards out of work, some question the wisdom of limiting the country's most lucrative industry.
Spain faces a general election, probably in November, where the national PP government – crippled by corruption scandals – is hoping to cling on to power. Its biggest challenger is likely to be Podemos, and if the anti-austerity party wins, Spaniards will be bracing for what new legislative quirks its victory heralds.
Register for free to continue reading
Registration is a free and easy way to support our truly independent journalism
By registering, you will also enjoy limited access to Premium articles, exclusive newsletters, commenting, and virtual events with our leading journalists
Already have an account? sign in
Join our new commenting forum
Join thought-provoking conversations, follow other Independent readers and see their replies