Unrest in Stockholm evidence of refugee problem, say Trump supporters
No one seriously injured in clashes, which police say are uncommon but not unheard of
Katie Forster
Tuesday 21 February 2017 23:31 Comments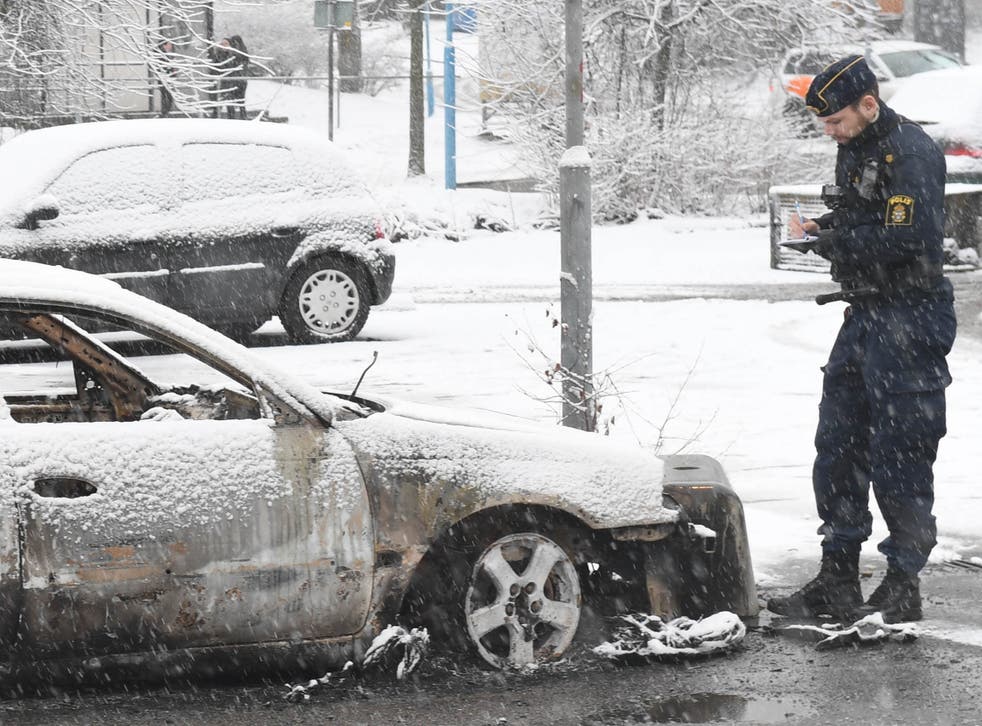 Unrest broke out in a Stockholm suburb on Monday night after a suspect was arrested on drug charges.
Police clashed with stone-throwing rioters who torched cars and looted shops in Rinkeby, an area with a predominantly immigrant population.
No one was seriously injured during the incident, which local police said was uncommon but not unheard of.
But it was nonetheless held up by supporters of Donald Trump as further evidence of a supposed increase in crime in the Scandinavian country.
Police spokesman Lars Bystrom said one officer was slightly injured when a rock hit his arm and one person was arrested for throwing rocks. Some civilians who tried to stop the looters were also assaulted, he added.
Another officer fired his gun – a rare event in Sweden – not as a warning shot but because he was "in a situation that demanded he used his firearm," said Mr Bystrom, adding "no one was hit."
The US President had to clarify his vague comments made at a rally on Saturday expressing fear and concern about "what's happening last night in Sweden" after they were met with confusion and ridicule by Swedes who confirmed no terror attack of any description had taken place.
"My statement as to what's happening in Sweden was in reference to a story that was broadcast on Fox News concerning immigrants and Sweden," tweeted Mr Trump the following day.
Supporters of Mr Trump tweeted "Stockholm in flames" in reaction to news of the disturbances. "Trump was right again!" wrote one user.
Trump admits 'Sweden attack' comment based on debunked Fox report
It's true that Sweden, which prides itself on welcoming newcomers, is seeing a new kind of urban unrest.
The combination of the country's open-door policy and comparatively heterogeneous culture has led to frictions, especially in areas where many long-time immigrants feel disempowered.
Yet its problems with crime, poverty and violence are no greater — and potentially much less — than in the United States and other countries with home-grown gangs as well as waves of new arrivals — and Trump's focus on Swedish issues has left many people there puzzled.
Police were investigating three cases of violent rioting, assaulting a police officer, two assaults, vandalism and aggravated thefts after Monday's unrest, said Mr Bystrom.
"This kind of situation doesn't happen that often but it is always regrettable when it happens," he said.
Sweden, whose population stands at around 9.5 million, has taken in 200,000 refugees and migrants in recent years, according to the BBC.
The country has generally low crime rates and there have been now terror attacks in Sweden since it began its open-door policy on migration in 2013.
World news in pictures

Show all 50
People in neighbouring countries have been quick to poke fun at Mr Trump's comments about Sweden, which he said is "having problems like they never thought possible" due to the relatively high number of migrants living there.
Nearly 3,000 people have expressed interest in attending a 'pray for Sweden' vigil in Copenhagen to pay tribute to the victims of the attack which appeared to be made up by the US President.
"After the terrible attack on Sweden, to which attention was correctly drawn by President Trump, the Nordic countries now stand together," the event's organiser wrote on Facebook, according to The Local.
"We invite all citizens to walk past the Swedish Embassy on Friday 17.00, in honour of our Swedish brothers and sisters."
Attendees have been encouraged to bring fake flowers.
Associated Press contributed to this report
Register for free to continue reading
Registration is a free and easy way to support our truly independent journalism
By registering, you will also enjoy limited access to Premium articles, exclusive newsletters, commenting, and virtual events with our leading journalists
Already have an account? sign in
Join our new commenting forum
Join thought-provoking conversations, follow other Independent readers and see their replies