Storm Eunice claims first victim as man hit by falling tree in Ireland
Three people in England injured by debris as howling winds make being outdoors hazardous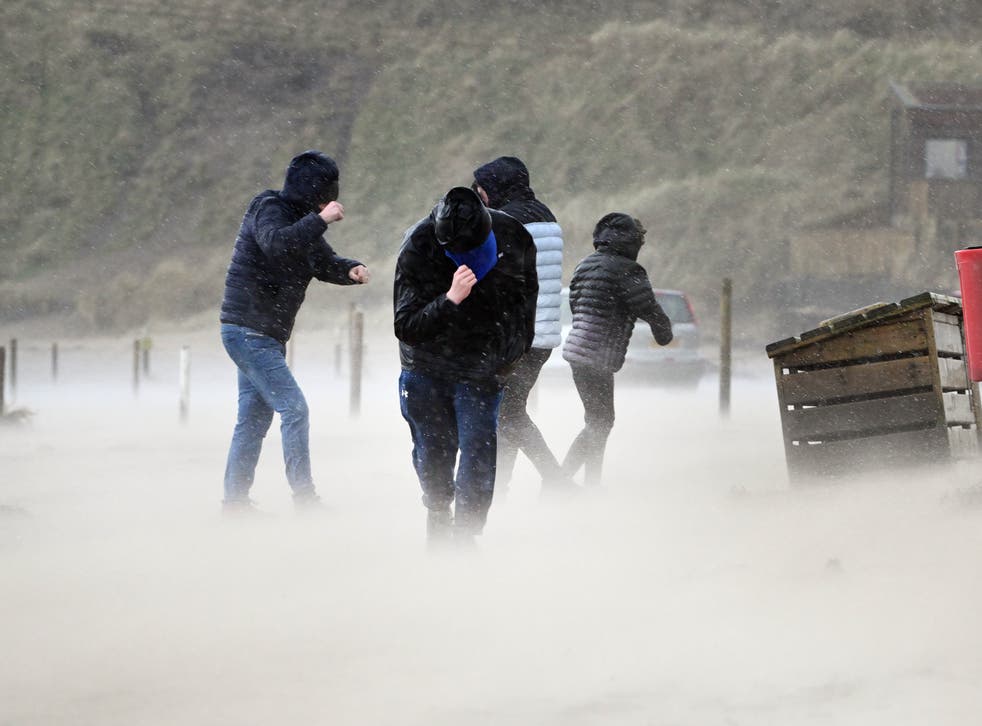 A council worker in Ireland who went to clear damage from the rampaging Storm Eunice has been killed after being struck by a falling tree.
And three people in England have been taken to hospital with injuries from falling trees or debris in separate cases in Oxfordshire and London.
The Irish accident happened in Co Wexford, in the southeast of the country, as winds of up to 120mph brought down electricity cables and wreaked destruction across both Britain and Ireland.
More than 55,000 homes, farms and businesses were without power on the island on Friday morning, as the storm tracked eastwards.
Counties Cork, Kerry and the south of the country bore the brunt of the storm, which also brought snow to parts of the island.
The man, reported to be either in his 50s or 60s, was with a colleague clearing trees on the Wicklow-Wexford border when he was fatally injured, the Wicklow News reported.
Wexford County Council said in a statement: "It is with deep regret and sadness that Wexford County Council confirms that one of our employees was fatally injured earlier today in a workplace accident."
A spokesperson added: "The accident occurred as the employee attended the scene of a fallen tree in the North Wexford area.
"The employee's family, An Garda Siochana [the Irish police service] and the Health and Safety Authority have been informed.
"Our thoughts and prayers are with the employee's family, work colleagues and friends at this very difficult time."
Earlier, a Wexford man had a miraculous escape when a huge tree came down on his van in strong winds, the Irish Independentreported.
In England, Thames Valley Police said a member of the public was seriously injured when they were hit by falling debris in Henley-on-Thames, Oxfordshire. The victim was taken to hospital.
Two other people in the London area were also injured in separate incidents.
A man was taken to hospital after being struck by falling debris in Waterloo, south London, at around midday. Ambulance crews said he was treated at the scene and taken to a hospital as a priority.
Another man was also taken to hospital with a head injury after being hit by a tree in Streatham, south London.
A red weather warning was in place across London, the southeast and east of England because of high tides, damaging winds and storm surges.
Heavy snow caused significant disruption in parts of the northwest of the island of Ireland, making driving difficult on parts of the Glenshane Pass in Co Londonderry.
Police Service of Northern Ireland officers attended after several crashes on the stretch.
Register for free to continue reading
Registration is a free and easy way to support our truly independent journalism
By registering, you will also enjoy limited access to Premium articles, exclusive newsletters, commenting, and virtual events with our leading journalists
Already have an account? sign in
Register for free to continue reading
Registration is a free and easy way to support our truly independent journalism
By registering, you will also enjoy limited access to Premium articles, exclusive newsletters, commenting, and virtual events with our leading journalists
Already have an account? sign in
Join our new commenting forum
Join thought-provoking conversations, follow other Independent readers and see their replies