Sumte: German village with 100 residents and 'zero infrastructure'ordered to take in 750 refugees
Sumte's population will rise by more than 700 per cent over night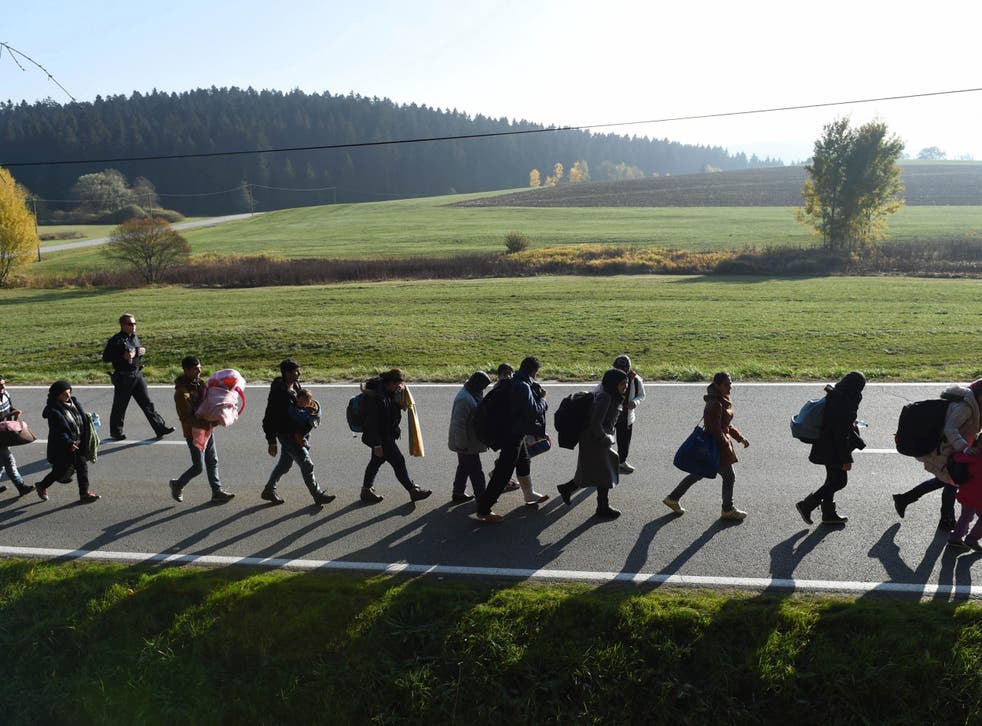 A tiny German village with 102 inhabitants and "no infrastructure" has been told to accommodate 750 refugees, as the country struggles to provide shelter for large numbers of people crossing its borders.
Sumte, a one-street settlement of farm houses in Lower Saxony with no shops, no school and no police station, will see its first group of refugees arrive on Monday - raising the population by more than 700 per cent overnight.
Sumte's Mayor, Christain Fabel, was initially told by email the village would take in 1,000 asylum seekers; although that figure was reduced to avoid straining the local sewage system, according to the New York Times.
Mr Fabel and his wife initially presumed the news "a joke", the New York Times reports, believing it "certainly could not be true" the village would be ordered to house a number of asylum seekers over 10 times greater than the number of villagers.
"We have zero infrastructure here," said Mr Fabel, The Times reports. "Public transport barely exists. We are in the back of beyond."
In a local meeting, villagers urged for security measures in the hamlet to be boosted. Some residents called for the creation police stations in the neighbouring town of Neuhaus to be manned around the clock, while the establishment of a police unit specifically monitoring refugees was also suggested, German NDR news reports.
Both proposals were rejected by the deputy district police chief, Matthia Oltersdorf, who said the suggestions were "excessive".
The village accentuates Germany's difficulty to handle the influx of asylum seekers entering the country, amid a lack of response to EU refugee quotas by other European countries.
It is predicted more than a million people could come to Germany seeking refuge from war or poverty in areas such as Africa, Syria, Iraq and Afghanistan.
The German state of Lower Saxony has received over 75,000 asylum requests this year, nearly four times more than in 2014, according to the Bundesamt für Migration und Flüchtlinge, Deutsche Welle reports.
All 16 German states have been told to use abandoned and disused buildings to house refugees, with gyms, schools and former old people's homes already being used.
The Lower Saxony interior ministry intends to accommodate refugees in 23 empty office building in Sumte, owned by a defunct company, the New York Times reports.
According to authorities, the offices will be used as a refugee centre for a up to a year and refugees will stay while their asylum requests are processed.
Many residents fear the sheer number of people coming into the village could see a rise in anti-immigrant sentiment.
Dirk Hammer, a Sumte resident, told the New York Times, the situation in Sumte could offer "an ideal platform for the far right".
Refugees settle in Germany

Show all 12
Holger Niemann, a member of Sumte's council and on the board of Die Rechte, a far-right party with strong links to neo-Nazi groups, said: "It is bad for the people, but politically it is good for me."
A key meeting between German Chancellor Angela Merkel and other ruling coalition leaders failed to produce a solution to the situation as Ms Merkel is pressured to curtail the arrival of refugees.
Horst Seehofer, the Bavarian prime minister and leader of the state's right-wing conservative Christian Social Union (CSU), warned Ms Merkel that unless she radically changed Germany's refugee policy, his party would be left with no option but to leave her coalition.
Ms Merkel rejected Mr Seehofer's demands, saying: "We cannot just flip a switch; we have to proceed step by step."
Register for free to continue reading
Registration is a free and easy way to support our truly independent journalism
By registering, you will also enjoy limited access to Premium articles, exclusive newsletters, commenting, and virtual events with our leading journalists
Already have an account? sign in
Register for free to continue reading
Registration is a free and easy way to support our truly independent journalism
By registering, you will also enjoy limited access to Premium articles, exclusive newsletters, commenting, and virtual events with our leading journalists
Already have an account? sign in