Stockholm attack: Terror suspect known to intelligence services, Swedish police reveal
Counter-terror police confirm 'bomb or incendiary device' found in lorry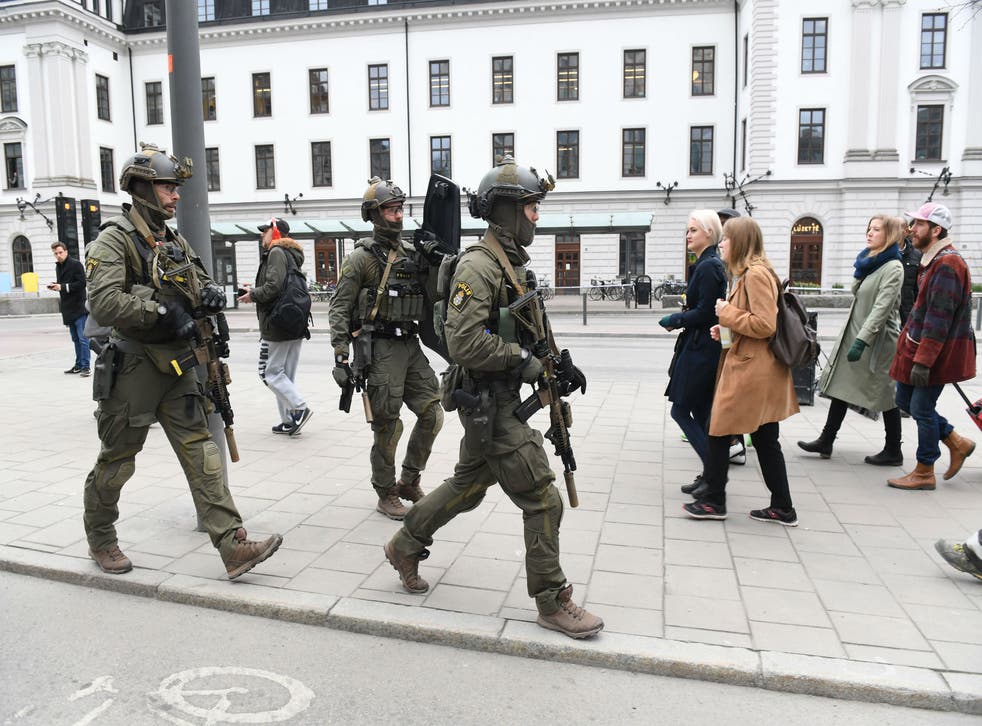 A man arrested on suspicion of killing at least four people in a terror attack in Stockholm was known to security services, police have said.
The 39-year-old man from Uzbekistan was arrested hours after the massacre in Sweden on suspicion of murder and terror offences.
Local media reported that he had expressed support for Isis on social media but prosecutors would not confirm any link with the group.
Police said they were analysing the man's phone, contacts and online activity, and claims have emerged that he was linked to an Uzbek gang suspected of financing Isis with a fraudulent cleaning company. Although a terror link could not be proven in court, three people were jailed for tax evasion and fraud over the scam in 2015, Expressen reported.
Anders Thornberg, head of the Swedish Security Service, said the unnamed suspect had been on authorities' radar some time ago.
Swedish detectives make arrest after Stockholm truck attack
"The suspect didn't appear in our recent files but he earlier has been in our files," he told a press conference.
Mr Thornberg described the intelligence as "isolated", saying it could not be substantiated at the time.
He added that Swedish security services are working with international partners in the investigation, and probing whether the suspect is part of a wider network.
Dan Eliasson, head of the national police, said they believed the man arrested was the driver of the lorry that smashed into Ahlens department store on Friday.
"Nothing points to that we have the wrong person, on the contrary, suspicions have strengthened as the investigation has progressed," he told reporters.
"We still cannot rule out that more people are involved."
In pictures: Stockholm truck attack

Show all 15
He confirmed police had found a suspicious object that "could be a bomb or an incendiary device" in the drivers' seat and were analysing it.
The attacker hijacked a lorry belonging to the Swedish brewery Spendrups as it made a delivery at a nearby restaurant, with a masked man climbing into the empty cab and driving away.
It was used to ram into people in a pedestrianised street before crashing into Ahlens shortly before 3pm local time (2pm BST).
The lorry was left partially embedded in the department store after ploughed into pedestrians, killing four people and wounding 15 others.
The atrocity sparked panic in the Swedish capital, sending people running for cover as public transport and parliament went into lockdown.
The chief suspect was arrested in Märsta, north of Stockholm, later on Friday after being found "behaving suspiciously with minor injuries".
Sweden's prosecutor said he has been arrested on suspicion of murder and terror offences, and will appear in court for a pre-trial custody hearing.
A second man believed to be linked to the main suspect was detained in the district of Hjulsta.
Sweden's Prime Minister, Stefan Löfven, has called a day of national mourning on Monday, and Theresa May has called to express Britain's condolences.
There was no immediate claim of responsibility for the attack, although both Isis and al-Qaeda have recently released propaganda calling on followers to carry out vehicle rammings and including bomb-making instructions.
Lorries were used by Isis supporters in the attacks in Berlin and Nice last year, while cars were used in Westminster and at Ohio State University.
Register for free to continue reading
Registration is a free and easy way to support our truly independent journalism
By registering, you will also enjoy limited access to Premium articles, exclusive newsletters, commenting, and virtual events with our leading journalists
Already have an account? sign in
Register for free to continue reading
Registration is a free and easy way to support our truly independent journalism
By registering, you will also enjoy limited access to Premium articles, exclusive newsletters, commenting, and virtual events with our leading journalists
Already have an account? sign in
Join our new commenting forum
Join thought-provoking conversations, follow other Independent readers and see their replies