Sweden school attack: Sword-wielding man 'posed for pictures with pupils' before killing child and teacher
The attacker appeared to be dressed in a Darth Vader costume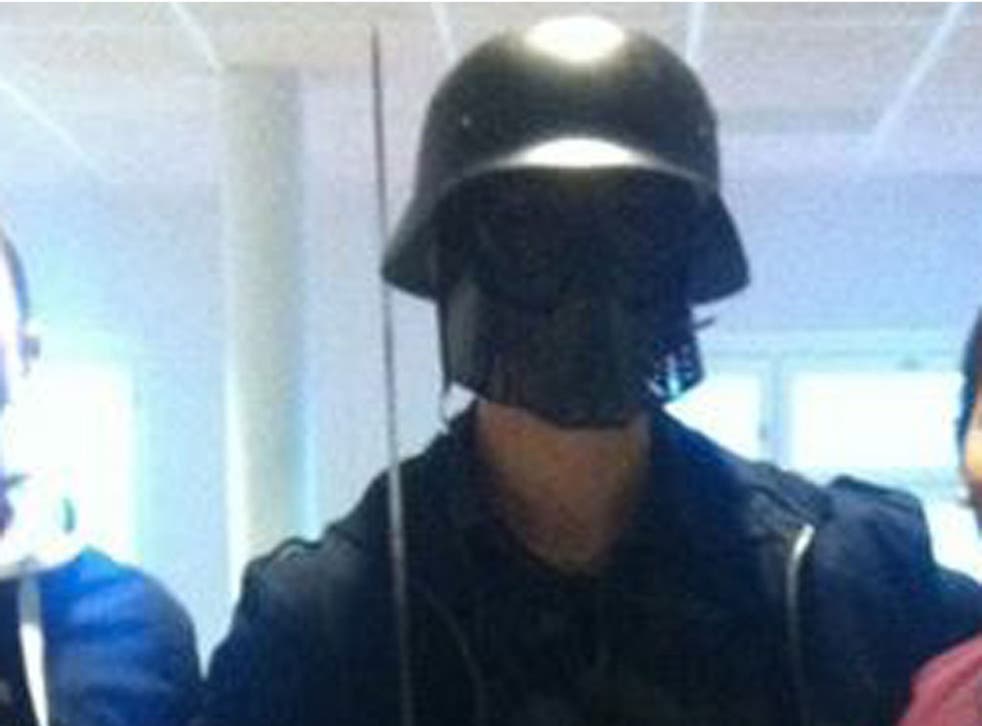 The man who killed a pupil and a teacher during a rampage at a Swedish school was photographed with students shortly before the attack dressed as Darth Vader.
The image shows the man, named by Swedish media as 21-year-old local Anton Lundin-Petterson, posing with two people, who appear relaxed, as he drapes his arm around one of them and holds a large sword in his other hand.
He appeared to be wearing a mask and black outfit resembling the Star Wars character, with victims initially assuming the costume was part of an early Halloween stunt.
The attacker went on to stab four people at the Kronan school in Trollhattan today before being shot dead by police.
Sword attack at Swedish school
Officers arrived to find one male teacher already dead and three other people seriously wounded — two male students aged 11 and 15 and another male teacher, police spokesman.
One of the injured students and the attacker died later at the hospital, authorities said.
The attacker knocked on the doors to two classrooms and stabbed anyone who opened them, police spokesman Thord Haraldsson told a press conference.
Laith Alazze, a 14-year-old student at Kronan, said at first he thought the man had something to do with Halloween.
"One of my friends walked over to him to challenge him, but when we saw he stabbed him (the teacher), we ran away," the teenager told Sweden's TV4.
Police searched the attacker's home and found "interesting" things, Mr Haraldsson added, without providing details.
The three wounded victims were all in serious condition after undergoing surgery at the Norra Alvsborgs Lanssjukhus hospital.
Dr Lars Spetz told reporters the teacher had been stabbed in the abdomen while the two students were wounded in the abdomen, liver and chest.
"They hover between life and death," he added.
Swedish media said the school held a meeting Thursday morning to discuss teachers' fears that they could not control access to the school.
In pictures: Sweden school attack

Show all 5
Students had to pass through a public cafe to reach the school's cafeteria and other parts of the building, Dagens Nyheter reported.
The Swedish Prime Minister, Stefan Lofven, described Thursday as a "black day" after visiting the crime scene.
"My thoughts go out to the victims and their families, the students and staff, and the whole community that has been affected," Mr Lofven added. "No words can describe what they are going through right now."
King Carl XVI Gustaf said Sweden was "in shock" following the attack and that the royal family received the news "with great dismay and sadness".
Additional reporting by AP
Register for free to continue reading
Registration is a free and easy way to support our truly independent journalism
By registering, you will also enjoy limited access to Premium articles, exclusive newsletters, commenting, and virtual events with our leading journalists
Already have an account? sign in
Register for free to continue reading
Registration is a free and easy way to support our truly independent journalism
By registering, you will also enjoy limited access to Premium articles, exclusive newsletters, commenting, and virtual events with our leading journalists
Already have an account? sign in
Join our new commenting forum
Join thought-provoking conversations, follow other Independent readers and see their replies