Swiss train attack: Attacker and one of his victims die from their injuries
A six-year-old girl was one of those injured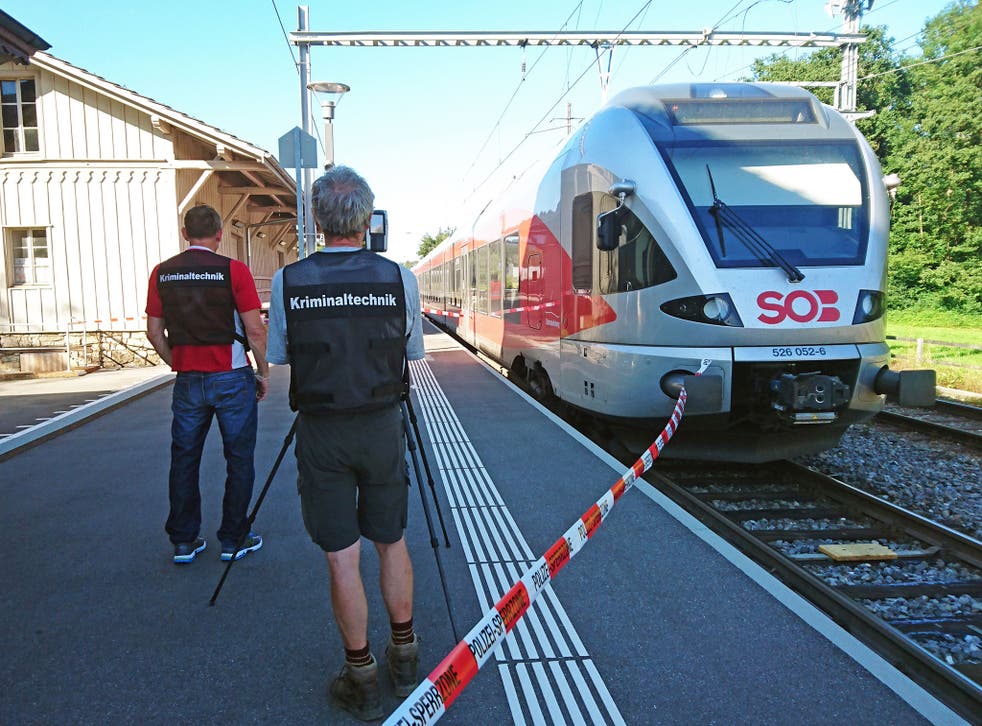 The man who attacked passengers with a knife and set fire to a Swiss train has died from his injuries alongside one of his victims, police say.
Three others are believed to remain in a critical condition in hospital.
The unnamed 34-year-old woman was one of seven people injured when the man attacked passengers with a knife and then douzed the carriage with a flammable liquid as the train pulled into Salez in the north-eastern St Gallen canton near the Liechtenstein border.
One of those injured is believed to have been a six-year-old girl.
St Gallen police said two men, aged 17 and 50, and three women aged 17, 34 and 43, were burned by the fire or suffered knife wounds.
They said the attacker poured the flammable liquid on one of the women who then caught alight. It is not known if this is the woman who has now died.
Police spokesman Hans-Peter Kruesi said they were unable to interview the suspect due to the severity of his injuries but added that they had found no evidence of any ties to extremist groups.
World news in pictures

Show all 50
He said: "So far there are no indications this was a terrorist or politically motivate crime."
Five passengers were wounded in the attack aboard the train, and a sixth person who was on the platform was wounded as he pulled the burning suspect off the train, police said.
Coming after a string of deadly attacks in Europe, the Swiss train attack again illustrates how difficult it is for authorities to protect the continent's labyrinthine transport system, particularly against individuals often wielding unsophisticated and readily available weapons.
Last month in neighbouring Germany, a 17-year-old refugee from Afghanistan used an axe and a knife to wound four tourists on a train, and stabbed a woman as he fled. The attacker was shot and killed by police and all his victims survived.
In May at a railway station in the German state of Bavaria, a 27-year-old German man who had been in psychiatric care stabbed commuters, killing one and wounding three others before being apprehended by police.
And last year a heavily-armed gunman opened fire on a high-speed Amsterdam to Paris train, but he was overpowered by two young American soldiers and their companion.
Additional reporting by AP
Join our new commenting forum
Join thought-provoking conversations, follow other Independent readers and see their replies