Syrian asylum seeker 'hangs himself' in Greece amid warnings over suicide attempts by trapped refugees
Man found dead as refugee children as young as nine are found self-harming in camps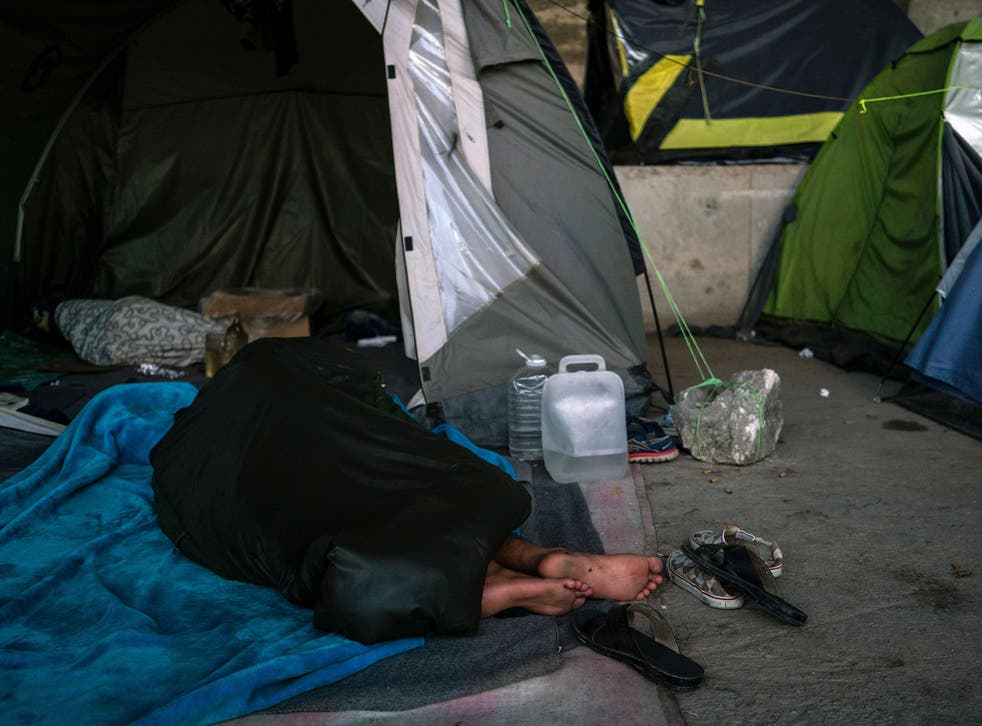 An asylum seeker was found hanged in an apparent suicide at Greece's largest port, shortly after aid agencies warned of mounting desperation among refugees trapped in the country.
The 25-year-old Syrian man was carrying refugee application papers when he was found dead near passenger ferry departure gates in Piraeus, outside Athens.
He had hung himself from a kiosk, the Kathimerini newspaper reported.
The Hellenic Coastguard said the man was pronounced dead at the scene, adding that a post-mortem would be carried out.
His death comes amid growing concern for around 62,000 refugees and migrants who remain trapped in Greece by the controversial EU-Turkey deal and border closures through Europe.
Asylum seekers continue to arrive by land and in smugglers' boats over the Aegean Sea, where at least 11 people drowned last week, but European nations have refused quotas to relocate refugees and agreed transfers are running behind schedule.
Aid agencies have warned that increasing numbers of refugees trapped in Greece, where two men attempted to hang themselves from a tree in February 2016, were self-harming and attempting suicide as desperation mounts.
Sacha Myers, a spokesperson for Save the Children, told The Independent the charity was "deeply saddened" by the apparent suicide, adding: "Many [refugees in Greece] have been living in deplorable conditions for months now, with limited access to basic services like education or healthcare, and waiting for the resolution of their asylum claims.
"The constant stress, uncertainty, and anxiety are driving many asylum seekers to the edge."
Refugees in Greece: "Every day you die many times"
Research by Save the Children found more than 5,000 minors are living in "appalling conditions", driving a mounting mental health crisis.
It found that children as young as nine were self-harming and 12-year-olds attempting suicide, sometimes filming themselves in the act.
A spike in drug and alcohol abuse by teenagers was also recorded, as dealers exploit them in the camps.
Médecins Sans Frontières (MSF) warned that transit centres housing refugees in tents and shipping containers on Greek islands were well over capacity, with grim conditions and the threat of deportation taking its toll.
Its research has shown rocketing rates of post-traumatic stress disorder (PTSD), depression, anxiety, trauma and psychosis.
MSF psychologists have been recording rising rates of attempted suicide and self-harm in recent months, with 12 migrants attempting to kill themselves on the island of Samos in January alone.
Several asylum seekers described their desperation to Human Rights Watch, including those who had fled war and persecution.
Arash, a 30-year-old asylum seeker being held in the EU-sponsored Moria detention centre on Lesbos, said he was tortured and forced through mock executions as a political prisoner in Iran.
Refugee crisis - in pictures

Show all 27
"I've attempted three times to kill myself," he told HRW. "The conditions here remind me of the prison in Iran, the nightmares, the threats and the torture.
"I can't leave the island and after such a long time here, I feel that nothing has a purpose anymore. You feel like 'crazy', wandering around without knowing why."
Since 20 March 2016, all migrants arriving on Greek islands have been held while their asylum applications are processed under threat of deportation to Turkey, but legal blocks have slowed transfers and left refugees in overcrowded tent camps for up to a year.
Many lack proper shelter, heating and fuel, several asylum seekers were killed by hypothermia, carbon monoxide poisoning and a gas blast during a period of extreme cold over the winter.
Austria is to seek an exemption from having to accept more asylum seekers under the EU's relocation scheme, arguing that it has already "fulfilled its obligation" after taking in around 90,000 migrants in 2015.
Chancellor Christian Kern, whose centre-left party is attempting to combat surging support for the far right, said his government was sending a letter to the European Commission asking to be excluded from future transfers.
It is a new blow to an already floundering system that only ever covered a fraction of arrival and has barely been implemented because of opposition led by Eastern European nations including Poland.
Fewer than 14,500 asylum seekers have been relocated from Greece and Italy – where 176,000 migrants are living in temporary reception centres – under the two-year EU plan that was supposed to cover 160,000 people before September.
One of its most vocal opponents has been Hungary, where a new law allowing all asylum seekers to be detained in border camps came into effect earlier this week.
The EU commissioner for migration, Dimitris Avramopoulos, said European and Hungarian experts were meeting to discuss that the legislation complied with EU rules and principles.
Humanitarian organisations have called on the EU to take legal action against Hungary over the law and other measures making it increasingly difficult to seek asylum, with refugees reporting being beaten by police near the border fence.
Politicians have defended the measures as means of deterring refugees risking their lives to migrate "illegally" to Europe but, with wars continuing in Syria, Libya, Afghanistan and elsewhere, thousands have continued to attempt treacherous sea crossings.
A grim record of 5,000 deaths at sea in 2016 is on course to be surpassed this year, with at least 811 migrants being drowned or suffocated on boat journeys over the Mediterranean so far in 2017.
Most lives are lost on the treacherous crossing between war-torn Libya and Italy, where numbers have increased since the EU-Turkey deal slowed shorter and comparatively safer voyages over the Aegean Sea to a trickle.
European leaders have vowed to increase cooperation with Libya's fragile government but an agreement struck with Tripoli by Italy in February has been suspended by a Libyan court.
More than 27,000 asylum seekers have reached Europe by sea this year – around 23,000 to Italy and 4,000 to Greece – with the vast majority coming from Syria, Afghanistan, Nigeria, Iraq and sub-Saharan African nations.
Register for free to continue reading
Registration is a free and easy way to support our truly independent journalism
By registering, you will also enjoy limited access to Premium articles, exclusive newsletters, commenting, and virtual events with our leading journalists
Already have an account? sign in
Register for free to continue reading
Registration is a free and easy way to support our truly independent journalism
By registering, you will also enjoy limited access to Premium articles, exclusive newsletters, commenting, and virtual events with our leading journalists
Already have an account? sign in
Join our new commenting forum
Join thought-provoking conversations, follow other Independent readers and see their replies