Syrian refugee children 'arrested and beaten' for carrying toy guns in Greece
Amnesty International and Save the Children speak out after five people, aged between 12 and 16, are allegedly detained and forced to strip naked by Greek police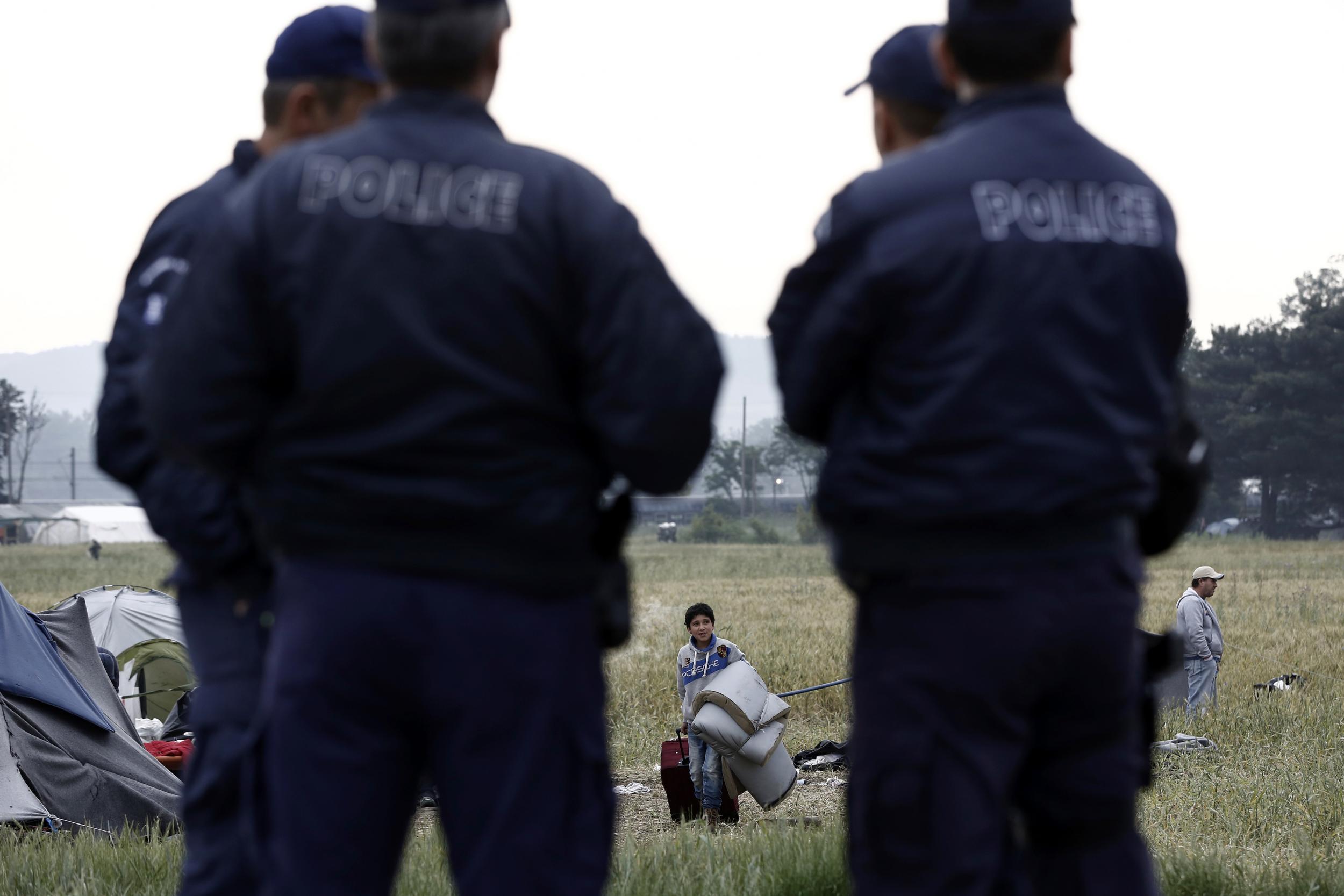 Five Syrian refugee children have been arrested and detained in Greece after they were found carrying plastic toy guns on their way to perform in a children's play.
The boys, aged between 12 and 16, were seized "on suspicion of being members of an armed group", and then allegedly detained, beaten and forced to strip naked.
International organisations have since condemned Greek police over the alleged misconduct. Amnesty International has accused Greek officers of committing human rights violations against children, describing the incident as "disturbing", while Save the Children said the incident served as a "reminder of the risks child refugees are facing every day in Greece".
The children, who were due to perform in a production about the Syrian conflict at a local cultural centre, were carrying their costumes and toy guns in a carrier bag when they were detained on the afternoon of 27 September.
They were stopped and searched by four police officers on motorbikes, who then called more officers for support.
The children were then taken to Omonoia police station along with two older Syrian refugees, aged 24 and 21, who had been walking to the cultural centre with them.
The children's lawyer, Electra Koutra, has given an account of how the children said they were ill-treated in custody, verbally abused and forced to undress by two police officers.
Ms Kourta wrote in her full account published on Facebook: "The children were taken to a secluded room by two policemen, where they were asked to undress completely.
"When two of them refused to remove their underwear, police exercised physical violence on them, after which the one succumbed and removed it, while the other continued to object and, as a result, had his underwear forcibly removed.
"A third child also suffered physical violence, was made to bend while naked and four were asked to turn around themselves while naked more than once, so that the policemen would have the chance to have a good presentation and look of their child bodies and genitals.
In pictures: Refugees on the Greek island of Lesbos
Show all 12
"The last child in the row started crying and asking for his mother. The others advised him to undress, in order to not get beaten too. After that, they were asked to dress and were subsequently photographed by use of a policeman's cellphone, as a group and each one separately.
"They remained in a state of deprivation of freedom for more than six hours, amongst adult drug users and criminal adductors. As for water, they were advised, when they begged for it, to go drink directly from the police station's toilet which was impossible to approach because of the filth and odour. They were not allowed to use their cellphones for calling their parents."
After the children were released, volunteers reportedly asked police how they could report the incident, but were turned away. Later the children returned to the police station with their parents and a lawyer demanding to lodge a lawsuit.
Following a number of interviews and referrals between different services – which Ms Koutra said took several hours - they were reportedly informed that the Childrens' Department of the Central Police Directorate would take over the case.
The minister of public order in Greece said the public prosecutor has ordered a criminal investigation into the incident, but said he would not "rush to a conclusion" while the investigation is still underway.
In a statement, he said: "From the first moment, orders were given for details of the case to be submitted to the prosecution. At the same time the police started a disciplinary enquiry.
"The ministry investigates any case any breach of law and rules and it is known that I will show no mercy to any proven violation. But it won't rush to conclusion when the investigation is still running. It has caused great surprise that this allegation has been accepted without question when it's under investigation."
Amnesty International, which has documented numerous testimonies of refugees and migrants alleging ill-treatment by the Greek police in recent years, has condemned the alleged police conduct and said that if the allegations were true the Greek authorities must ensure criminal and disciplinary proceedings were taken as appropriate.
John Dalhuisen, Amnesty International's director for Europe, said: "The ridiculous elements of this case should not deflect attention from the extremely serious and deeply disturbing nature of the allegations against Greek police officers, who are accused of committing human rights violations against children in their custody during an identity check.
"If these allegations of beating and other ill-treatment are shown to be true, the Greek authorities must ensure that criminal and disciplinary proceedings are taken as appropriate.
"They should also look into whether racial profiling may have played a part in motivating these officers to inflict such ill-treatment on children."
Save the Children also condemned the incident, saying it highlighted the vulnerability of child refugees in Greece and describing the present conditions as "unacceptable".
Andreas Ring, Greece humanitarian representative for Save the Children, told The Independent: "It is unacceptable that children who survived years of violence and a notoriously dangerous journey to reach somewhere safe are now stranded in Greece, in conditions that are further traumatising them.
"The reported incident serves as a reminder of the risks child refugees are facing every day in Greece. Many are becoming more vulnerable to exploitation as families use up their resources while waiting for a decision on their asylum applications.
Refugees welcome here: Protesters demand UK resettle more migrants in response to refugee crisis
Show all 7
"Other children who arrived alone are having to wait in detention for months while their applications for family reunification are processed. In parallel, tensions with local communities are on the rise across the country.
"Both hosts and guests are losing patience with the asylum and national child protection systems that seem to be over-burdened and incapable of handling the added caseload of asylum seekers stranded in Greece."
Ms Koutra described the treatment of the children as "inconceivable". She wrote on a public Facebook post: "I find it inconceivable that children carrying their costumes and toys will be dealt with as terrorists, just because they happen to be refugee children.
"It is inconceivable in democratic societies that children will be made to undress and present their genitals to police officers, and be photographed out of any context of legality, by those who are in theory set to serve and protect them, or advised to drink water from filthy toilets drug users visit, when begging for water."
Ms Koutra described the incident was a "landmark" case and concluded that police stops and searches "should be conducted in accordance with national and international law prohibiting discrimination, including ethnic profiling, ill-treatment, and arbitrary deprivation of liberty".
She added that police "should take particular notice of the vulnerability of children, and safeguard their dignity."
Greek police told Amnesty International on Friday 30 September they had begun a "disciplinary inquiry" to "determine the facts of the case".
Join our commenting forum
Join thought-provoking conversations, follow other Independent readers and see their replies